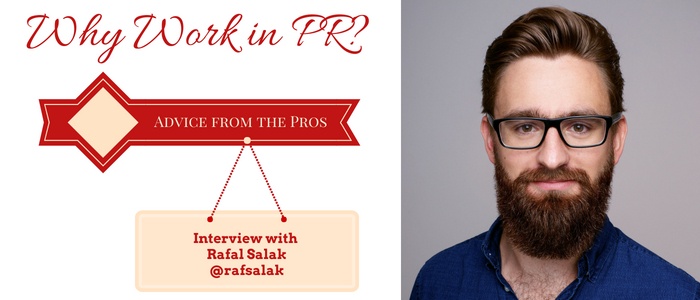 It's time for another "Why Work in PR?" interview and I'm delighted to introduce you today to Rafal Salak who will share with us his exciting PR career story in software and offer key advice for students and young professionals who want to learn more about the industry and how to get into it, especially if wanting to work in tech.
I'm a big fan of Prowly where Rafal works. We've never met but we've been in touch through email or Twitter many times for various projects, initiatives or simply to share ideas.
Before you move onto the interview, don't forget to follow Rafal on Twitter.
(If you've missed any of the previous interviews, you can take a look as well: Richard Bailey, Pippa Hanson, Jessica Hodkinson, Chryssa Skodra, Farzana Baduel, Scott Guthrie, Sarah Hall, Angharad Welsh, Alex May and Maria Gergova-Bengtsson.)
Why Work in Public Relations: Interview with Rafal Salak
1. As a short introduction, can you tell us a little bit about you and what you do?
I'm the head of communication at https://prow.ly/2KHLhZO. Generally speaking, my role is to make sure the PR industry is well aware of the existence of Prowly and of its purpose. For that, I - and my team - use a combination of traditional media relations and digital PR. Huge fan of PR measurement.
Apart from working in PR, I'm also a lecturer at Collegium Civitas, a non-state university in Warsaw, Poland.
2. Why did you choose a career in PR?
I always wanted to work in communication. The problem with marketing - at least from a graduate perspective - is that it's far from actual human-to-human relations, focusing rather on mass communication. PR seemed as a chance to operate at a more personal level, allowing me to be closer to my audience (whoever they are).
3. How exactly did you get into PR and what experiences have you gathered so far?
I had my first 'PR-ish' experience as a university organization's board member for PR, which basically was about internal communication and event promotion. After graduating I moved to Warsaw, where I joined a boutique agency to learn PR on FMCG accounts.
Six months later I moved to the Hill+Knowlton Strategies team in Warsaw. I spent the next three years as a part of H+K's technology team as a PR consultant for tech clients like Facebook, Spotify, Wacom, NetApp or BlackBerry. Those three years provided me with the most valuable PR experience and know-how - the possibility of working with the world's biggest disruptor companies gave me a unique perspective on leveraging digital in effective communication.
4. What's your biggest professional achievement so far?
My biggest professional achievement so far is the Gold SABRE Award (2015) me and my team at H+K won for the Lords of the Fallen video game launch campaign. Mixing influencer outreach with media relations and social media within a casual-gamer activation campaign we've managed to boost sales and open a wide gaming discussion in the non-gaming media. We won four other awards for this campaign and it was probably the best campaign I worked in back at H+K.
I'm still waiting to see my CEO Joanna Drabent on the cover of Forbes magazine - once it happens, I'm complete! ;)
5. What advice would you give to students considering working in PR?
Whenever students ask me how to start, I always advise them to simply join a PR agency ASAP. No university could provide so much practical knowledge in such a short time as a proper agency internship could. Just make sure the agency you choose offers access to a network know-how and engaging clients or projects.
Wondering if PR is the right career for you? Try the PR Profile Fit Test and find out! Download it for free by clicking on the image below!