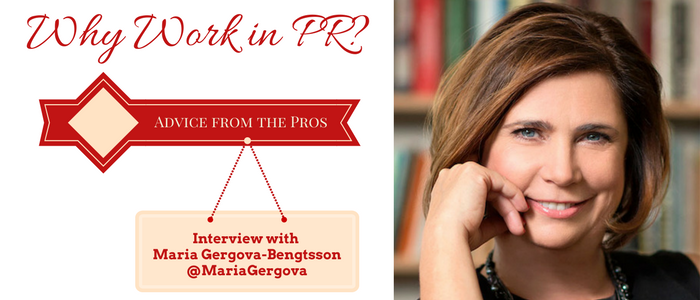 It's time for another "Why Work in PR?" interview and I'm delighted to introduce you today to Maria Gergova-Bengtsson who will share with us her exciting PR career story and offer key advice for students and young professionals who want to learn more about the industry and how to get into it.
I'm glad to call Maria my friend even though we only met a few months ago in Sofia where she invited to speak at the IPRA conference. I truly admire Maria for the dedicated work that she is doing in the Bulgarian market, the team she has grown around her successful PR agency and the global network of professionals that she has built.
Before you move onto the interview, don't forget to follow Maria on Facebook and say Hi to her team on Twitter @United_Partners.
(If you've missed any of the previous interviews, you can take a look as well: Richard Bailey, Pippa Hanson, Jessica Hodkinson, Chryssa Skodra, Farzana Baduel, Scott Guthrie, Sarah Hall, Angharad Welsh and Alex May.)
Why Work in Public Relations: Interview with Maria Gergova-Bengtsson
1. As a short introduction, can you tell us a little bit about you and what you do?
I am a PR and marketing addict, founder and CEO of one of the first and leading PR agencies in Bulgaria and CEE (Central and Eastern Europe) - United Partners. I am a board member and past President of the International PR Association, founding member and President-Elect of the Bulgarian PR Agencies Association. Love learning. Love growing. Love travelling and discovering.
2. Why did you choose a career in PR?
After searching for my ELEMENT for quite a long time (going through Masters in Engineering, then in International Finance and banking, and then in PR and Communications) it felt very natural to join some of the first PR specialists during the post-communist times in Bulgaria and so to discover the charm and the potential of PR. Since then, every day has been an adventure, enjoying the feeling of waking up curious and excited about what would come next in my professional life. I do believe in the concept that when you find a job that you love, it will never feel like work.
3. How exactly did you get into PR and what experiences have you gathered so far?
Some years ago my best friend from childhood offered me a part-time job in a small PR agency to do media monitoring. I was a student at the time and I thought it would be good to make some money on the side. My first clients were Master Foods (Mars today) and IBM. So I had to read all the newspapers, cut the relevant articles and make a hard copy report for the client. Thinking back, with all the digital transformation today, all of this sounds almost medieval. I started loving and seeing a lot of potential in this job so I decided to quit and start my own agency with the support of a few close people. That was in 1997. I remember very clearly my first client, Shell, and how I was driving in my old Skoda from media to media to deliver personally the invitations for my first press event. Then led by my curiosity and passion, I have been growing the agency year after year, learning new things every day, making mistakes, learning from them, and kept growing UP (United Partners).
4. What's your biggest professional achievement so far?
I was the first IPRA President from Central and Eastern Europe, and also the youngest, and I am very proud of this. This is recognition for the whole region that with the desire to learn and grow we can be competitive and respected by the old and developed PR world.
Another big achievement is receiving the IPRA GWA Award for the best international PR campaign in 2016, a campaign that we have run in 28 countries. To me, this is proof that no matter where you live, no matter what the history of your country is, if you want to grow and win, you can do it - just get an extra dash of self-esteem, believe in yourself and go for it.
5. What advice would you give to students considering working in PR?
Success in PR is fueled by curiosity, constant learning and passion. Check if you have those qualities before you jump into the PR game. If so, you are going in for a hell of a ride. And never give UP - there are hiccUPs in all aspects of life. Accept them, learn from them, and move on.
Wondering if PR is the right career for you? Try the PR Profile Fit Test and find out! Download it for free by clicking on the image below!