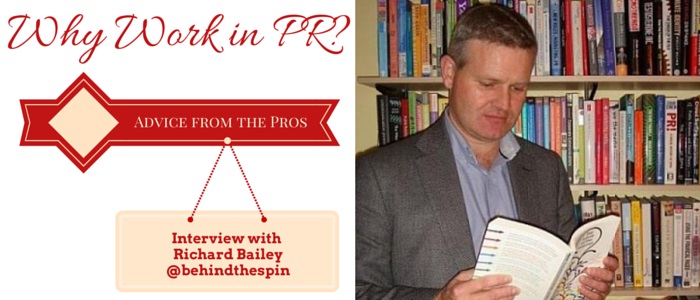 I've been asked many times "Why do you want to work in public relations?" To be honest with you, it's a difficult question, partly because it is difficult to explain what PR is in the first place.
In my attempt to answer that question, I've written three pieces describing why I want to work in PR (if you haven't seen them yet, you can check them out here, here and here). And I know that I recently kind of left the PR agency life by joining HubSpot, but my new role still has a lot to do with public relations. Why? Because it is based on building and maintaining mutually beneficial relationships with my clients – that is very much how the PRSA defines the essence of PR.
So for all you out there wondering why to work in PR, I decided to start a blog series called "Why work in PR: Advice from the Pros", interviewing PR professionals about their careers, reasons why they wanted to work in PR and their PR career guidance for you.
And what better way to launch these series than with an interview with one of the most well-known names in the PR industry in the UK, who's been teaching and guiding the new generation of PR for years – Richard Bailey.
I really hope you find the interviews useful and if you have any suggestions or feedback, please do get in touch!
Why Work in Public Relations: Interview with Richard Bailey
1. As a short introduction, can you tell us a little bit about you and what you do?
I'm a university lecturer in Journalism and Public Relations and a magazine editor of Behind the Spin.
2. Why did you choose a career in PR?
I'd been working in technology journalism and found it natural to transfer into doing PR for technology companies. Besides, the pay, perks and prospects were so much better.
3. How exactly did you get into PR and what work experiences have you gathered so far?
Before working in PR, I'd been a teacher, a writer, an editor, a typesetter and a journalist. It's helpful to have some experience of the wider world to draw on in PR (knowledge of typography has been my secret superpower!).
I've worked as a PR consultant (agency director) and in-house (chief press officer) and I've worked as an independent consultant. I don't regret any of this - it's important to gain experience. Even your failures become important lessons for the future.

There's much more to public relations than media relations - though many journalists remain blind to this fact.
4. Why did you choose to become a lecturer and how is this different than typical PR roles (in-house and agency side)?
Public relations is conceptually very close to education. You can propose ideas, but you can't make people accept them - so you have to learn to become articulate, to try presenting ideas in different ways, and to be good at coaching.

I'm not ashamed of my work as a PR practitioner, but I'm much more proud of my work as a PR talent spotter. That's when I decided to spend more of my time developing others - first as a professional trainer, then as a university lecturer.

Now, nothing gives me more pleasure than identifying talented people (you're one of them, Iliyana!) whether I've taught them or not.
5. What advice would you give to students considering working in PR?
There's lots of good advice out there. To summarise:
First, treat yourself as a PR client. Decide on your personal brand, sort out your social media channels and start putting yourself out there.

Second, make connections with practitioners, lecturers and anyone else who may be able to offer you advice or help further your career.

Third, go beyond the hype and the promises. Don't tell me how wonderful you are - show me what you've done!
PS from Iliyana: Make sure you subscribe to Behind the Spin – the leading UK online magazine for PR students and young professionals – and follow @behindthespin to receive lots of good advice about PR and stay up-to-date with what's happening in the industry.
Want to find out if PR is the right career for you? Try the PR Profile Fit Test! Download it for free by clicking on the image below!