Today is a big day. Today, I start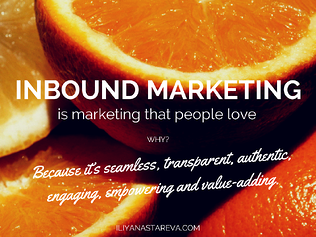 a new chapter in my life as a Channel Consultant at HubSpot's EMEA headquarters in Dublin. As you can imagine, this is a big move for me not just because it's a new city (if you check out my About page, you'll see that I've moved a lot in the past years, so that wasn't really a problem), but because inbound marketing entails a much bigger responsibility spectrum than just social media and comms (the focus of my previous jobs).
And because you'll probably be seeing more and more content about inbound marketing on this blog, I thought it's important to introduce you to the concept.
Please bear in mind, I am still a 'beginner', but I hope to become a lot more proficient in the inbound marketing methodology. In fact, that's my goal. And because I am now in Boston for my two-week induction training, I'm sure I'll have a lot of things to share with you!
But first, what is inbound marketing?
As HubSpot puts it, the inbound methodology is "the best way to turn strangers into customers and promoters of your business". It is more scalable, efficient and cost-effective than traditional outbound techniques.
The major difference between the old-school outbound approach and the new inbound method is the notion of pushing vs. pulling people in. As you can see in the infographic at the bottom, outbound marketers predominantly used to (and some still do) push their messages with top-down, interruptive communications and activities. Inbound marketers on the other hand use multi-channel techniques that earn people's attention and trust by engaging with relevant content. By creating and fostering such meaningful, two-way dialogues, often driven by social media, people come to you on their own, you are not chasing them. This is marketing that people love. Why? Because it's seamless, transparent, authentic, engaging, empowering and value-adding. It's human.
I think this presentation explains the concept and its advantages pretty well:
As you can see, the inbound methodology is based on four key actions that help you to turn strangers into promoters of the business: Attract, Convert, Close and Delight.
For each of those actions, inbound marketers rely on specific channels, tools and techniques to guide strangers through the different stages of the inbound marketing journey. Social media is only one of those. This means that in my new role I'll be advising clients not only on social media marketing and comms as I have mainly done so far, but also on email marketing, content management, web analytics and search engine optimisation, to name a few. Pretty exciting, huh?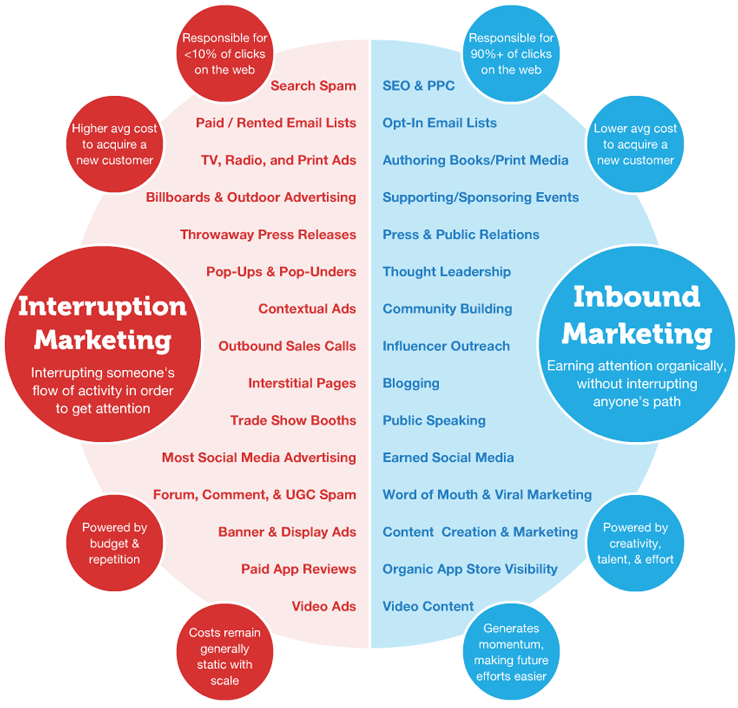 This is going to be a great learning experience and I would love to take you on that journey with me to dive deep into those new areas. Are you up for it?
PS: If you're interested in learning more about inbound marketing, check out HubSpot's Inbound Certification – it's free, it contains some really useful video classes and if you feel confident enough after watching them, you can even take the test and get certified. I quite enjoyed the classes!
Outbound vs. Inbound

Infographic found on Mashable; Image Interruption vs Inbound from Moz