LAP LAMBERT Academic Publishing
October 26, 2013
Over the last few years two relatively new business philosophies have become the trendy buzzwords in the corporate space – social media and sustainability. The rise of social media has provoked a complex cultural and communications shift in the way people share information and participate in conversations, resulting in the empowerment of the individual to demand change as well as to expect responsibility and social consciousness from brands to strike the triple bottom line balance. This new social economy is based on engagement, relationships and mutual trust where relevance to the individual is a main currency for meaningful communications. Thus, innovation has become crucial for companies to reach, educate and inspire this new consumer about sustainability. In that respect, this book provides thorough analysis and practical guidance of the use of social media for sustainability communications. It is therefore especially useful to professionals in the fields of PR, Communications and Sustainability, or anyone else interested in exploring social media's opportunities for sustainability.
Get the book here!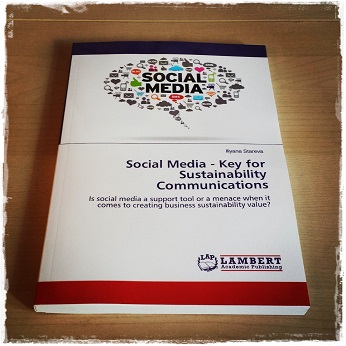 Anchor Academic Publishing
October 29, 2013
Our world has faced some remarkable changes over the past few decades due to the rapid development of new technology and the Internet. However, a few years back, a new era began, an era where ordinary people have a 'say' on every possible matter, anytime, anywhere - the emergence of social media has altered our lives enormously by giving everyone the opportunity to be a publisher and a communicator. This, in turn, has had a huge impact on the Public Relations practice, which has always been concerned with communicating and building relationships with various publics on behalf of organisations. This book describes how exactly social media altered the PR industry and the way practitioners are doing PR using social media in their professional and private lives. It is therefore especially useful to both students and professionals in the fields of PR, Social Media, Communications and Marketing, or anyone else who is interested in learning more about social media's impact on PR.
Get the book here!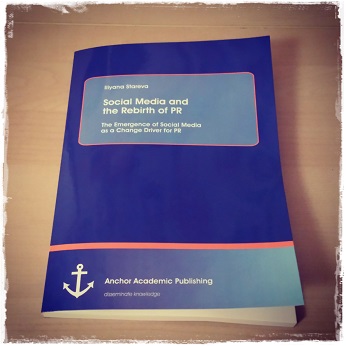 GRIN Verlag
November 11, 2013
The Public Relations industry has faced dramatic changes in the past few years in terms of new technology and media channels as well as new opportunities for communicating with clients and businesses. The main reason for this is the emergence of social media networking which enabled customers to easily and quickly engage in a two-way communication process with companies. For businesses on the other hand this represents a huge challenge of how to effectively handle the new forms of engagement so that they now realize the increasing importance of Public Relations as an organisational function. However, social media is still a big challenge for the PR industry itself. That is why the project aimed to research this new development and find comprehensive insights into what exactly happened and how should PR practitioners better approach new media opportunities.
Get the ebook here!