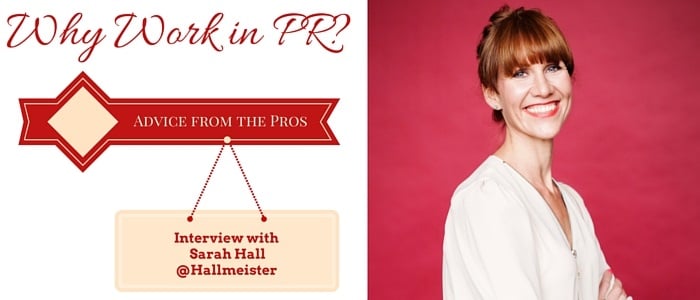 Continuing with my blog series "Why Work in PR?", we have Sarah Hall today sharing with us her PR career story and some valuable advice for students and young professionals looking into joining the industry.
I met Sarah on email a few months. Yep, we've never met in person but email and Twitter were enough to discover that we have many things in common, especially a passion for reviving the PR industry and particularly the agency world.
With years of experience in PR, running her own agency now and seeing the pains of the industry, Sarah was the one who started the #FuturePRoof book project and reached out to me to see if I would be interested in contributing a chapter on Inbound PR too. Of course I was. I was so grateful to her for the opportunity. And so I invited her to share with us her story.
Before you move onto the interview, don't forget to follow her on Twitter @Hallmeister and to follow @WeArePRoofed too.
(If you've missed any of the previous interviews, you can take a look as well: Richard Bailey, Pippa Hanson, Jessica Hodkinson, Chryssa Skodra, Farzana Baduel and Scott Guthrie.)
Why Work in Public Relations: Interview with Sarah Hall
1. As a short introduction, can you tell us a little bit about you and what you do?
I'm Sarah Hall and I run a PR and marketing agency in the North East of England. We've a slightly unusual business model in that we're a free range team of nine – i.e. we all work remotely. I have a network of associates so we can scale the team and bring in different disciplines very easily according to client needs.
In November 2015 I curated and edited a book called #FuturePRoof, which is an upbeat book about the future of public relations management and practice. This has had close to 2,000 downloads and 100 hard copy sales and an incredible amount of engagement from right across the industry, not just the UK.
Following its publication I was invited to take up the role of policy director at the PRCA and chair the Future Practitioner panel at the CIPR, voluntary positions that are certainly keeping me busy on top of the day job.
My most important role though is as Mum to two small boys.
2. Why did you choose a career in PR?
I think PR kind of chose me. I struggled to decide on what to read at uni so my Mum suggested I do a multiple choice careers' questionnaire which asked about my skills and interests. PR popped up as a potential option so I hedged my bets and chose a joint honours degree in French-Media, specialising in PR towards the end. The course was one of the first to have mandatory work experience placements and once I'd entered the agency environment, I loved the pace and challenge that came with the job. I'm very fortunate in that I do something I love. I'm always upbeat about coming to work.
3. How exactly did you get into PR and what experiences have you gathered so far?
So as discussed I had to do two work placements and the second one ended up being at Tyne Tees Television in what was then known as the Regional Affairs department. This comms role turned into a permanent position but I was keen to get my break in agency and fairly swiftly secured an account executive role in Newcastle.
Two years in, I decided I needed to widen my experience of marketing and moved to a full service agency and never looked back. I was headhunted for my next three roles and my last employed position saw me heading up the North East and Yorkshire operations of what was the UK's largest independent marketing agency at the time, before establishing my own in 2009. The best thing about having worked for five different agencies is that I knew exactly how I'd run my business from the very outset.
4. What's your biggest professional achievement so far?
This is a hard question. I'm proud of the team I work with because they're brilliant and we all have a very similar work ethos and deliver amazing results. However I guess in terms of personal development it has to be #FuturePRoof and developing the book from concept through to fruition. It's a dream I'd never thought I'd fulfill and it just shows anything is possible with a good mentor and when you are prepared to work in a collaborative fashion. I'm very grateful to the community for their support and generosity in sharing their expertise.
5. What advice would you give to students considering working in PR?
The answer to this is be persistent and keep on learning. It's all about attitude and the desire to learn in what is a very fast paced, evolving industry. I went back to uni part-time to get my MA in marketing and am a graduate of Squared, Google's digital marketing course. I most recently achieved CIPR Chartered Practitioner status, which in part reflects my commitment to CPD. There's still no room for me to rest on my laurels.
The other thing I'd say is to remember public relations is a management discipline. Develop your commercial acumen and business skills. It'll give you a headstart on others and be invaluable in the long-term. I promise you, you'll be very glad you did.
Wondering if PR is the right career for you? Try the PR Profile Fit Test and find out! Download it for free by clicking on the image below!