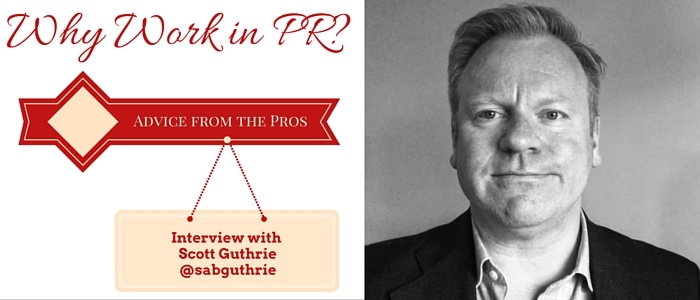 I'm now very dedicated to ramping up my blog series "Why Work in PR?" as it looks like they are very helpful to you, dear PR students and young professionals.
Today, it's Scott Guthrie who shares with us his PR career story and some fantastic guidance with three big tips on how to succeed in the PR industry.
It looks like I tend to meet other PR professionals on Twitter. Same happened with Scott and also through the #FuturePRoof book project that we both wrote chapters for and then started reading and tweeting each other's content more often afterwards. He writes regularly about communications, creativity and change on his blog so I encourage you to subscribe there to learn. And don't forget to follow him on Twitter @sabguthrie.
(If you've missed any of the previous interviews, you can take a look as well: Richard Bailey, Pippa Hanson, Jessica Hodkinson, Chryssa Skodra and Farzana Baduel.)
Why Work in Public Relations: Interview with Scott Guthrie
1. As a short introduction, can you tell us a little bit about you and what you do?
I'm the Digital Director - Influencer Relations at Ketchum London.
Influencer relations and influencer marketing have grown rapidly as a discipline over the last few years. According to Augure, an SaaS influencer marketing company, 84% of PR professionals and marketers will use influencers in a campaign in the next 12 months.
My role at Ketchum is to help ensure our clients consistently meet their business objectives by building a common language and standard process for managing influencer relations programs.
2. Why did you choose a career in PR?
It's an exhilarating time to work within the PR industry. The social web has given us all a voice. Tools to manage big data enable PR practitioners to identify a brand's publics in minutiae. To determine what topics are influencing them and who their influencers are. And then, armed with this data, to build meaningful, mutually beneficial, long-term relations with these publics.
By definition, all businesses are in the business of staying in business. However, profitability over the long term requires loyalty from employees, trusting relationships with suppliers and customers and support from government and communities.
Building mutual understanding amongst relevant publics is a bedrock skill of the PR practitioner.
3. How exactly did you get into PR and what experiences have you gathered so far?
Two golden threads fleck their way through my portfolio career: communications and change. Whilst studying at university for my first degree I worked two days a week for a PR agency.
I have worked as a print journalist and enjoyed a brief stint as a TV researcher and producer.
At PR Newswire, I became the first newswire product manager across Europe, the Middle East and Africa.
I've worked as an independent comms and change specialist both in London and in Sydney and had a senior general management role within a group of insurance companies.
This breadth of experience sitting alongside some academic rigour allows me to look laterally at the industry and where it is heading and to enable PR practitioners by giving the best tools to help serve their clients' interests.
4. What's your biggest professional achievement so far?
Two professional achievements stick out. One at the start of my career and the other very recently:
Being selected to join a small group of journalists and travel with Sir Richard Branson on Virgin Atlantic's inaugural commercial flight to Johannesburg. Then spending a week travelling with the group, Sir Richard, and his parents around South Africa.
Joining the London team at Ketchum to oversee influencer relations.
5. What advice would you give to students considering working in PR?
Three things:
Blend theory with experience

Never stop learning

Have a go
Blend theory with experience
Study public relations, communication theory and research. A tool bag of relevant theories, concepts and frameworks allows you conceptualise and evaluate how to solve problems. But theory should be blended with real-life experience. It's not all about two-by-two matrices.
The skill is to lose the jargon and to borrow bits of theory cobbling it together into something which is relevant and you can implement with a hands-on approach.
Never stop learning
Never stop learning. Read deeply; read widely. Devour industry blogs, books and magazines. Deep subject matter knowledge is vital for success. But PR is also about contextual intelligence: how public relations activities relate more broadly to the organisation and society.
Come at topics from different angles. For instance, I read both the Financial Times and the Australian Financial Review. Doing so lends a different geographical slant to the same global business issues.
Attend events, industry talks and conferences.
Have a go
Have a go. Seize all opportunity flung in your direction. Find new ways to create more opportunities for yourself.
Start a blog. Comment on articles about the PR industry. Have an opinion and be able to back up your opinion with substance.
For me, blogging has been a way to 'work out loud'. Of being able to structure and then articulate my thoughts. A way of learning by doing. It has also been a way to get noticed.
On the back of my blogging I've been asked to write guest blogs for US-based business websites, Chartered Institutes and to contribute to books just by having, and sharing, my opinions. Blogging has introduced me to new people, new thinking and new work opportunities.
Wondering if PR is the right career for you? Try the PR Profile Fit Test and find out! Download it for free by clicking on the image below!