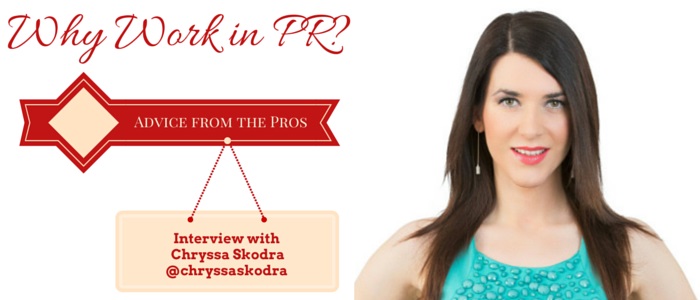 After the PR interviews with Richard Bailey, Pippa Hanson and Jessica Hodkinson, it's time for interview number four in my blog series"Why Work PR?".
Today, a dear friend of mine - Chryssa Skodra - shares her amazing international career experiences with us! I thank her very much for this very personal story that I am sure you will learn a lot from!
Before getting to the interview, the way Chryssa and I met and how our relationship has been progressing, is an interesting story on its own. Two years ago, I was working on a cross-border management project with students from Finland and The Netherlands. It was an exciting 6-month real world experience. One of the girls from my team - Tuula - was from Haaga-Helia University of Applied Sciences in Finland and as we got to know each other, she said I had to meet her PR and Communications lecturer Chryssa, with whom we apparenlty shared so many things in common. It was Tuula that introduced us virtually and then arranged for us to meet face to face when I travelled to Finland to present the results of the project. Chryssa and I immediately bonded. We really are passionate about the same things, we are very like-minded and we have been in regular contact ever since then, working on various projects and sharing ideas. I am so happy to have met Chryssa - my digital soulmate :)
Have a look at ther website and blog posts and connect with her on LinkedIn and Twitter. She really is a PR extraordinaire and a tremendous digital storyteller you would be lucky to have in your network, as I am!
Why Work in Public Relations: Interview with Chryssa Skodra
1. As a short introduction, can you tell us a little bit about you and what you do?
I'm a PR professional from Greece living in Finland for a decade. A communication and media expert by education and profession, working in higher education since 2010 as well as a PR entrepreneur and digital storyteller. I have been blogging since 2003 and I am a brand ambassador for a variety of lifestyle and technology brands. Academically, I hold a Bachelor of Science in Communication and Media, a Diploma in International Project Management and a Master of Music in Arts Management. In addition, I'm a certified Entre-Coach (coaching young entrepreneurs) and an Accredited Lecturer in Intercultural Management and Organizational Culture by The Hofstede Centre.
2. Why did you choose this career?
I was born a communicator and storyteller. My mother says that I've spoken my first words at 8 months old. At 2 years old, I would memorize her fairy-tales, then I would grab the fairy-tale book and recite her words verbatim pretending that I am reading. At age 5, I remember standing in front of the mirror, singing in gibberish English pretending I speak the language. At 8 my favourite game was to record cassettes of me telling stories pretending I was on the radio having a show. At age 14, I actually got my own radio show on NRG Radio in Greece being the youngest radio DJ in Greece. When graduating from high school, the choice to apply to the Journalism school was an obvious one. However, my father was of the impression that with my excellent grades and strong argumentative skills, I should get into Law school. Eventually, my argumentative skills convinced why journalism is the best choice for me and I had his full support ever since. Now both of my parents are happy for my professional development and career.
3.

What do you consider to be your biggest career achievement so far?
My biggest achievement actually happened at the very beginning of my career when I was still studying Communication and Media at the University of Athens in Greece. I was hired by Athens Olympic Broadcasting Ltd. (AOB) – the host broadcaster of the Athens 2004 Olympic Games – as a Liaison Officer. Basically, my position was media relations-oriented and my tasks included running daily operations at the Information Center of the Hellinikon Olympic venue (basketball and handball), moderating communications between AOB and international photographers, television and radio broadcasters as well as cultivating and managing relationships with them. After this memorable, once-in-a-lifetime experience working for the world's largest sports event surrounded by top journalists and athletes from all over the world, it is hard to be intimidated by any scale or budget of events or be starstruck by any celebrity or famous journalist.
Another achievement is my getting my first job in higher education at the age of 26. I have been working as a full-time University lecturer since 2010 teaching a variety of communication-related subjects such as Marketing, PR and Media Relations, Advertising, Social Media Marketing, Blogging, Event Management and Wedding Planning and Management. And, last year, I registered my company PR Lounge that offers tailor-made services in PR, branding and content marketing.
4.

How did you get where you are today?
By walking my own off beaten path and staying authentic. For instance, I was always going against the tide. I would make unpopular choices, coming to Finland was one of them. I guess, it's true what the Greeks say, 'better first in the village, than second in the city'. Also, by being active and working from early on I was able to create a long, positive reputation and network. I always seize opportunities and if there are not any, I create them. Thanks to the support of my parents, I was able to achieve many of my goals, I'm eternally grateful to them.
5.

Which of your skills and qualities have been most relevant for you to get here?
My innate curiosity and enquiring mind. I'm curious about people, the PR industry, media and social media, new technologies. I love interviewing people and asking insightful questions that dig deeper to the essence of things and reveal unique narratives. Also, I have a laser focused, goal-oriented approach. I am a go-getter and I will go the extra mile to get the job done even with personal sacrifice. Clients appreciate people who take personal care of their business.
6.

You are very active outside of your 'regular' job – tell us about these activities and

how do you manage to juggle all (and have a life too!)?
Apart from a full-time University lecturer in Marketing Communications, Event Management and PR and Media Relations, I have my own Helsinki-based PR agency --PR Lounge- and I create content, manage social media and organise events on a weekly basis. I work anytime and anywhere with my mobile devices with a WI-FI connection. I'm afraid I don't have a clearly defined time for 'personal life' as such, or at least the boundaries between my personal and professional time are blurred. I get so much excitement from every PR event or project that I don't feel that I am 'working'. My fiancé, who is a photographer/videographer, is also a business partner and our home is also our workspace.
7.

What inspires you?
As I mentioned, my innate curiosity makes me able to be tuned in to everything that can expand my mind to a point that it cannot regain its original dimensions. I have my eyes and ears open and I am sensitive to details that often go unnoticed. I have been inspired by fun facts, by a tweet, by the stunning structure of snowflakes in Finland and the endless blue of the sea in Greece as well as by amazing people who have left a legacy behind. I'm inspired to be better daily to push my own limits and achieve my highest potential. I get a lot of inspiration from long walks through my neighbourhood. I'm inspired by people, places and culture. I love theatre, music, dance, literature, food and coffee-meetups with friends.
8.

What do you hope to achieve over the next 10 years – your long-term career

aspirations?
If I could 'remember the future' in 10 years, I will have my PhD ready and be the author of a few books I have in mind. My long-term career aspiration is to become a leading speaker on the international circuit. Hopefully this turn out to be a self-fulfilling prophecy!
9.

What are your top three tips for recent graduates looking to start their careers?
First and foremost, PR graduates should focus on constantly developing their writing skills and adapting their style to various clients' needs and platforms. Graduating from higher education without writing their own original texts, they cannot offer concise writing to their future clients. Having a blog during the studies is an excellent platform for honing their writing skills.
Second, many students nowadays often demand the best outcomes with the least amount of effort. My advice is to develop a strong work ethic and to find your internal motivation for everything one does. PR work is not a 9 to 5 job. If you want to stop thinking about work after 'work hours', you are in the wrong profession.
Third, develop your interpersonal and networking skills. PR graduates should start developing their own personal brand and digital presence already during their student years. They should have a presence in LinkedIn – my most favourite social network platform of all – and expand their professional network by adding teachers, guest lecturers, fellow students, employers, contacts they meet at events and conferences. They should be approachable and build rapport and relationships with people before they 'need' them.
10.

What are your top three tips for recent graduates looking to start their careers?
Love learning! Learning takes place in various shapes and forms. Learning is when reading a book or an article, attending a seminar or a conference or networking and building relationships with people or playing a game.
Attitude is as important as ability. Having a can-do attitude and a strong work ethic distinguishes a good PR person from an excellent PR person that you wish to keep forever and your competitor does not have.
As an educator, I see from the first lesson who will succeed in the PR world. That spark in your eyes, your alertness, your whole-hearted presence, your well-argumentative comments, your initiative will always go noticed. I am always willing to recommend the students that I would hire myself to master's programmes or PR job positions. In order to excel at your job in PR, you have to be alert and keeping up with trends and making sense of large amounts of information. Staying connected and organised will keep you on top of your game and you able to see the big picture, connect the dots and offer unique and creative solutions to your clients. If you don't know what's happening out there, you might naively think you have discovered the wheel!
Wondering why work in PR? Try the PR Profile Fit Test to find out if PR is the right career for you! Download it for free by clicking on the image below!