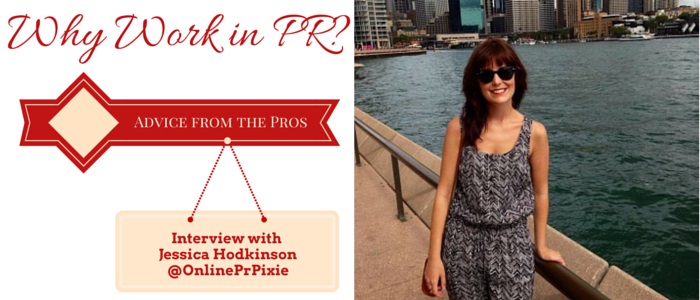 After the PR interviews with Richard Bailey and Pippa Hanson, it's time for the third interview in my blog series"Why Work PR?".
Today, Jessica Hodkinson shares her PR experiences and advice with us.
I 'met' Jess a few months ago on Twitter and we've been following each other since then. She regularly blogs about online PR and I encourage you to subscribe to her blog and follow her on Twitter for tons of useful information.
Why Work in Public Relations: Interview with Jessica Hodkinson
1. As a short introduction, can you tell us a little bit about you and what you do?
I am a PR and Social Media Consultant blogging at www.onlineprpixie.com
2. How exactly did you get into PR and what work experiences have you gathered so far?
After graduating back in 2009, I started the painful job hunt and faced a lot of mind boggling situations and rejection; I struggled to remain motivated before I found the right role. I saw an opportunity with a digital agency in the north of England and I decided to apply for it. I became an online PR consultant and learnt some essential skills that definitely set me up for the future. I also started my own blog!
Three years into my career, I was approached by a designer shoe retailer and asked if I would be interested in running their PR and Social Media activity. I grabbed the opportunity with both hands.
In 2013 I won a competition with Nokia which opened up the opportunity to visit Mumbai and report at Social Media Week. I met some amazing people and developed a keen taste for travel which aided with my decision to take time off in 2014. I set off on my travels around Asia before landing in Australia in March 2014. Since arriving in Australia I worked for one of the biggest Australian PR agencies (PPR), attended leading conferences such as Mumberella 360 and Publish 2014 as well as Social Media Week Sydney.
3. What is the difference between in-house and agency work?
Gaining experience within an agency and in-house definitely gives you a more rounded understanding of the industry. Working within an agency enables you to learn from others as well as gaining valuable feedback for future progress. However, my time working in-house was definitely more interesting and challenging because I was coming up with the ideas and concepts, implementing them and seeing the results from my own, hard work.
4. What advice would you give to students considering working in PR?
The landscape today can be very daunting as we are faced with many channels of communication. Having an understanding of the online world combined with a great PR strategy puts anyone new to the industry in a really great place.
Experience is key! If you have the chance to work with a charity or do a three week placement with one of the leading agencies, take it.
Network, network and network, as getting to know people who may be able to help you out could be worth more than your degree itself.
Be proud of everything you achieve and don't let negative comments knock your confidence.
Wondering why work in PR? Try the PR Profile Fit Test to find out if PR is the right career for you! Download it for free by clicking on the image below!