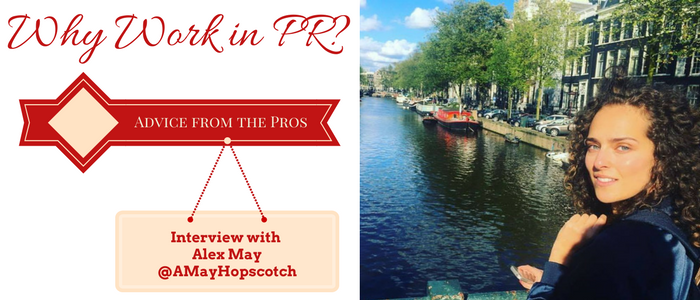 It's been over a year since I've run a "Why Work in PR?" interview but today we have Alex May sharing with us her PR career story and offering some very thoughtful advice for students and young professionals who want to learn more about the industry and how to get into it.
Alex is a good friend of mine (we met in Dublin) and I asked her to participate in my PR interview series because I felt it would be good for PR students thinking about the profession to hear from a younger pro who's closer to their generation and experiences.
Before you move onto the interview, don't forget to follow her on Twitter @AMayHopscotch and say Hi.
(If you've missed any of the previous interviews, you can take a look as well: Richard Bailey, Pippa Hanson, Jessica Hodkinson, Chryssa Skodra, Farzana Baduel, Scott Guthrie, Sarah Hall and Angharad Welsh.)
Why Work in Public Relations: Interview with Alex May
1. As a short introduction, can you tell us a little bit about you and what you do?
I am an Account Manager at Hopscotch Europe based out of Dublin and working on multi-country PR campaigns for a range of international clients as well as community management for a group of luxury hotels.
2. Why did you choose a career in PR?
I started my career in journalism, but was seeking something more commercial that required a similar level of creativity and diverse working environment. A career in PR is a fantastic way to immerse yourself in the key issues facing various industries - it enables you to develop knowledge very quickly (switching from client to client multiple times a day), it develops your ability to produce creative content at a high level, and also to be able to communicate persuasive stories based on carefully selected pieces of information both online and offline.
3. How exactly did you get into PR and what experiences have you gathered so far?
I got into PR by chance. I started out as a copywriter at a PR agency in London, and quickly realised that I wanted to move beyond content, and work towards having a client-facing role. I have worked for two different PR agencies, Curzon PR in London and Hopscotch Europe in Dublin (the European Hub of Hopscotch Groupe in Paris). I have worked on everything from events to social media, branding, coordinating media tours, participating in trade shows, and more specifically on the PR front - influencer relations and multi-country PR (working with UK, French, German, US, Spanish, and Russian press amongst others). I have also taken an active role in new business presentations and lead generation.
4. What's your biggest professional achievement so far?
My biggest professional achievement so far has been managing the launch of a US-based brand into three European markets. They started out with little to no brand awareness in those three markets, and six months down the line, were more talked about in the press than any of their competitors. The reason why I chose this example is because it spans a long period of time - it shows that PR is not a quick-fix. It takes time to build up awareness of a brand - some months will produce higher amounts of coverage, other months less, and some markets might kick-off quicker than others. This is frustrating in the beginning, but it is something that you learn to accept and understand. It takes patience and hard work to reach a consistent position in the market.
5. What advice would you give to students considering working in PR?
I would say that PR is not an easy profession, and certainly not one that is easy to get into - especially in the big PR hubs like London and New York. It is, however a career choice that is exciting - no day is the same, you develop a range of transferrable skills that are invaluable in any client-facing role, it enables you to travel, and most importantly - it enables you to put yourself into the mindset of key decision makers in various industries. You should expect to be challenged on various things - your ability to multitask, your attention to detail, your ability to convey a story in writing and orally, your knowledge of various media landscapes, and sometimes, depending on the agency, your language skills. Finally, I would advise to be selective with the PR agencies you are applying for. If you speak several languages, try to find an agency that will enable you to use these languages, or if you're passionate about tech - check out some agencies that specialise in tech PR. It's always worth asking an interviewer what they like most about their role, and also questions about the management style of the agency to see if it would be the right fit for you.
Wondering if PR is the right career for you? Try the PR Profile Fit Test and find out! Download it for free by clicking on the image below!