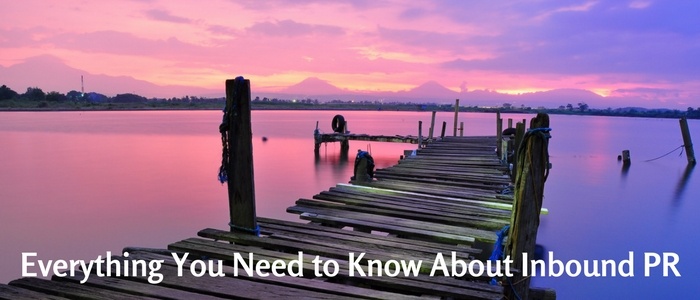 Inbound PR is two years old!
I can't even believe it. Time flies...
The other day as I was looking at some past blog posts on the topic for my book (yes, I'm writing a book about Inbound PR), I saw that I have written quite a few pieces about it.
But shifting through them wasn't that easy. Yes, I can go by topic and search in my HubSpot software, however, wouldn't it be great to have it all in one place instead of clicking to the next page again and again?
This is what this post is all about - the entire collection of everything I have written about Inbound PR over the past two years, everything you can read to learn about it.
Everything You Need to Know About Inbound PR
Why Inbound PR is the Future of PR? My #INBOUND16 Talk - full transcript of my talk at the biggest inbound conference in the world summarising the key reasons why we need Inbound PR and the steps on how to do it.
Why Inbound PR is the Future of PR [Video] - building upon the above in case you prefer to listen instead of reading. This is the full video of my INBOUND16 talk on Inbound PR.
Why PR Needs Inbound PR to Stay Relevant - consumer behaviour and the stakeholder landscapes have changed dramatically, PR needs to adapt to this new reality.
17 Reasons Why Inbound PR Makes Perfect Sense - even more on why PR needs Inbound PR and how combining traditional PR with inbound marketing makes perfect sense.
The ABCs of Inbound PR - all the terms and specifics you need to know about Inbound PR in a pretty long post that you can give your people to learn about the concept and what's important.
How Inbound PR Fits with PESO - Inbound PR touches on all media types: paid, earned, shared and owned.
Inbound PR 101: There are no Good Leads Without Good Content - content is not just text you publish here and there on the blog and social, it needs to be strategic to affect the bottom line.
8 Tips for Doing Media Relations the Inbound Way- media relations is still a big part of PR but the media landscape has changed, the way journalists and influencers make decisions to work with brands is different. Here's the inbound method on how to work with them.
How to Turn Outbound PR into Inbound PR - continuing with the media, here are some ideas on how to turn traditional PR activities or assets into their modern inbound versions.
3 Big Reasons Why PR Agencies Need to Adopt Inbound PR Now - much has changed in the PR world and it's time for the industry to reinvent itself, that needs to start within the agencies.
Inbound Marketing for PR Agencies: Why You Need it - PR agencies are ripe for disruption. The disciplines are blurring and PR still has work to do to deserve a seat at the C-level table.
Don't Believe in Inbound PR? This Post Will Change Your Mind - where it all started: from the realisation that combining PR's biggest strength (content) and alleviating it's biggest challenge (measurement) through inbound marketing just makes total sense.
To finish this off here's also a short ebook as your started guide into Inbound PR:
Do you do Inbound PR?