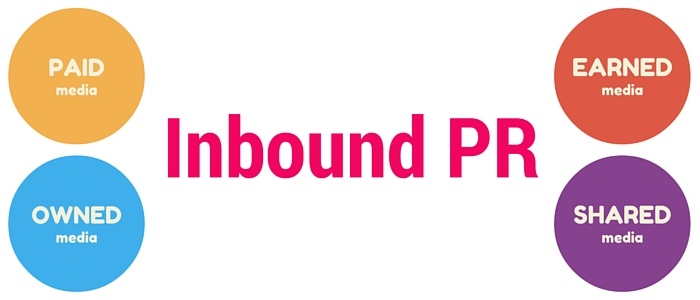 I'm a big fan of Spin Sucks. It's where I learned about PESO (Paid, Earned, Shared and Owned) and how to leverage it in PR.
It's a model that Gini Dietrich – founder of Spin Sucks – has been preaching a lot in the realm of PR for the digital age.
While reading her latest blog about PESO and PR, I was thinking, "Actually, my inbound PR concept fits into each of those quite nicely."
Here's what they have in common:
PESO is all about setting realistic expectations and plans, and so is Inbound PR.
Both make it clear that PR today is a lot more than just media relations.
And even if you do use media relations, you have to make it a part of a larger, integrated communications or marketing programme.
They both get your "cash register ring" by fully aligning all activities with the overall business goals.
Results don't happen overnight, but if you stick to the plan and track and optimise regularly you'll see the real ROI.
PR today crosses all different media types – paid, earned, shared, owned – and uses tools such as email marketing, SEO, lead gen, influencer engagement, social media, native advertising and more.
As Gini puts it, "PR no longer is just about getting your name in print. It's part of a strategic and measurable marketing program."
That's exactly what Inbound PR is all about. It combines the best of two worlds:
PR's strengths – writing, storytelling, content and audience engagement for relationship building.
Inbound Marketing's strengths – tying all digital activities to the actual ROI by generating leads, closing customers and really being able to measure everything all the way.
Let's take a closer look at the PESO model and how Inbound PR fits within each of the media types.
The PESO Model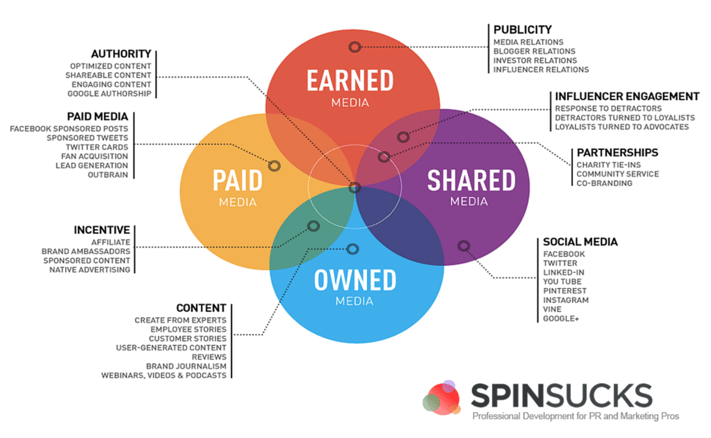 Inbound PR and Paid Media
At HubSpot, we recently introduced a new tool called the Ads Add-On. You might be wondering: "Why does the company that invented inbound marketing and swears off outbound tactics now goes into exactly that space with ads?"
Because we figured out that in today's overcrowded, overcommunicated and overinformed world, it's the content that matters, not the format. So using ads to promote your content and put it in the hands of your audience, can only be beneficial because it will get consumed by the right people. You amplify the effects of your content.
Let's just make one thing clear, though: we are talking about native search and social ads here – that's media that fits seamlessly with the rest of the content; it's not intrusive, it's targeted and it's helpful. It reaches the right people on the right channel at the right time to amplify the right content.
Inbound PR and Earned Media
Here, we are talking about the most common practice one thinks of when hearing PR – media relations. Or pitching journalists to be your intermediaries and write about your brand for print or online.
The way Inbound PR fits here is by doing inbound media relations. What that means is really creating your own content for your own channels to position your brand as an expert in a field and by that attract the media to you, rather than you chasing them.
When you create valuable content and have your own Newsroom 2.0 you're already offering journalists some story hooks that they can explore further and by being attracted to that they can then reach out to you for more.
The same applies to bloggers and other influencers. With engaging content, you can have them come to you to work on some cool collaboration opportunities for new campaigns.
Inbound PR and Shared Media
Shared media is about putting your content out there and getting other people to share it too and talk about you. But you need great content for that, content that is worth sharing with one's own social networks and friends. That's the definition of remarkable content – it's worth remarking on.
This is also very important when we speak about influencer engagement and partnerships because here you can for example run blogger campaigns or any other type of sponsorship engagements to involve others into your brand and co-create stories.
This amplifies the effect of your content and involves not only your own audience, but the one of your influencers too, spreading the word about your brand. It's WOM on inbound steroids.
Inbound PR and Owned Media
This is Inbound PR's strongest part – your own content for your own channels.
Here, we are talking about relevant blog posts that include CTAs to landing pages with valuable content offers (ebooks, infographics, webinars) that convert unknown visitors into known contacts – leads.
By having them in your database you can then continue to engage with them by sending them emails, pointing to other relevant blog posts or landing pages with content that gives them more value and helps them get to know you, your team, your products etc.
With your own content you move people further down the sales cycle. It's a journey of activities that you can fully track and tie back to business results – it's the ROI journey.
Where PESO and Inbound PR Fully Merge
At the centre of PESO is authority, which is basically driven by your own content that positions you as a thought leader. Content is at the very centre of Inbound PR as well.
And the goal, too, is to position you as an expert that not only Google recognises as such, but also all your website visitors whom you attract with your content so that you can convert them into known contacts, nurture them further and ultimately close them as customers.
Then, of course, using all media types you continue to delight them to retain them and build a long-lasting relationship.
PESO and Inbound PR both make perfect sense. How would you make them work for you?