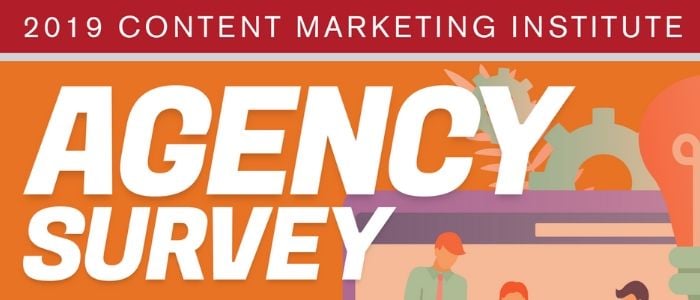 The Content Marketing Institute released a new study into content marketing services for agencies. The research looked into:
How many agencies have embraced content marketing as a service offering?
How long have they been offering content marketing services?
What types of services do they offer?
What are their biggest challenges when working with clients?
I went through it and I want to share with you the key findings that stood out to me about the growth and development of content marketing services by agencies.
I've spent over seven years working in an agency or consulting agencies on how to grow their businesses and content marketing has become a top income source and service provided so a lot of the results don't surprise me, however, they certainly speak of the increasing trend where agency disciplines are merging. It's becoming harder and harder to differentiate between the marketing, PR and advertising agency as they all offer or can offer the same content marketing services.
Now to the research. Let's start with some facts.
6 Key Learnings about the State of Content Marketing Services in Agencies
Nearly half of all respondents report their agencies have been offering content marketing services for 7+ years.
61% offer a full scope of content marketing services (e.g. as a standalone agency or part of a large or lead agency); 37% offer a specialised service(s) related to content marketing (e.g. SEO, social media, video production, email marketing) and only 2% say they have no involvement in any type of content marketing services.
Content marketing comprises 50% or more of all respondents' total agency business.
Most agencies rely heavily on word-of-mouth referrals to generate new content marketing business, followed by agency blog/websites and in-person events/networking.
Full-scope agency respondents say editorial services are their most frequently offered content marketing service, whereas those from specialised agencies cite email/email campaign management.
Articles/blog posts and social media content are the top two types of content that both types of agencies create for content marketing clients.
Now let's take a deeper look at the range of content marketing services agencies offer.
The Top Types of Content Marketing-Related Services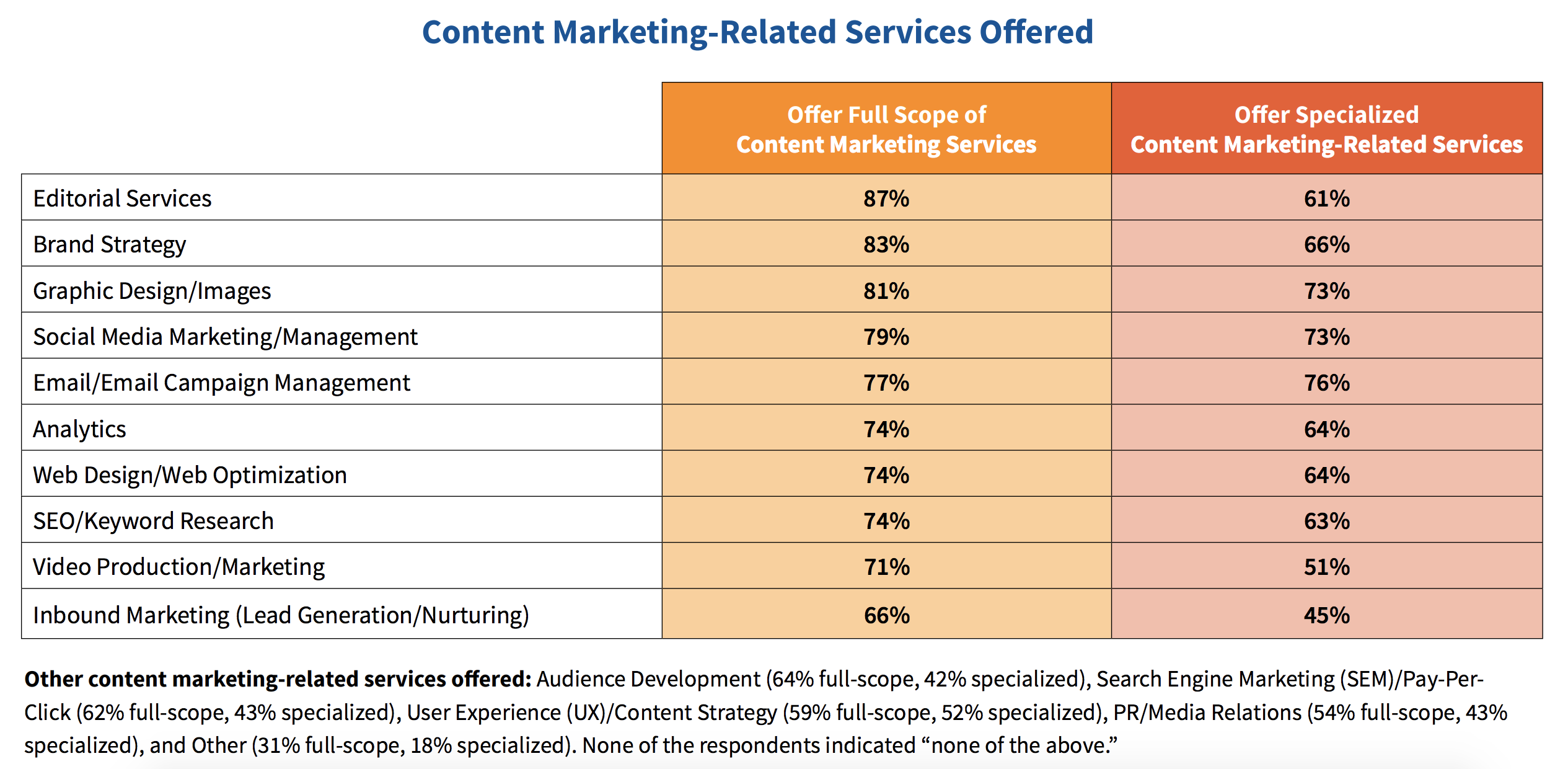 The Top Types of Content Agencies Create for Clients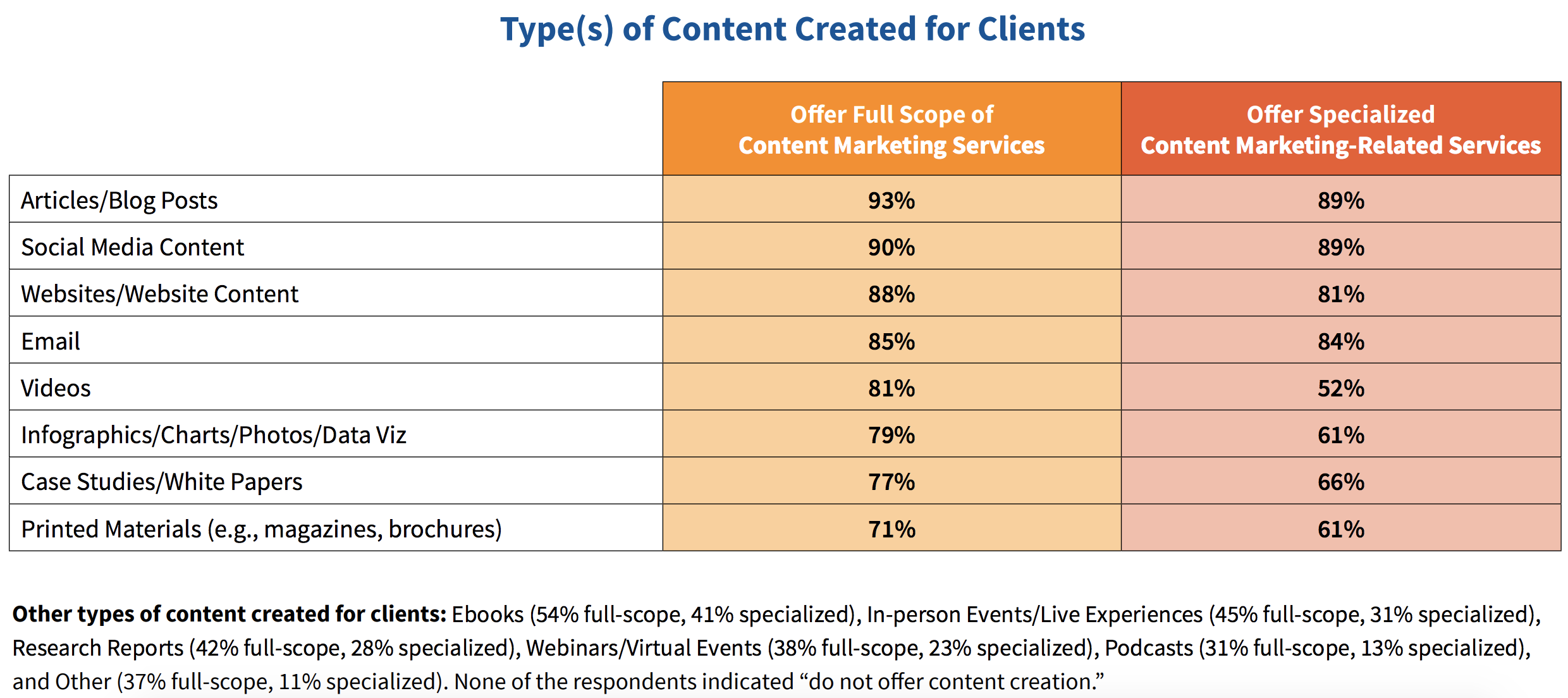 Sources of New Content Marketing-Related Business

Technologies Used to Deliver Content Marketing Services for Clients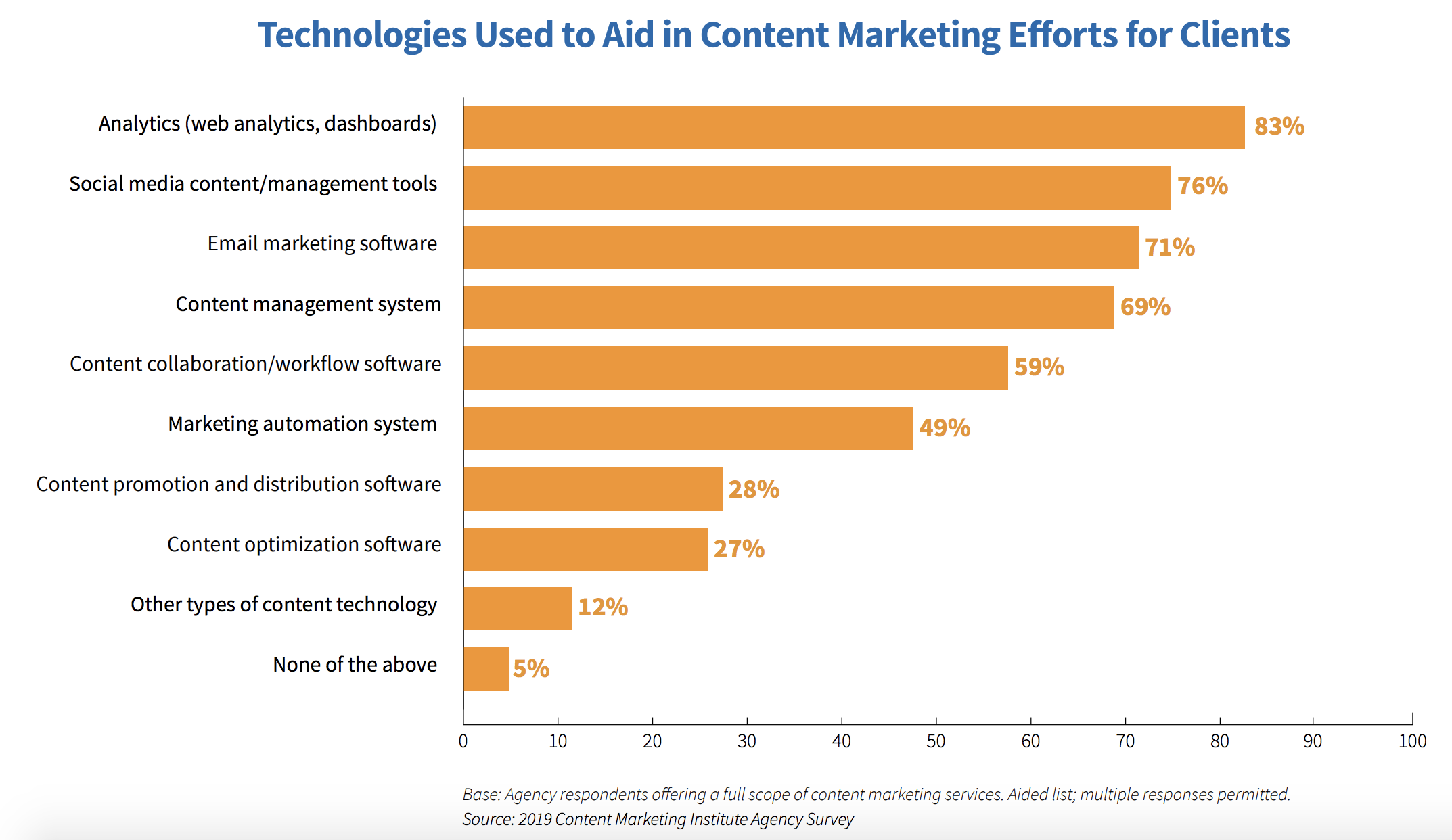 How Agencies Charge for Content Marketing Services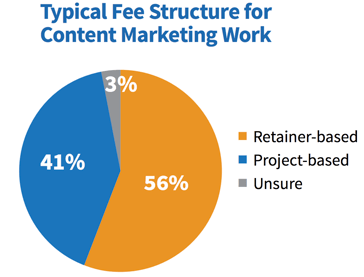 It's interesting to see how the top content marketing service by agencies is editorial which typically is the realm of PR. I'd say that doesn't surprise me because other types of agencies have been fast to jump on finding ways to service clients' needs. Since I published my Inbound PR book I've noticed a ton of interest in it by marketing agencies who've managed to adopt the Inbound PR methodology a lot faster than traditional PR agencies. So the question I'd love to get an answer to would be: how many traditional PR agencies have learned how to offer more marketing-based services?