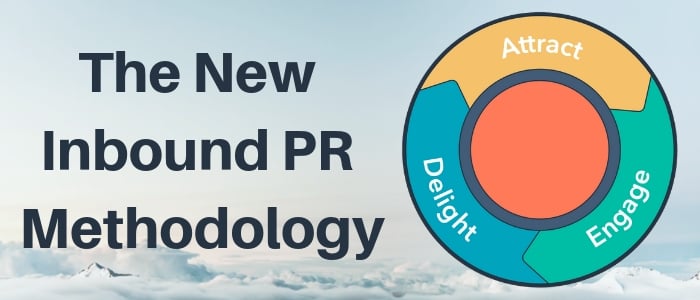 With the new year, the Inbound PR methodology deserved an update.
Last autumn, we introduced the HubSpot flywheel and to align with the flywheel we updated the inbound methodology from attract -> convert -> close -> delight in a linear fashion to attract -> engage -> delight in a circle.
We define inbound as a method of attracting, engaging and delighting people to grow a business that provides value and builds trust.
Traditionally, inbound focused on the customer - your buyer persona and how you attract prospects and customers to your website and blog through relevant and helpful content, then engage with them using conversational tools like email and chat, and finally, delighting them by continuing to act as an empathetic advisor and expert.
At The Heart of Inbound PR is Your Stakeholder Persona
What's unique about PR unlike any other industry is that it tackles multiple personas - customers, media people, employees etc.
At the heart of Inbound PR is that stakeholder persona - once you define it, once you know your persona's needs and challenges they're trying to solve through the questions they're asking (online and offline), you can use the Inbound PR methodology to build trust, credibility, and momentum because you'll be adding value at every stage in your persona's journey with you.
The reason why the methodology is now a flywheel and not linear is that this circular motion represents the growth of your business. Happy customers or happy stakeholder personas fuel that growth by coming back for more and spreading the word about you.
The New Inbound PR Methodology
The Inbound PR methodology goes hand in hand with technology. First, you need to grasp the principles of it and understand the flywheel so that you can formulate a strategy, but you need tools to be able to execute. At a minimum, you need to have a CRM to manage contacts, a blog or website for content and an email platform to engage with your personas more directly.
Let's take a look at the methodology and the required tools.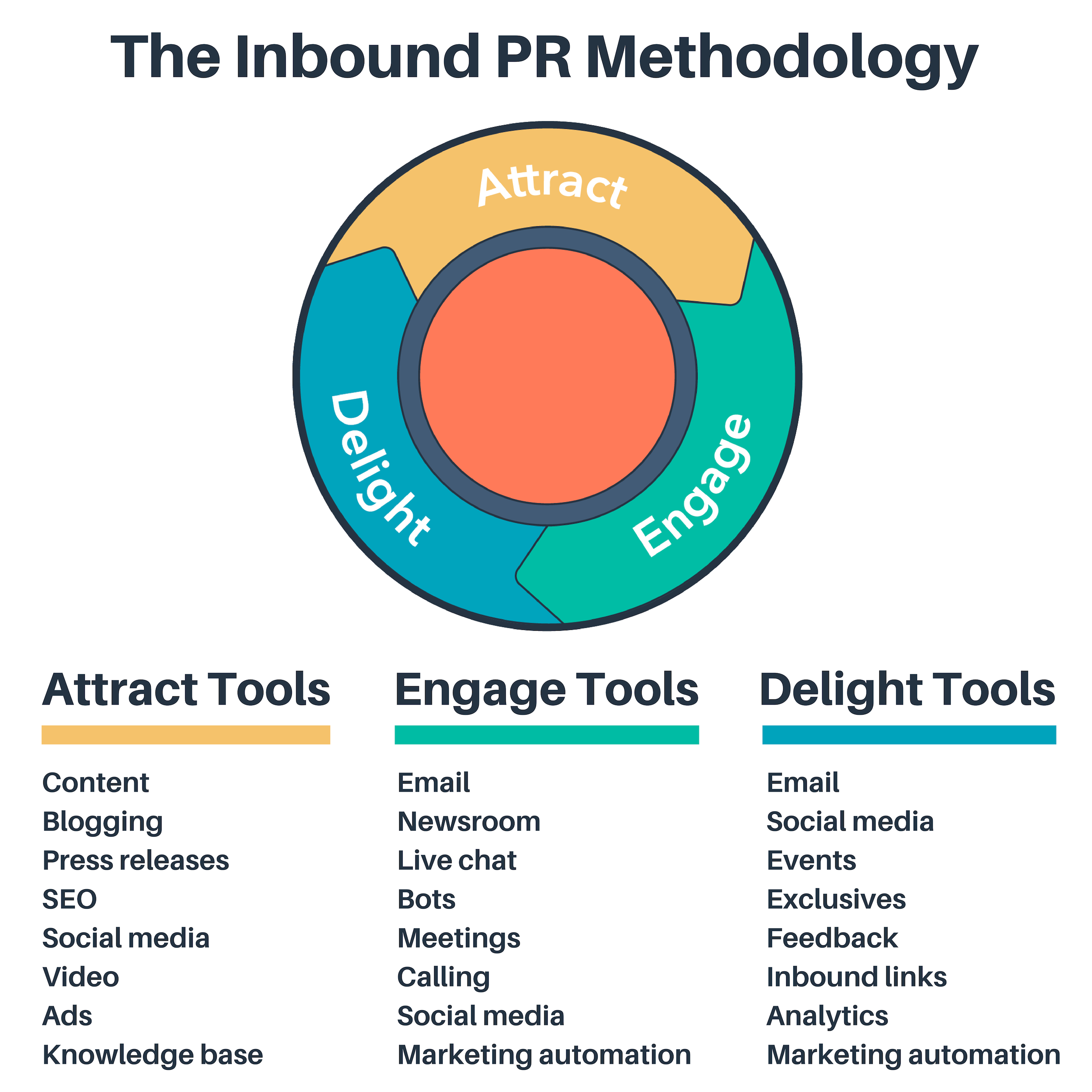 The updated 2019 Inbound PR methodology is composed of three stages: attract, engage, and delight.
At the centre of it is your stakeholder persona. It's the absolute key for the success of your Inbound PR efforts and campaigns.
Bear in mind that if you have different stakeholder personas, then you'll need to define each one of them separately and create separate campaigns for them using the above methodology. I talk a lot about stakeholder personas in my Inbound PR book and how to define them.
Attract, Engage and Delight in Detail:
Going back to the methodology, here's what each stage is about:
Attract:

Attracting is about using your expertise to create content that starts meaningful relationships with the right people - your desired stakeholder personas.

This stage relies heavily on content creation tools from your website to your blog, video, social media, really everything about owned media when you look at the PESO model. These tools basically allow you to educate your personas in an efficient way because they will be consuming the content at their own time - say for example a journalist is looking for some stats about your company and they can find them through a simple google search.
Engage:

Engaging is about building lasting relationships with those stakeholder personas by providing insights and solutions that align with their roadblocks and goals. This stage uses tools that allow you to start and nurture more conversations with your personas, often automated if you rely on bots or marketing automation. Here, of course, the personal contact plays a much bigger role because you're dealing with people who have shown true interest and you're required to provide much more targeted value to their needs, for example, you can have a quick call with that journalist explaining certain areas about the data they've found earlier.

Delight:

Delighting is about providing an outstanding experience that adds real value, empowers people to reach their goals, and become promoters of your company. This stage relies a lot on the data and analytics from the previous stages because only so will you be able to provide an experience that's truly unique and driven by the actions of your personas previously. Using the example from above, here you could offer an exclusive interview with an exec for that journalist who became interested in the company stats. Here, it's also about building upon that relationship in ways that help your persona grow or be better such as helping grow the journalist's reputation.
One of the key things this methodology allows you to do is to position yourself as an expert in your desired area because through so much content that is strategic you achieve higher SEO authority but also become a thought leader.
In an upcoming post, we'll talk about the tools and technology you need to make the methodology work and I'll give you some of my recommendations for a toolstack.
How do you like the new Inbound PR methodology?