Over the last few years two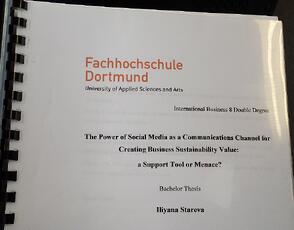 relatively new business philosophies have become the trendy buzzwords in the corporate space – social media and sustainability. The rise of social media has provoked a complex cultural and communications shift in the way people share information and participate in conversations, resulting in the empowerment of the individual to demand change as well as to expect responsibility and social consciousness from brands to strike the triple bottom line balance.
This new social economy is based on engagement, relationships and mutual trust where relevance to the individual is a main currency for meaningful communications. Thus, innovation has become crucial for companies to reach, educate and inspire this new consumer about sustainability, but there is still both a need and a demand to raise sustainability awareness, break down silos and improve communications practices and knowledge management.
To analyse and explain social media's impact on sustainability communications and offer practical guidance for companies interested in exploring these new opportunities I chose to examine the power of social media as a communications channel for creating business sustainability value for my second BA dissertation.
The main research objective was to discover whether social media can be a support tool or a menace for corporate sustainability.
I examined the importance and the current state of social media for sustainability communications and the opportunities and the risks of social media comms for creating business sustainability value.
As a result, I developed a best practice guide for utilising the power of social media and avoiding potential pitfalls, which you can see in the infographic at the end of this post.
After conducting comprehensive literature review and primary data collection through interviews with professionals in the field of sustainability and social media (whom I once again want to say "thank you"), I found that social media can indeed be a source of business sustainability value in a number of ways, for example as effective information sharing through storytelling; community building through enhanced stakeholder engagement; business idea development and implementation through co-operation and co-creation.
However, for social media to be an effective support tool companies are required to show ongoing commitment and follow the principles of the new social landscape – transparency, authenticity, community and relationships (also inherent to sustainability).
Otherwise, if organisations choose to ignore the nature of social media and use it to manipulate consumer awareness and behaviour, they are at risk of facing the menacing role of social media to damage or even destroy a brand.
Since people now have and, most importantly, make use of the new channels to express and distribute their opinions freely and reach mass audiences all over the globe, nothing can stay hidden on social media.
To offer you some more insights, here are the main conclusions of my research:
Social Media as a Communications Channel for Sustainability:
There is a need for a new business culture based on the ability to feel and show empathy and the ability to change and move away from traditional horizontal and vertical business approaches towards a web, ecosystem and dialogue-based mindset for more innovative and value-driven collaboration. Consequently, there is a requirement to change the currently very dry, technical and preaching-like nature of sustainability communications towards making it more relevant, emotional, fun, provocative and engaging in order to better reach audiences on a larger scale.

In this regard, social media can be that new tool because, since it shares the same values as sustainability (community, transparency, authenticity, innovation, creativity and collaboration), combining and aligning the two concepts could have a powerful impact on effectively balancing the triple bottom line. Social media can thus be an asset that companies should capitalise on, as it can provide competitive advantages and allow brands to become pioneers. But, real commitment to social media sustainability communications is nevertheless required. Most importantly, both practices need to be embedded throughout the organisation – only then can they be effective.

Social media allows companies to be creative, authentic, honest and transparent in their sustainability communications approaches and offers them the platforms to attentively listen and directly respond to what customers and other stakeholders are saying. Hence, social media provides tremendous benefits for organisations to increase brand awareness, promote sustainability initiatives and efforts, engage with stakeholders, integrate them into the company processes, facilitate knowledge management, advocate green activities and inspire sustainable lifestyles.

As a support tool social media can not only serve as a communications channel, it can go beyond just sharing information to being a collaboration and co-operation tool that can create value and drive real change through storytelling, community building, crowdsourcing, open innovation and co-creation. Thus, social media can be a strong differentiator and a source of transparent and engaging competitive advantage for business sustainability and so help create a sustainable brand.

On the other hand, as social media gives everyone a voice and allows for information to spread rapidly like a virus, brands have lost control over the conversation and it becomes a challenge how to deal with stakeholder scrutiny and negativity expressed online. Those, who try to control the conversation in persuasive and manipulative manners or by deleting comments, are put at the risk of a crisis that can seriously damage or even destroy a company's reputation. Organisations that lack transparency and honesty in their communications are inevitably found out.

Not understanding the nature of social media and ignoring its transparency requirement by, for example, choosing practices such as greenwashing is a main reason for inducing the menacing role social media can play. But because on social media nothing stays hidden brands are required to 'walk the talk', aligning content with context.

The benefits of social media outweigh the risks for most organisations; those who fail to understand the new social landscape will be endangered of having their business disrupted by social technologies.
To enhance the present and preserve the future companies must play their role in educating society on the devastating risks of unsustainable behaviour and systems failure (e.g. serious loss of biodiversity) in order to mitigate them collaboratively.
The future generations are required to make better and more sustainable consumption choices, but the present generations need to set the grounds and facilitate the already gathered knowledge.
Education, though, starts with communication.
If society is not made aware of the issues and their extents, then solving them is not possible. As Galileo once said, "you cannot teach a man anything; you can only help him to find it within himself" – people cannot be forced or driven to agree or act in the way others want; people need to be gently and friendly led, inspired and engaged to change their minds. This is where the potential of social media lies because it is first and for most about people and relationships.
My research has shown that both social media and sustainability are paradigm shifts; the challenge is how to leverage them and do so in synchrony in order to create business value. Nevertheless, social media can and should be used as an essential tool for value creation in sustainable business. Therefore, the firm of the future should not only have sustainability as part of its DNA, but it should also embrace the power social media to transform and involve society to create a better future.
To offer professionals and companies more practical advice I chose to develop a best practice guide based on my research and the interviews I conducted. The guide is in the form of an infographic so that it can be easily shared online. This way I hope to reach as many people as possible and enhance the conversation about social media's power for sustainability communications.
Please, feel free to embed and share these findings. I would also love to hear your comments and feedback. :)
PS: I am going to publish further parts of my research in the next months, so stay tuned!
(Click on the infographic for a larger view)

Writing a dissertation too? Here's a checklist to help you plan it! Just click on the image below to get it for free: