Exciting news! The fourth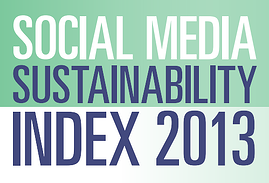 annual Social Media Sustainability Index 2013 is now out! Having written my second BA dissertation and my first book on the topic of social media for sustainability communications, you can assume how eager I was to go through the report and see if anything has changed after I had done my own research in the area less than a year ago. So, this is what I am going to talk about today - the research findings.
The team at Sustainly, led by Matthew Yeomans, analysed how 475 major companies from various industries use social media to communicate sustainability and corporate social responsibility (CSR) activities and actions all over the world. They looked at more than 4000 corporate social media channels to identify companies with real commitment to social media sustainability communications. They then selected the top 100 for the Social Media Sustainability Index and further investigated best practice communication and storytelling.
The main finding was "an explosion in the number of companies committed to talking about sustainability", however very few of those "seem to have a good idea who they are talking to and what stories they should be telling." But, storytelling plays an essential role for sustainability because "good social media communications is based on having a compelling story to tell and being able to back it up."
One reason for this uncertainty is how each company uses a different word for their sustainability and CSR activities - sustainable development, corporate responsibility, citizenship etc. - which of course makes it virtually impossible for consumers, employees and customers to understand it without first knowing what to call it.
Another challenge is making sustainability relevant and responsibility matter when buying and consuming, i.e. changing and shaping consumer behaviour and consumption habits.
Key facts and findings:
Nearly half of the 475 companies (233) have some form of social media channels or campaigns dedicated to discussing their sustainability or CSR efforts (that number was 176 in 2012, 120 in 2011 and 60 in 2010).

140 of those 233 companies demonstrate a commitment and enthusiasm to social media sustainability comms. The top 100 was derived from those 140 organisations.

42 of the top 100 have sustainability reports sharable via social media (40 in 2012, 36 in 2011 and 15 in 2010).

61 of the top 100 have dedicated sustainability blogs or magazines.

86 Twitter, 75 YouTube, 71 Facebook, 12 LinkedIn, 9 Pinterest, 4 Instagram and 3 Tumblr accounts are employed for sustainability news and discussion.
The "Big 10":
The researchers looked at how 113 brands of the 10 FMCG multinationals that have a dominant role in selling food and household goods use their brands' social media channels to communicate sustainability (Unilever, P&G, General Mills, Coca-Cola, PepsiCO, Nestlé, Johnson & Johnson, Kellogg's, Mars and Mondelez).

Unfortunately, most brands "don't even scrape the surface of the bold pledges and mission statements espoused by their corporate parents."

Together, the 113 brands have a Facebook audience of 451 million "likes/fans".

However, only 35 of those 113 brands use their social media channels to discuss sustainability and CSR, reaching 162 million Facebook fans with 78 million of those being fans of just one brand - Coca-Cola.

There is a missed opportunity to influence sustainable living considering how massive that fan community is.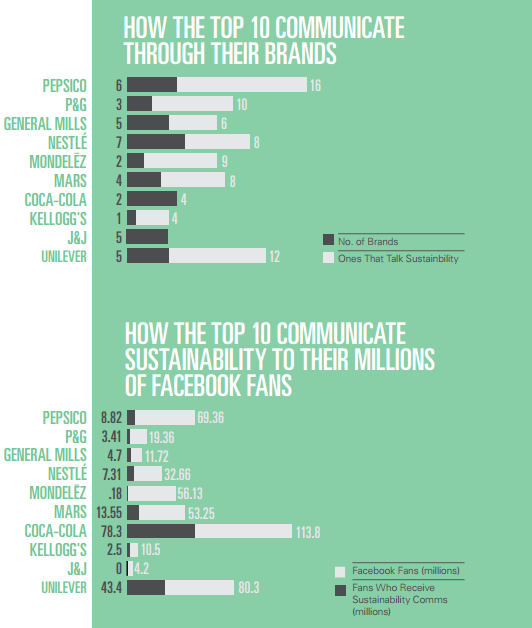 Storytelling trends:
Blogging continues to be on the rise.

Visual storytelling, however, "remains a bit of a corporate video wasteland."

Apps and interactive games are increasingly being used to provide a more interesting experience and useful content around sustainability and CSR topics.

Sustainability storytelling needs to evolve. Only so will companies be able to engage the masses and change consumer behaviour.
Nevertheless, for me the research findings are great news about how corporations are increasingly making significant efforts to embrace social media for sustainability communications.
I am also extremely happy to see how this annual study is becoming bigger and more relevant each year.
I encourage you to read the full report. There is much more information in there and many great examples.
You can download it here.
Images from Social Media Sustainability Index 2013 Report