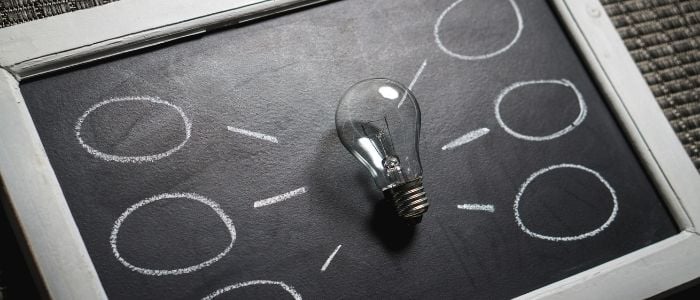 If you start learning to get yourself certified by the Project Management Institute, you'll encounter a very organised approach to the practice.
You'll also have to make use of the PMBOK book. One of the first things you'll learn from it is that there are five project management process groups, 10 knowledge areas and 47 processes, each with inputs, outputs, and tools & techniques.
In this post, we'll look at the five project management process groups which I believe are key to be able to plan any project.
This article is a continuation of my series on project management fundamentals - if you missed the previous topics, here's what we've covered before: the differences between projects and operations, projects, programmes and portfolios, the DARCI model for stakeholder engagement, how to run an effective project kick-off meeting, how to create a project charter, how to create a work breakdown structure and the top soft skills of a project manager.
The 5 Project Management Process Groups
The groups include:
Initiating
Planning
Executing
Monitoring and Controlling
Closing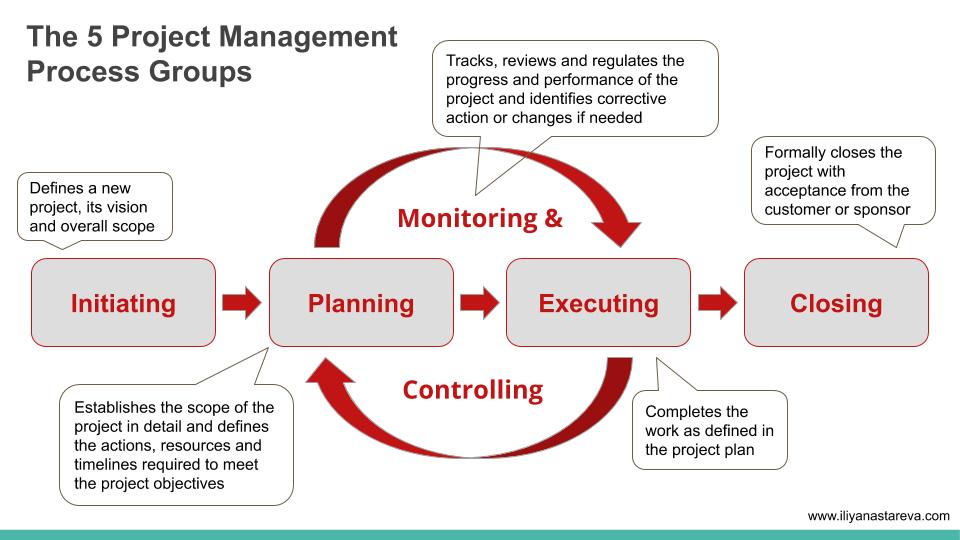 Let's take a look at each one in more detail.
#1. Initiating
This stage formally authorises the project by the sponsor. It sets the vision and the overall scope of the project. It also identifies the key stakeholders. Key here is to ensure that the project is aligned with the strategic objectives of the organisation. This is also where the project manager for the project gets identified and assigned. Important documents you'll use are the project charter and the stakeholder register (or DARCI framework) both of which we've covered before.
#2. Planning
Here is where you'll be doing the bulk of the work as a project manager. During initiating, the scope was defined but it's during planning where all the details are being narrowed down. This is the stage where a lot of organisations fail to spend enough time on and tend to jump to execution before having identified everything that needs to be done, how long it would take, the required resources, risks etc. This only leads to issues along the way.
I mentioned that there are 47 processes in PMBOK. Well, alone for planning there are 24. This speaks volumes about how important this stage is and how you should not rush it.
So during planning, you'll need to define:
define the scope in depth
create a work breakdown structure
define activities, their sequences and schedules
estimate costs and determine budget
plan resources
plan quality management
define communications plan
identify and plan risks
plan procurement
plan stakeholder management
All of this gets organised in an overarching project management plan.
#3. Executing
Only when you have the above planned, then you can start executing with your project team.
At this stage, you make use of the project management plan to help keep you on track, produce deliverables and manage resources and budget.
In addition, you also strive to continue developing capabilities your project team requires, communicates the progress often and manages stakeholders and any issues that might arise.
#4. Monitoring & Controlling
This stage spans through all of the rest and is ongoing. It's all about tracking and reporting progress. You try to monitor how you're doing against the scope and if you spot issues, you need to find ways to address and solve them.
Not every project goes smoothly so you'll always encounter a situation that's new or that you haven't planned for so it's important to know how to manage it.
Here's where you'll need a process for implementing changes to get you back on track if something happens.
#5. Closing
This stage formally closes the project, ideally because you've hit the objectives and delivered the scope. This is where you need formal sign-off from your customer, sponsor or whoever requested the start of the project - i.e. the stakeholder who is benefitting from it.
It's important to hold a lessons learned session and record these learnings. Many times we forget to do this but this is key to be able to improve with the next project.
Finally, you should celebrate the completion of the project with your team.
If you think about it, each project naturally goes through these stages even if you're not strictly following PMBOK but it's always good to put a structure to how you execute on a project.
Do you use these process groups when you manage a project?