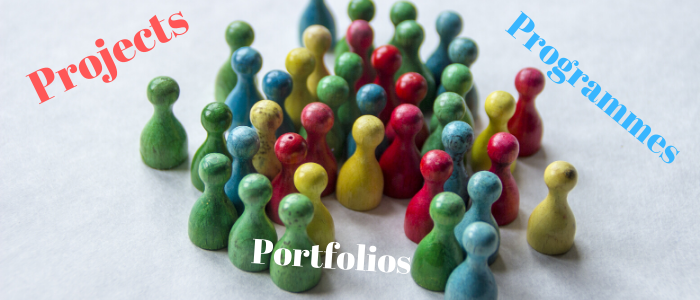 I promised to write more about project management this year based on your interest so I'm starting a project management series today.
First, we'll cover important project management fundamentals - we've gone through an overview of them with three infographics and we've also discussed the most popular project management methodologies and the differences between projects and operations.
Today, we'll go through another foundational topic: projects, programmes and portfolios.
A lot of people don't know the difference between these and intercept them, making their work less focused and less specific which in turn leads to an organisation that's not as well organised as it should be so that it's efficient and effective.
What are Projects, Programmes and Portfolios?
Let's take a quick look at these three terms:
A project is a unique, temporary effort with a defined beginning and end that aims to deliver a new product or service - for example, a large event that aims to launch a new product on the market.
A programme is a singled coordinated effort with multiple independent projects that are related to one another - for example, a range of projects that each focus on a particular area, e.g. the development, GTM, marketing and launch of a new product.
A portfolio is the prioritised set of all projects and programmes in the organisation which may or may not be related - for example, a company itself will be the largest portfolio but each division would be its own portfolio, e.g. the marketing software, the sales software and the services software.
Put another way, projects fit within larger programmes, which themselves fit within portfolios.
Now, let's take a look at the specifics for each :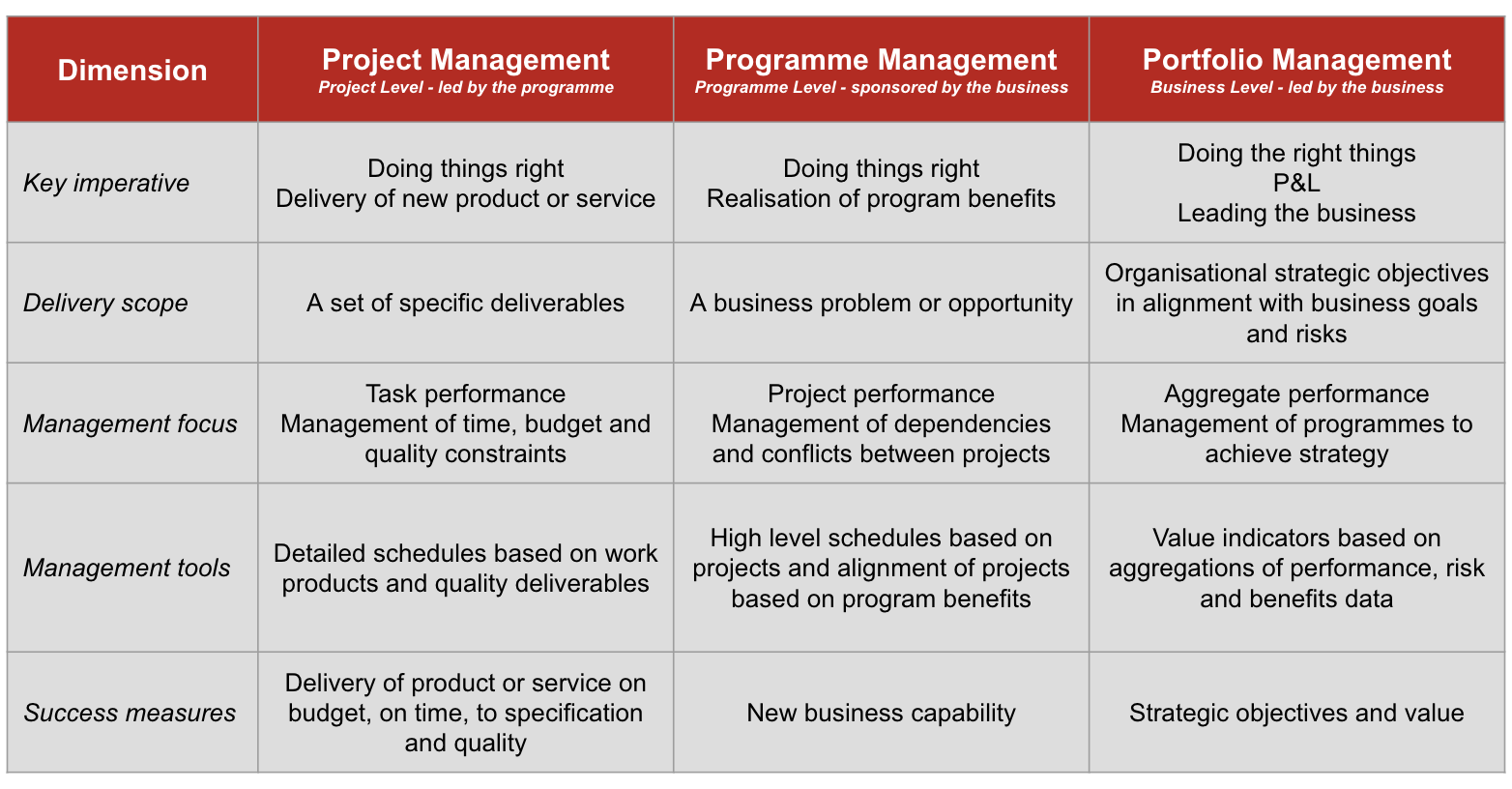 With the above differentiation, professionals start to specialise the more experience they earn. For example, the PMI (Project Management Institute) has courses and certifications for each three: Project Management Professional, Program Management Professional and Portfolio Management Professional. Each one requires a specific number of work experience hours, for example, the program one requires more than the project one etc.
I am Project Management certified which believe me wasn't easy to get: I needed to do a whole week of full-day training, at least three years of experience in project management and prove these three years with examples to be allowed to take the test and then the test itself is really tough.
But as a professional, how does your job differ if you focus on projects, programs or portfolios?
What Does a Project Manager Do?
In essence, the project manager manages the project team that has been assigned to deliver this unique product or service and ensures that the team meets the project objectives. In essence, the project manager leads the project from conception through to final delivery.
The success of this endeavour is measured by product and project quality, timeliness, budget compliance and degree of satisfaction in the eyes of the stakeholder who will benefit from the completion of this project.
Project managers monitor and control the work of producing the products, services or results that the project was undertaken to produce but the project manager is not responsible to execute the work - that's the project team's responsibility.
Here's a list of tasks that a project manager typically performs:
Definition of project goals
Intake and management of requirements
Project scoping, scheduling of tasks, and approvals
Assignment and management of project resources
Budget and cost management
Risk management
Communication of project status against milestones to stakeholders
What Does a Programme Manager Do?
Programme managers manage the programme staff and the different project managers, providing vision and overall leadership.
Success here is measured by the degree to which the programme satisfies the needs and benefits for which it was undertaken, i.e. whether the related projects meet their shared objectives.
Programme managers manage the progress of programme components to ensure the overall goals, schedules, budget and benefits of the programme will be met which includes prioritising the different projects under the programme, managing their progress incl. timelines and budgets and planning for dependencies and issues.
Here's a list of what a programme manager typically does:
Lead cross-functional programmes end-to-end
Development of plans to achieve programme-level goals
Definition of a cross-organisational roadmap
Prioritisation and funding initiatives
Resource capacity and availability
Management of interdependencies between projects
Coordination of resources
Reporting and communication of programme status to stakeholders
What Does a Portfolio Manager Do?
Portfolio managers manage or coordinate portfolio management staff, program and project staff who may have reporting responsibilities into the aggregate portfolio.
Success here is measured in terms of the aggregate investment performance and benefit realisation of the portfolio.
Portfolio managers monitor strategic changes and aggregate resource allocation, performance results and risk of the portfolio for each program and project underneath it.
Here's a list of what portfolio managers typically do:
Strategic planning and roadmapping
What-if scenario and risk planning
Investment planning and portfolio/programme level financial management
Centralisation of programmes and projects
Programme and project alignment and prioritisation
Real-time analytics to measure and manage programmes, projects and resources
Resource management and capacity planning
Time tracking
Visibility into all types of work – agile, collaborative, iterative, project
Summary: Differences Between Projects, Programmes and Portfolios
Here's what you need to remember:
In project management, you manage one project, while in program management you manage multiple projects and in portfolio management you often manage dissimilar programs and projects.
A project can be a part of a program, but a program cannot be a part of a project. Likewise, a programme can be part of a portfolio, but a portfolio cannot be part of a programme.
Project management addresses the management of the project; while program management helps you set the project management processes and measure the project results of all projects that are related. Portfolio management does that latter but for all programmes and projects within the portfolio.

The scope of program management is broader than the project scope, but a portfolio has an even wider, organisational scope, which changes with the strategic objectives of the organisation.
I hope by now you understand the differences between projects, programmes and portfolios a little bit better.
In my series, we'll focus on the work of project management but as you can see, project management is foundational to both programme and portfolio management.
How is your business organised across projects, programmes and portfolios?