What does sustainability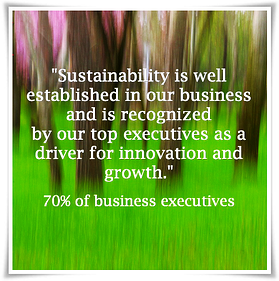 mean to business? Is it about reducing environmental impact? Or maybe about improving reputation through CSR activities? Is it worth it? How can we translate this sustainable business vision into actual business operations? How can we align commercial performance to sustainability for the long run? Those are questions that many leaders and company executives ask themselves when being faced with the challenge of adopting sustainability in their organisations.
The truth is, if truly embedded into every part of the business, sustainability can offer tremendous competitive advantages.
This is not something I just made up. Many studies and even my own research have shown that embracing sustainability and effectively managing the triple bottom line can be a key driver for innovation, growth and progress.
A recent survey by BSI and Verdantix confirms that yet again.
150 sustainability executives from 20 industry sectors, including retail and consumer products, consumer services, manufacturing, business and financial services, oil and gas, utilities and mining were part of the research, depicting a fairly sound representation of organisational leadership.
The overall finding was that the majority of business executives (70%) identify sustainability as key growth driver, however, connecting sustainability to overall financial and business performance still remains a challenge with only 51% believing that sustainability issues will impact their firm's financial performance over the next two years.
That didn't really surprise me though, considering that sustainability has been on the main business agenda for just about a decade. It reminds me of social media's 'problem' - proving its return on investment (ROI). Nevertheless, both sustainability and social media are highly relevant for organisations.
Following are some other interesting survey results.
Commitment to sustainability is notable:
None of the respondents agreed that sustainability will have no impact on the financial success of their firm.

Similarly, no one is expecting to decrease their budgets dedicated to sustainability. In fact, 37% said that sustainability spend will remain flat in the next financial year, whilst the remainder are confident of budget increases: 31% expect an increase of up to 5%; 23% predict an increase of 5–10% and 1% are even stating there will be an increase of 10–30%.

This also includes an investment in internal teams to manage and deliver sustainability with 81% of the respondents saying that they have more than five staff members dedicated to sustainability at a programme management HQ level.
Sustainability reporting is high on the agenda:
Most firms are allocating resources to enable more comprehensive and accurate analysis.

97% said that they include sustainability information in their annual report.

91% integrate financial data and sustainability data in their annual report.

The most commonly reported sustainability data is carbon emissions (99%), energy (98%) and social responsibility (93%), followed by waste (77%), water (77%) and other greenhouse emissions (77%).
The researchers point out that even though sustainable development is being increasingly addressed in organisations, companies still have plenty more to do before sustainability becomes business as usual.
What's certain is that sustainability is moving away from just being a standalone discipline to becoming a core part of the business model. And that's good news! The next decade will be challenging, but also promising.
Do you agree? Are you as optimistic as I am?