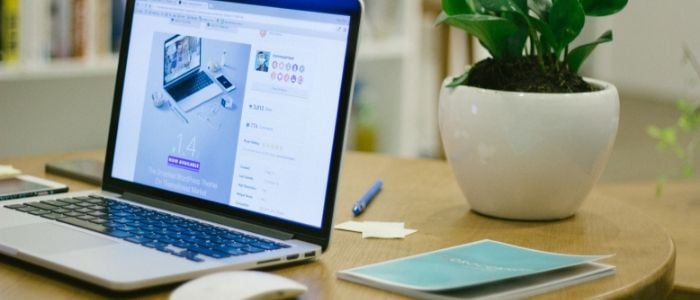 This is a guest post written by Binh An Nguyen from Market Ease.
What do you do when your website's performance becomes abysmal and your ranking on Google starts sinking?
Whenever my client comes to me saying his or her website is suddenly performing poorly, or dipping in recent months, I'll tell them that it's time for a comprehensive audit.
An audit is a diagnostic analysis of your website's health, specifically in the content and SEO aspects.
There are many steps involved in a website audit, but all it takes is a bit an analytical mind, and a bit of time on your hands.
I'm going to show you a simple way to do your audit, including some free online tools that can help you get the job done. Let's dive in!
Why you need an audit
If you wish to have any hope of putting your website on the first page of Google, then you'll need to make sure your website's content is as optimised as it can be.
Because the internet is an ever-changing landscape, a routine audit can help in:
Improving your website's overall performance

Uncovering any SEO mistakes for which is affecting your site ranking

Finding out which are the best performing content pieces and tweaking them

Predicting future SEO performance through content strategy
Performing your website audit
I've split the audit into two key parts – the content audit and the SEO audit.
Part 1. Content Audit
A large part of the audit involves diagnosing a website through the collection of data, then grading the site for its capability to show up on Google results.
Think of it as like giving your website a health check-up.
This process involves three key steps – keyword research, content quality analysis, and identifying content gaps.
Keyword Research
I like to use the free Keyword Explorer tool by Moz and run a search by typing in the audited website.
For example, let's say I am auditing for a health and fitness blog Born Fitness. I run a search, and I get a list of keywords that the blog is currently ranking at the top spot in Google search.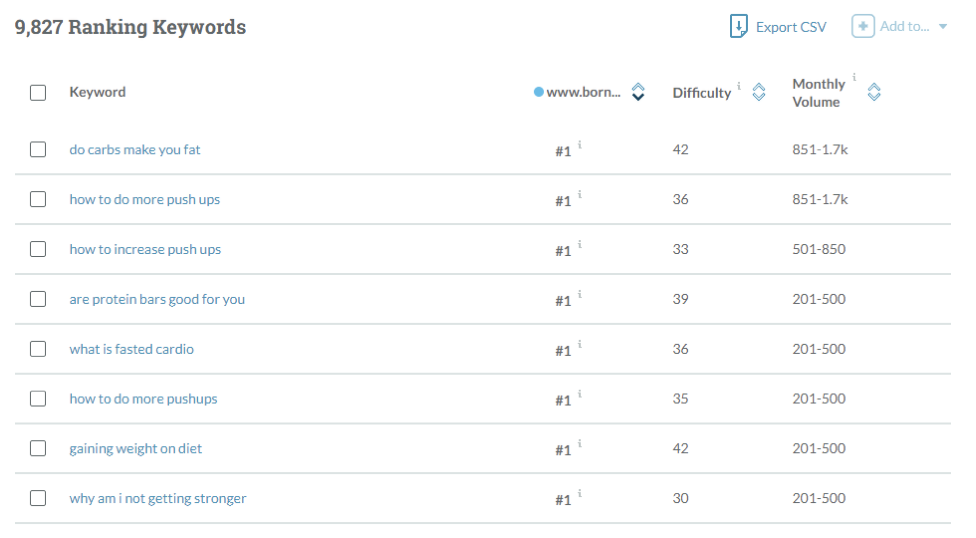 With this list, I can quickly tell that the blog post "Do Carbs Make You Fat", "Are Protein Bars Good for You" and "How to Do more Push Up" are some of my most popular content.
With this knowledge, I can quickly determine that my audience are interested in topics such as eating clean, callisthenics (body weight) exercises, and weight loss, which lets me fine tune my content to towards these topics.
Clicking on each keyword will also give me a list of keyword suggestions, such as these: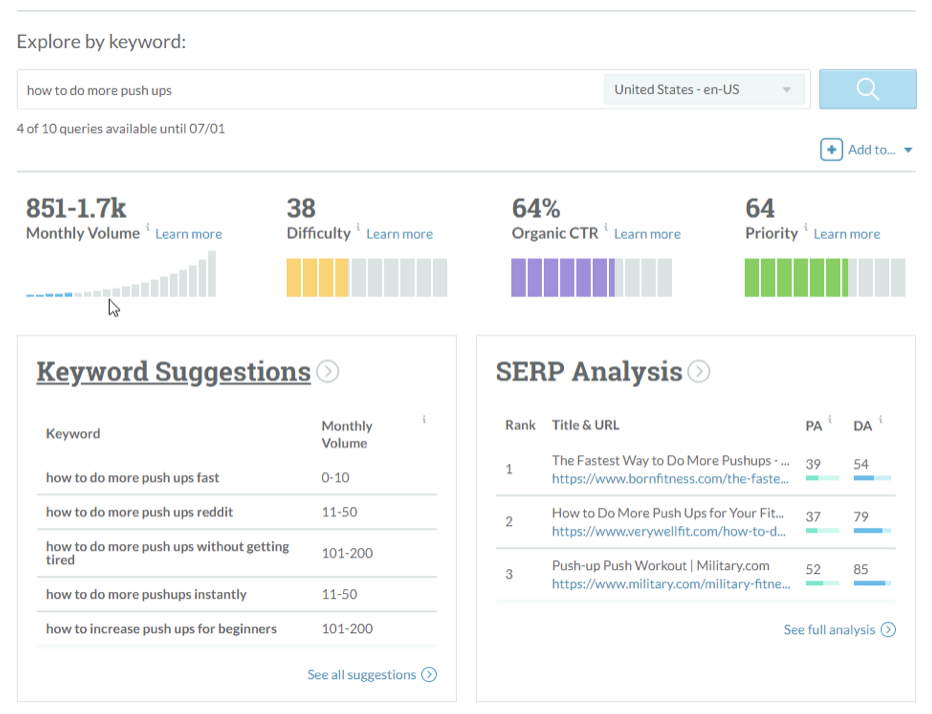 With this list of keywords, I can also have a list of potential content ideas that will be invaluable to my content strategy.
If you have Google Analytics installed for your website (which I highly recommend that you do), you can go to your Analytics dashboard to cross-reference your data to ensure your data is accurate.
Open Google Analytics and go to "Behavior" > "Site Content" > "All Pages."

Another benefit of Google Analytics is that you can generate a report of all the blog posts aren't doing well in terms of traffic.
Content Quality Analysis
The next part of your content audit is checking the overall quality of your website.
You have to go through every item manually, but it shouldn't take more than five minutes to scan through quickly.
These are the criteria that I use to assess the quality of each content piece:
#1 Content organization
The headline structure is consistent with the text.
The text has to be short and easy for readers to scan through quickly. The writing style must be coherent and doesn't confuse the reader.
There should also be a good number of media such as videos, links, and images to keep readers engaged.
#2 Language, grammar & punctuation
The content should contain little to no technical jargon and written in an active voice. There shouldn't be any paragraphs that are longer than three sentences, and the terms used are relevant to modern use (e.g. surf the web, MySpace, etc.).
#3 The content accuracy, tone of voice, and context
The content of the article should be accurate and relevant to modern readers. The writing style should align with the branding of the owner, and all reference data links to the latest studies
To keep everything in order, first, you need to get all your content listed on a spreadsheet. I like to export a list of all my content from Google Analytics.
This sheet should list all the URLs of the pages I'm auditing, the category and the criteria I'm grading them for.
To keep things simple, I use a yes or no method instead of a scoring system to keep things as clear-cut as possible.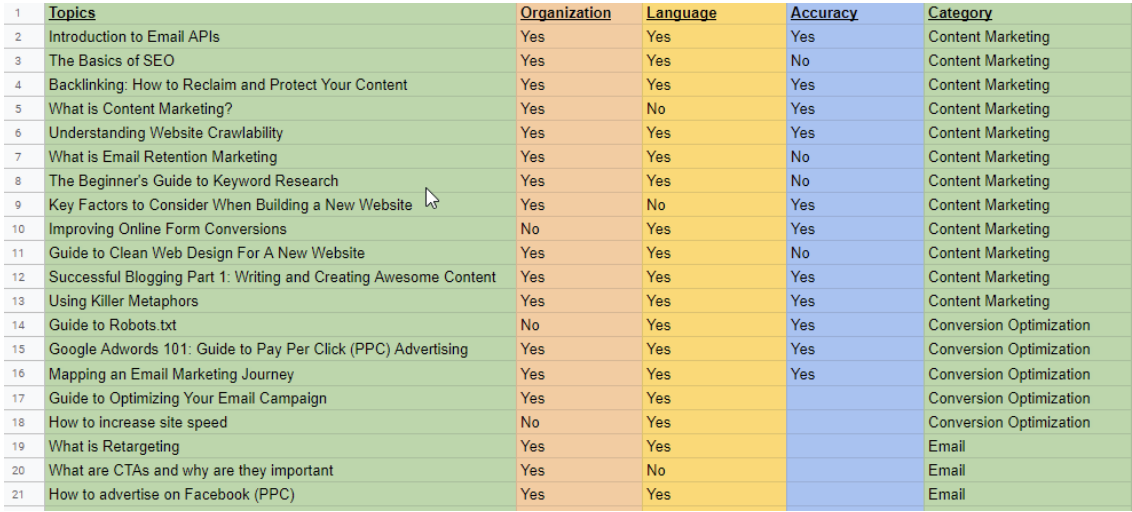 With a properly organised sheet, I can have a comprehensive view of the quality of all my content, and figure out which are the ones that I need to take action on.
Content gap analysis
Content gap analysis is about finding missing content that you should put out to get a better ranking on Google.
By comparing your existing current content offerings with the content that your audience wants to read (such as those on your competitors' sites), you can tell what type of content that is lacking on your website right now.
Fortunately, there are numerous tools available that can let you pick out the content gaps from your competitors, such as the abovementioned Moz Keyword Explorer.
Putting things together – The Keep, Kill, Edit, Promote Method
Now that you have assessed your content, it's time to determine the best course of action for them.
Based on my assessment, I'll put all content under four categories:
Keep = The content is excellent as it is, and no further action is required. These are usually your top content.
Kill = The content is performing poorly and brings little to no value to the target audience. I'll get rid of it to reduce clutter.
Edit = This content has limited value, but with a bit of polish, it can still be relevant to the readers.
Promote = The content has the potential to rank for specific keywords, so I'll want to try and promote it through various methods such as guest posting or link building.
Here are a few tips to help you make the process as quick and as painless as possible:
If the blog post has zero traffic or backlinks, you should kill it since it shows that there isn't any demand from your readers for this type of content.
You should only edit or promote content that can potentially draw new traffic (e.g. topics that are highly similar to your top content).
Sometimes a blog post can be under both Edit and Promote, as you can revisit and revamp most underperforming content for future promotion.
Part 2. SEO Audit
Now that you're done with the first half of your audit, it's time for the next section – SEO. A large part of SEO audit involves looking at your backlinking profile.
Why are backlinks important?
The Google algorithm considers backlinking as 'votes of trust,' and websites with good quality backlinks tend to rank higher in Google results.
However, you shouldn't start building links blindly on untrusted domains.
The best way to do backlinking is by putting your efforts into building reputable websites, and with quality content to encourage other sites to link back to you.
Using Ahrefs to do SEO Audit
While there are several tools available that can do the same job, the one that works best for me has to be Ahrefs.
While it isn't a free tool, you can sign up for a 7-day plan for just $7, which should give you plenty of time to audit your site.
Enter your website's URL, and you'll see a report with all of the places that link to your website, as well as the individual pages that they are linking to.
I like to use Ahrefs to determine where my website stands in terms of your backlink profile.
I can also use the tool to tell where my competitors' links originate from, and what pages on their sites are getting the backlinks.
Using this method, I can work out a list of potential guest post sites I can promote my revamped content.
Since they accept content from my competitor, with the right pitch, I can get them to run my guest blog content on their site as well.
SEO audit - Other things to check
There's also a handful of items to check on. While they aren't going to hurt your website badly, these are quick tests that you should run to see how you can tweak your website.
Mobile-friendliness – As the number of mobile users grows, having a mobile-friendly site helps to boost your website higher on Google. Use the free Google tool to help you check if your site is friendly for mobile users.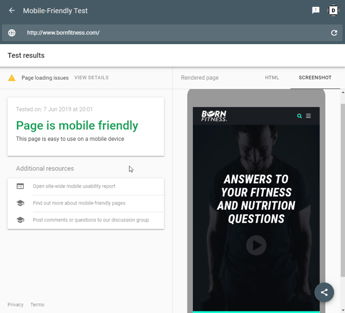 Website loading speed – If your site is too slow, people are going to click back out of your site. Test your speed using Google's

PageSpeed Insights.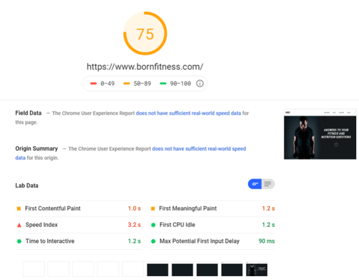 Site Crawlability – If certain content on your site is uncrawlable, they won't be able to show up on Google. I use the free SEO Spider tool to perform a crawl test and check for broken links and duplicate pages.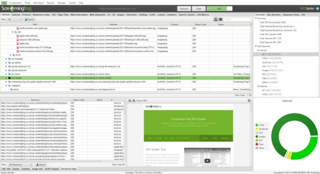 And that's it!
When you run a full audit, you'll get the full picture of what's working and what's wrong with your site.
Do your audit right, and you'll experience a dramatic difference in the overall performance and ranking on Google.