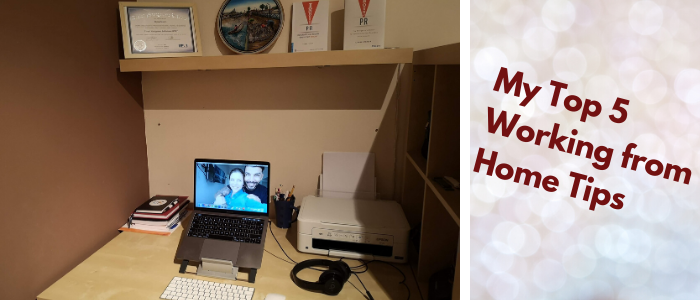 With the coronavirus having dramatically shaken our world (although I have my thoughts about this whole thing), many companies are encouraging or even requiring their employees whenever possible to work from home.
I've been fortunate enough to have worked for two companies where working from home is a normal part of the company culture (and that my job permits for me to work at home). In fact, I work from home most of time now.
But there are a lot of businesses and whole countries even that don't have that basis - working from home has never been the norm, managers distrust team members as they don't have direct, eye control or individuals even struggle to concentrate at home.
The above issues happen because of lack of experience but if you as a company and as an individual give it a go, I promise you that you'll find working from home a wonderful experience. It makes people more productive and happier due to better work-life balance or as I prefer to call it, work-life integration.
But truly making this work, requires some planning and thoughtful organisation.
Here are my top tips about working from home as an individual that I've developed over the last five years.
My 5 Top Working from Home Tips
#1. Align with your team and manager
Make sure you discuss your working from home preferences with your manager and your team as well as the people you closely work with. It's important they understand how they can reach you and where they can find you.
For example, I've explained to everyone in my team and colleagues or partners I closely work with that I prefer to work from home because I'm more productive and I'm able to organise my time better to get more done.
At home, I also find that there are less distractions especially when I have important tasks to complete - at the office, just by going to grab a coffee or a tea you end up chatting to someone for 30 minutes which is not a bad thing but when I have an urgent deadline, it makes me more anxious.
When it comes to being social and building relationships, that's when I go to the office because nothing can replace face-to-face.
#2. Create a home work space but change it up throughout the day
It's important to have a space at home where you can focus and do your work without anybody or anything distracting you, where it's quiet and where you have everything you need as if you were in an office.
I have a desk with everything I need and a comfortable chair in our second bedroom where I get enough light from the big windows and I'm able to focus as there's no noise coming from the other rooms.
Most importantly, I have a laptop stand so that the screen is at eye level and also an external keyboard and a mouse so that I don't put too much strain on my hands and back - here's the recommended position when sitting in front of a laptop that you should strive to achieve too. (I don't have a second, big screen but with the laptop stand I think I'm just as well covered.)
I've also decorated my work space as you can see on the photo at the top where I have my book on display as well as my PMI certificate, a printer, pencils and pens and some paper and notebooks if I need them to write something down which happens from time to time as much as tend to prefer my laptop for taking notes.
Finally, I tend to change up my position from time to time as well. Especially if I just have reading or learning to deal with, I go and sit at my kitchen table a bit because that way I change the scenery and my brain simply freshens up from the different atmosphere.
#3. Ensure you have the right technology and turn your video on
Now, without a proper internet connection and tools to enable you to have virtual meetings, working from home won't work.
I use Webex meetings and Webex teams for chat and I always turn my video on. This is key because it makes meetings a lot more real and being able to see the person, makes it as if you are together with them. Of course, it's not the same as you can only read just a bit of body language but it's much better than just voice.
Video makes meetings personal so make sure you are dressed properly as if you're going to the office.
#4. Break your time and communicate how you work
I know my body and my brain. I know when I'm most productive and I know when and how I work best. I've communicated this to my team. They know that I wake up at 6am and I begin working for about an hour, then I train, shower and have breakfast and only then do I start my meetings. Waking up so early also means that by about 3pm I'm depleted so I try not to have meetings later in the day.
I also take breaks. Mid-morning I'd take a little walk outside, same in the early afternoon if I have meetings late afternoon or I'd just dance a bit of Zumba on my Wii. It's important that you give yourself time to rest because your body simply needs it to be able to function well.
My team also knows that I don't do meetings on Fridays. Fridays are my days to close off the week successfully because I'm in meetings almost all day long which doesn't leave me much time to take care of important, longer emails or catch up on everything that I need to learn and read.
By being able to complete all these tasks on Friday, I don't feel stressed to go into my weekend and enjoy it because I've nothing left to deal with.
#5. Take care of yourself and your family
As mentioned, I take breaks during the day which helps me come back refreshed and with new energy to complete the rest of my tasks a lot faster.
I also ensure that my work doesn't mess with my personal life. I always save an hour for lunch where I tend to cook something so I eat healthily and if my fiance is at home, I do that for the both of us and we eat together. He sometimes joins me for my walks outside and it's so much better because I get to spend time with him and he's the one that gives me the highest amount of energy and motivation.
Most importantly, I don't overdo it. When working from home, you have your laptop at your fingertips all the time so it's super easy to just keep going. It's on you to make yourself stop when you're beginning to work 9+ hours a day and by doing so building up the possibility that you'll burn out or you'll ignore your family.
So create a routine that allows you to do your work in those 8 hours but still rest and focus on your family.
What are your top tips for working from home?