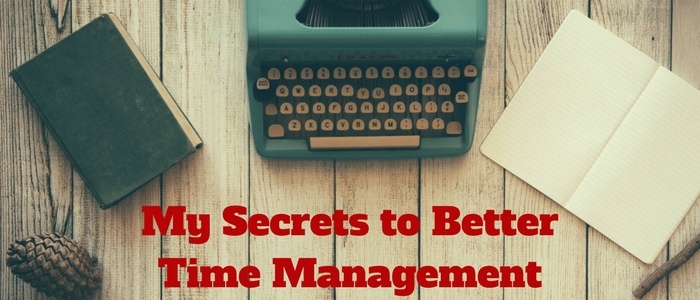 Over the last few years, various people who wouldn't know each other have called me "the machine" on certain occasions.
I suppose I should take it as a compliment as it refers to my ability to complete a ton of work quickly and also to manage a very active personal lifestyle at the same time.
I'm not going to lie, I've learned how to get a lot of stuff done, systematically and well. And to be honest, it's all about time management. That's the secret.
Which is why today I'd like to share with you how I manage my time. Hopefully, these time management tips will allow you to boost your productivity and peace of mind too.
5 Secrets to Better Time Management for More Productivity
#1 Block Your Calendar
When I joined HubSpot three years ago, I was having six to eight calls with agency clients every day. They were all on my calendar and often I was back to back in one-hour calls. This meant that I had little time to go through the ton of email that was coming in or to have food etc.
With time, my work turned more programmatic and so I had a lot of calls with clients and also a lot of internal meetings next to all the projects that I was managing so I needed space to think and actually do creative work.
I learned to block my calendar for everything and colour code it:
my calls would be in blue,
my internal meetings in pink,
my lunch recurring every weekday in yellow,
my time blocks for certain projects, activities or action items (e.g. complete so and so, book so and so, schedule so and so) in purple,
my personal activities in green or blue depending on whether recurring (e.g. Spanish lessons every week) or not (dinners, brunches with friends).
Even my weekends are full of blocks in my calendar with stuff to do such as "write this blog post" or "go to the spa with..."
Before I go on holidays, I block two full days of catching up time and even have blocks called "emails" to make sure that I don't have a ton of meetings feeling worried about how I'm going to go through everything that I've missed when back.
My calendar essentially became my project management tool. If it's not in my calendar I am not going to do it because it's not top of mind.
When for example I'm in a meeting and something becomes a thing that I need to do (e.g. "create a survey for ..."), right then and there I go to my calendar (which is always open in my browser) and look at the upcoming week (as the current one is full) to find a 30-minute slot to do the work and allocate it.
I learned to block big chunks of time as well (e.g. two or three full hours) for creative work and when I need to crank through something. I have GSD ("get shit done") blocks every Thursday morning from 9 until 12 and every Wednesday afternoon after 1pm until the end of the workday.
But what's made this organisation work for me is learning to stick to it.
#2 Say No (By Knowing Your Priorities)
No matter how organised you are and how well you can plan (your time and projects), it would all be for nothing if you can't execute.
That comes with your ability to say "no". There's always going to be more work. As McKinsey says, "work is like a gas: it expands to fill the time available". But you can't do everything and be responsible for everything.
So when you block time in your calendar to do work, then when someone else requests to speak with you at that specific time, you'll have to learn to decline.
It's not because you don't want to help, you do, but you have to respect your own responsibilities. You need to spend your time where it's worth it.
This all comes down to your ability to prioritise and only work on what matters when it matters.
Typically, I define monthly priorities as well as weekly activities in order to hit those.
Because I block my time, these weekly activities are already in my calendar for when they need to be done and so if you look at my calendar now, you probably won't be able to book time in it for the next 2-3 weeks because I've already pre-planned it in order to hit my goals for the month.
Every morning when I open my calendar, I know what I have to achieve that day and when new things come my way, I can confidently say that I have planned to do this and this and this in order to hit this and this and this. If it's my boss requesting something new then I can say that if I were to drop everything and work on a last-minute thing then a certain activity from my priority list will have to be delayed as well.
It's those trade-offs that you need to learn to discuss but also to make up in your head because that's where we usually fail the most in thinking that we can do it all.
If you really want to own your time, you need to learn to say no.
#3 Follow the 2-Minute Rule
Email often gets underestimated.
It's a big time suck. Emails take so much time and we often don't realise that they do.
It's the same with client and with internal emails. With some, you need to spend 30 minutes or even longer. Others are just quick hits.
When I was a consultant, I'd get at least 150 emails from clients that I needed to deal with every day. That was on top of my six to eight client meetings and I don't know how many internal ones in a day.
So I had to learn how to get through all this.
Blocking time in my calendar to just do email at certain intervals of the day helps, however, to get to that, you need to first know which emails to focus on.
So I created this 2-minute rule for myself. Whenever I have say 20 minutes or so, I'd look into my inbox and start opening up new emails. I scan through the email quickly and I decide whether it's going to take me less or more than two minutes to deal with it. If it's less than two minutes, I do it right away and forget about it. If it's more than two minutes, then I either leave for my email time block or if it's something even bigger to review and action on, then I schedule a separate block (like a project block) in my calendar to work through it.
I've also got folders and multiple inboxes in my Gmail so that I can put things where they belong for when I need to get back to them, allowing me to search through them very easily.
#4 Do 30-Minute Meetings
Just as email, meetings suck out so much time. I don't particularly like meetings, especially not one-hour meetings (or longer).
Some meetings are great, in others, you just wonder what you are doing there (i.e. you're feeling like you're wasting your time).
So I learned how to be very efficient and effective when it comes to the meetings that I run. That was thanks to my time as a consultant. Back in the day, I started with scheduling one-hour meetings which would always drag on and so I moved to 30-minute calls and meetings. Actually, 25-minute ones because I have the speedy meetings feature on in my calendar so automatically they are either 25 minutes or 50 minutes long.
Seeing that you only have 25 minutes makes all parties involved more effective because they know they have little time to do what they need to do in that call or meeting.
But the key to actually getting through it well is to make sure that you have an agenda and a goal for the meeting.
Without these, you'll just end up chatting and not getting anything done having to schedule another meeting.
I usually have an agenda which includes items to discuss and also a suggested list of decisions to be made. My recurring weekly 1:1s have a Google doc attached to them so that I as go through the week and things pop in my head that are not urgent but need discussing, I just add them to those 1:1 docs so that I don't forget and automatically I have a full agenda for this 1:1 meeting.
Even status and review meetings, I try to shorten them as much as possible and have them have such a Google doc.
Now brainstormings do require more time but again make sure you have a good agenda.
Becoming efficient at running quick, productive meetings will allow you to spend more time on the things that require more thinking and brain power.
#5 Work from Home at Least One Day a Week
I love being at the office because I'm surrounded by extremely intelligent people that challenge my thinking and get me to learn new things every day.
But the office is a big distraction for me. There are interruptions all the time even when you are running around from meeting to meeting or off to a quiet space to get work done.
For me at least, there are no quiet spaces to get work done in the office because someone will always find you to ask you something or to just catch up with you (which is fine but not when I have so much blocked in my calendar).
So working from home does wonders for me.
This may not work for all who are unable to get down to work when at home - maybe creating an office space would help - however, I am nowhere more productive than on my couch with my laptop in my lap.
I wrote this blog post in 40 minutes in that same position at 6am this morning.
I can confidently say that I get twice as much done when at home than when at the office.
I simply am able to focus better here and tick the box on all my calendar blocks much faster than when at the office.
So every Monday I work from home. Monday is a good day because it sets me up for success for the rest of the week by making sure that I feel accomplished that very first day so that the following days I don't feel too rushed because I've already gotten so much done.
If you can get in the habit of working from home even half a day, I promise you, that will make you so much more productive because it'll allow you to do truly focused work. You have better ability to shut your email and zoom and slack down and just focus on the work at hand and no one will interrupt you.
As you can see, the secret to better time management revolves around making sure that you know what you have to do (not should), finding the right time to do it and protecting it by saying no to all other things that come up.
Successful time management is in your hands if you choose to do it well.
What are some of your time management tips?