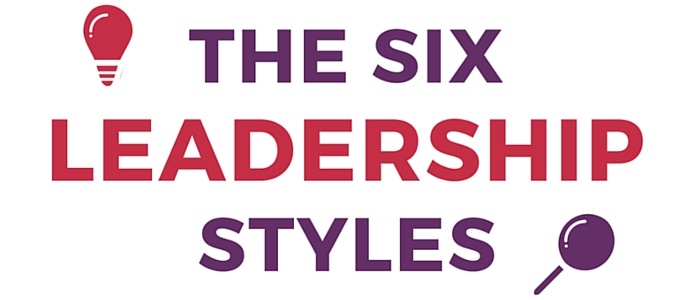 I'm really big on leadership. It's a topic that I've been actively reading and learning more about over the past year.
That learning journey led me to an essay by Daniel Goleman from the HBR's 10 Must Reads on Managing People
called "Leadership That Gets Results"
In his piece, Daniel Goleman explains that emotional intelligence (EI) really is the key ingredient for leadership and that successful leaders have the following EI competencies: self-awareness, self-regulation, motivation, empathy and social skill.
But what makes the best leaders is their ability to adopt the correct leadership styles and use them at the right time with the right people.
Daniel Goleman defines six leadership styles that I want to show you below in more detail and that I have summarised in the infographic at the end of the post.
The Six Leadership Styles:
#1 Coercive Leaders
Coercive leaders demand immediate compliance. This is the "Do what I say" approach. It's effective in turnaround situations or disasters but it inhibits the organisation's flexibility and dampens employees' motivation and sense of responsibility and so stops the flow of ideas.
#2 Authoritative Leaders
Authoritative leaders mobilise people towards a vision. This is the "Come with me" approach. It's about stating the overall goal and vision but giving employees the freedom to choose how to get there and achieve the goals. This style is not effective when experts are more experienced than the leader. Authoritative leadership works well when a business is adrift and maximises commitment as employees know and understand what needs to be done and why.
#3 Affiliative Leaders
Affiliative leaders create emotional bonds and harmony. This is the "People come first" approach. This style is about building team harmony or increasing morale and motivation, it all revolves around people as individuals and their emotions over tasks and goals. This style has an exclusive focus on praise and less on giving constructive advice or feedback and so when this happens too much, poor performance might go uncorrected and lack of clear direction to tackle challenges may not be provided. On the positive site, this styles leads to fierce loyalty and trust and a huge flow of sharing ideas, inspiration and flexibility.
#4 Democratic Leaders
Democratic leaders build consensus through participation. This is the "What do you think?" approach. It's about giving workers a voice in decisions by seeking their opinion and listening to their thoughts and so building trust, respect and commitment and improving morale. This style manages to build organisational flexibility and help generate fresh but realistic ideas. But sometimes it can result in endless meetings and confused employees who feel leaderless as decisions are not being taken efficiently and early enough.
#5 Pacesetting Leaders
Pacesetting leaders expect excellence and self-direction. This is the "Do as I do, now!" approach. The leader sets high performance standards and exemplifies them himself; there's an obsession with doing things better and faster, quickly pinpointing poor performance and demanding more and becoming a micromanager. This style works well with employees who are self-motivated and highly competent and don't need lots of guidance on how things should be done to get them done on time or ahead of schedule. But other employees feel overwhelmed by the demands for excellence and so morale, responsibility and commitment drop.
#6 Coaching Leaders
Coaching leaders develop people for the future. This is the "Try this" approach. The focus lies more on personal development than on immediate work-related tasks and the leader acts more like a counsellor than a boss who helps employees identify their unique strengths and weaknesses and tie them to their personal and career aspirations with long-term objectives and development plans. This style works well when employees already know their weaknesses and want to improve but not when they are resistant to change because it might result in short-term failure while waiting for the long-term learning and results.
Why More Than One Style
The best leaders don't just know and follow one leadership style. They are skilled at several and know when to use each in a particular situation and can switch based on the circumstances.
The more styles the leader has mastered, the better will the leader be able to create an ultimate organisational climate and so optimise business performance and results. As it turns out, Goleman has found in a research that organisational climate accounts for nearly a third of business results. That's too much of an impact for leaders to ignore. However, only four of those styles have a positive impact on climate with authoritative leadership having the strongest positive effect, followed by affiliative, democratic and coaching leadership styles.
At A Glance: The Six Leadership Styles [Infographic]

Which one is your leadership style?