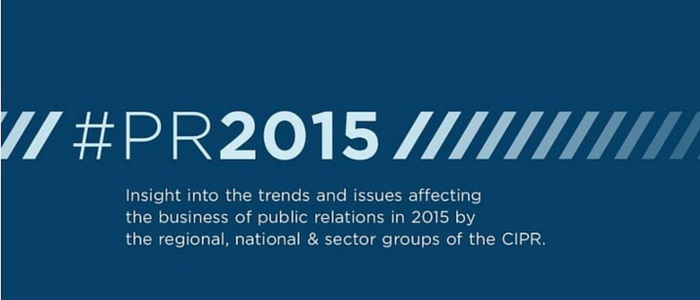 As 2014 is coming to an end, it's time to not only reflect on what has happened over the past year, but to also have a look ahead and try to find out what the future holds.
I'm sure you're thinking about what you would like to do, achieve and experience in 2015 and you're setting your expectations, preparing yourself and making plans how to make that happen.
This is what companies and whole industries are now doing too. Not just because they want to identify trends and business opportunities, but also to mitigate risk and get themselves on a path to success.
As a PR student or a PR professional you need to be aware of what's happening in your industry and what's to come in order to acquire the knowledge and develop the right skills to excel in uni or in your job.
For students, it's also an excellent way how to get started with a PR dissertation to give you some ideas for research topics. For professionals on the other hand, it can give you a head start and some solid ground when developing new strategies or campaigns for clients to create more opportunities for them.
And so to help you prepare for 2015, today I want to share with you a new 28-page free guide that centres on the trends and issues affecting the PR business in 2015. It's aptly called #PR2015 and was put together by notable members of the CIPR – the largest professional organisation for PR practitioners in the UK.
I've embedded the guide for you below, but before that here are the trends that stood out to me and I wanted to share my view on.
PR Business in 2015: 3 things to focus on to excel as a PR student or professional:
Numbers, analytics and proving ROI – evidence-based PR is on demand in the Channel Islands, but I think that's a trend we've been seeing in the industry for the past few years, which is great because it will make more practitioners focus on measurement. PR students and pros need to get comfortable with numbers and metrics to be able to prove the real results behind their efforts.
Networking, collaboration and community – everything is moving so fast now; new technologies are coming and going every day, so staying up-to-date is very much a challenge. One way to succeed at that is to share the knowledge by networking and going to events where you can learn about the practice and what's trending, share various experiences (both successful and not so successful campaigns to learn from mistakes) and discuss visions and ideas to support collaboration.
Digital, content marketing and integrated communications – the shortage of well-trained PR people seems to be increasing, so the more you master multi-skills and diverse knowledge across paid, earned and owned, the better chance you have for a successful career in the industry.
Check out the views of the CIPR members:
What do you think are the biggest trends and issues in public relations in 2015?
Wondering if PR is the right career for you? Try the PR Profile Fit Test! Download it for free by clicking on the image below!