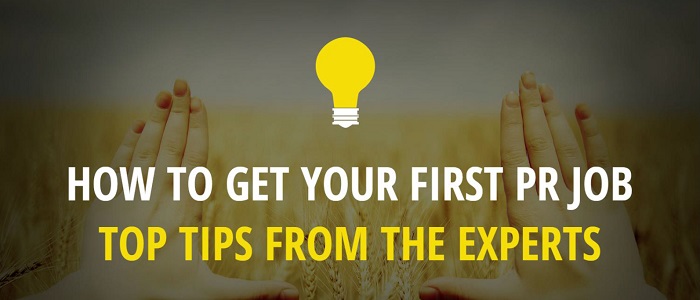 For the past few weeks, I've been meaning to write this piece. I've seen it with friends from both my universities how hard it is to get your first job, I often hear it from students who reach out to me after reading my blog pieces. So, I knew I wanted to share some actionable advice to help recent PR grads with their job hunt, but I didn't really know what the best way was to present it – should I share my experiences and my advice, should I add in some research, should I interview someone...
And then I thought, what better way to give you some actionable tips than asking the people who have made a name for themselves in the industry?
So I decided to reach out to the experts in my social community and ask them a simple question on Twitter:
In 140 characters, what is your top tip for PR grads to get their first job?
I was again amazed at how willing people are to help and share advice! In the Slideshare below you can see that I have managed to curate the expert tips from CEOs, agency owners, educators and some very notable influencers in the PR industry, all thanks to Twitter in a matter of just hours. This is just one more example how social media breaks all barriers (use it – that's one advice).
One thing I should've done is choosing a designated hashtag for the conversations, so learning from my little mistake, I am starting it now and encouraging all influencers to use it and share their expert advice for PR grads how to get their first job: #firstPRjobtip
I'll start.
Being driven and hard-working have certainly brought me ahead in my career, but what has made me stand out is my, as my current manager calls it, "infectious" passion for learning and growing my skills. So, here's my advice for you:
Show passion for learning and a constant commitment to developing new skills. #firstPRjobtip Click to tweet!
Enjoy the expert tips!
How to Get Your First PR Job: Top Advice from the Experts:
Tweetable Tips:
"Build a network with Twitter, use LinkedIn as a portfolio, and a blog to build reputation with Google and firms" #firstPRjobtip Click to tweet!
- Stephen Waddington, Partner and Chief Engagement Officer at Ketchum
"Targeting: find the place or places you want to work, establish what they are looking for and be polite but persistent." #firstPRjobtip Click to tweet!
- Rob Brown, Managing Partner at Rule 5
"Blog. You'll think better and you'll learn technical stuff as you do it." #firstPRjobtip Click to tweet!
- Dan Slee, Director at comms2point0
"Be visible - start blogging/Tweeting. Research the market. Be open to ideas, be polite, meet deadlines, ask for help & enjoy." #firstPRjobtip Click to tweet!
- Rachel Miller, Founder of All Things IC
"Find, follow and engage PR people on Twitter and beyond to give yourself a name and profile." #firstPRjobtip Click to tweet!
- David Gallagher, CEO at Ketchum Europe
"Always be professional. Have passion, curiosity and tenacity. Make yourself stand out, that'll show you can do it for clients." #firstPRjobtip Click to tweet!
- Shelley Fletcher, Senior Retail Marketing Manager at CWFonline
"1) Create & publish engaging content 2) Take an interest in news, current affairs & popular culture 3) Find a good mentor." #firstPRjobtip Click to tweet!
- Colin Byrne, EMEA CEO of Weber Shandwick
"Follow the companies where you think you'd like to work and engage with them." #firstPRjobtip Click to tweet!
- Gini Dietrich, CEO at Arment Dietrich
"Be findable. That means having a presence, connections, opinions." #firstPRjobtip Click to tweet!
- Richard Bailey, Public relations educator and editor at Behind The Spin
"Stand out with your profile, create demand :-), be prepared, show creative thinking." #firstPRjobtip Click to tweet!
- Uwe Lang, Vice President, EMEA at LEWIS PR
"Come prepared to the interview. Demonstrate you've done your homework, ask intelligent questions and take notes." #firstPRjobtip Click to tweet!
- Paul Roetzer, Founder & CEO of PR 20/20
"Be curious and constantly learn but already have great general knowledge about news and current affairs." #firstPRjobtip Click to tweet!
- Stuart Bruce, International PR adviser and trainer
"Be pro-active, you need to be an agent of your own career." #firstPRjobtip Click to tweet!
- Heather Yaxley, Public relations educator
"First, get an internship at a PR company. Find what they are missing and create a job for yourself! #workhard #bevaluable" #firstPRjobtip Click to tweet!
- Chryssa Skodra, PR entrepreneur and educator
To sum up, there are five things you need to do as a PR grad to get your first job:
position yourself
do your research
learn, learn, learn
show commitment and interest
know what you want
Let's continue the conversation on Twitter: share your advice using #firstPRjobtip!
Want to find out if PR is the right career for you? Try the PR Profile Fit Test! Download it for free by clicking on the image below!