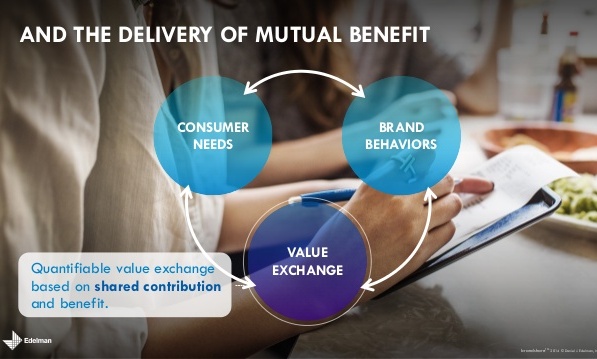 Relationships, relationships, relationships! How many times have you heard this or read about the importance of building relationships with prospects and customers, especially when talking about social media? Countless times I would guess. Well, like it or you'll continue hearing that magic word "relationships" in the years to come. Why? Simple: with the mainstream adoption of always-on real-time communications and information available at our fingertips, your customers demand that you know how you can add value and meaning to them in a highly personalised manner. Creating and delivering such value is at the heart of building relationships.
The reality, however, is that these value-adding, multidimensional relationships are rather a myth.
That's what Edelman reveals with the results of brandshare 2014. It's a study of 15,000 consumers in 12 developing and developed countries, across 11 industries, that sought to understand the evolving relationship between people and brands. The focus was discovering what drives value for business and for the consumer.
Examining brand behaviour and performance, Edelman found that there's actually little value exchange between brands and consumers. The majority of people believe their relationships with brands are one-sided (66%) and purely transactional, where consumers are solely contributors bringing benefits to the brand by buying, but not receiving much in return. Current interactions between consumers and brands add more value to brands than to consumers.
But real value exchange exists only when both parties receive the expected benefit.
70% believe brands are purely motivated by the self-centred desire to increase profits rather than to make a commitment to people. No wonder that only 17% of people believe that brands manage to engage in meaningful interactions, delivering a depth of engagement.
Brands don't seem to live up to our expectations.
Brands are now required to not only meet our rational and emotional needs, but also societal needs. Brands are expected to take a stand on issues that consumers care about. People now want to help brands act on those issues. This goes beyond traditional CSR or sustainability aspirations and initiatives to include collaboration, co-creation and the involvement of the consumer into developing and refining product or service processes.
As I've written in a recent post, people want to be part of the experience. 87% of consumers say they want meaningful interactions with brands. But to do so, brands need to have a bigger purpose and to make a real promise to follow it. What's more, every story the brand tells needs to reiterate that 'reason why' in a transparent and open way that shows how they 'walk the talk'. And what better way of doing that than by making consumers the heroes of those stories?
Unfortunately, there's a large gap between expected brand behaviour and actual brand performance. Three areas are particularly evident here: brands' responsiveness to people's questions and ideas, brands creating opportunities for people to participate and brands having purpose and message.
As Edelman puts it, "Brands must evolve from a transactional relationship to a dynamic one, where consumers and brands continually exchange value." To succeed, brands need to meet all three needs: rational, emotional and societal. Doing so, can deliver real business value to brands:
8% escalation in purchase intent.

10% greater likelihood consumers will defend a brand from reputational attack.

11% increase in consumer willingness to share personal data with a brand.

12% rise in consumer propensity to recommend a brand.

12% greater probability consumers will share branded content.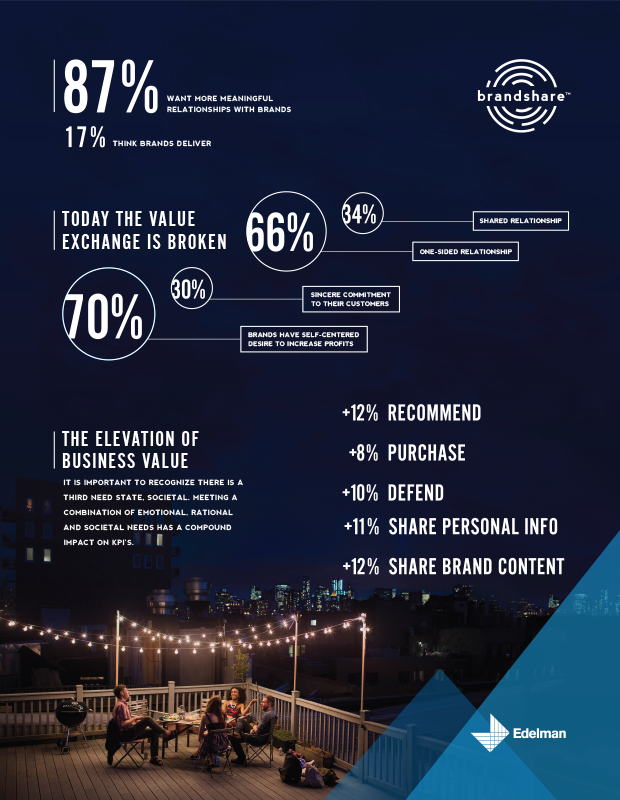 Check out the full results of the study in this SlideShare. Some really interesting insights!
Do you agree with the findings? How can brands create two-directional value and build dynamic customer relationships?
Infographic by Edelman; image from SlideShare