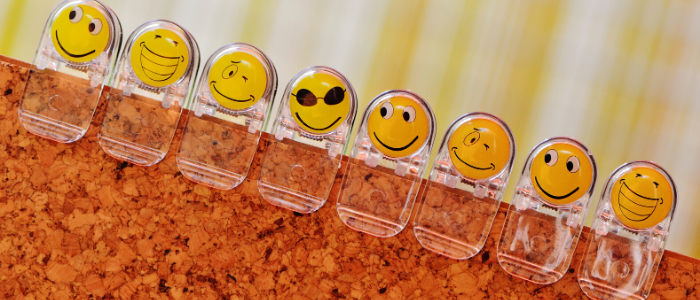 Would you say customer experience (CX) is one of the key corporate buzzwords in the last few years?
I'd definitely say so. Alongside digital transformation, it's probably the biggest concern for a lot of companies.
Why is that?
Well, because the customer really has become king.
Consumers have never been so empowered as they are before - they have the internet at their fingertips, they make buying decisions on their own through their research and with the help of peer recommendations, they are vocal and complain when the product or service doesn't meet their requirements, reaching hundreds, thousands or millions of people so companies very much depend on the positive experience of consumers to drive sustainable growth.
Businesses have started building their own teams to deal with customer experience - customer success, for example, has never been as important as it is now.
But what is customer experience and what is customer success?
At Cisco, it means striving for customers to not just choose Cisco products but to use them and love their experience with the Cisco solutions and services.
So it's all about the post-sales journey with customer value shifting from the initial sale to value throughout the customer lifecycle.
Ultimately, customer success drives the customer experience - the emotional connection to a brand.
But the hardest part about this is the execution.
To help with that, we built a so called racetrack at Cisco.
Essentially, it's an overview of the customer experience lifecycle and it has 15 pit stops that have been defined as critical opportunities for Cisco and Cisco partners to provide excellent and memorable customer experiences.
Here's what it looks like:
The Cisco Customer Experience Lifecycle Racetrack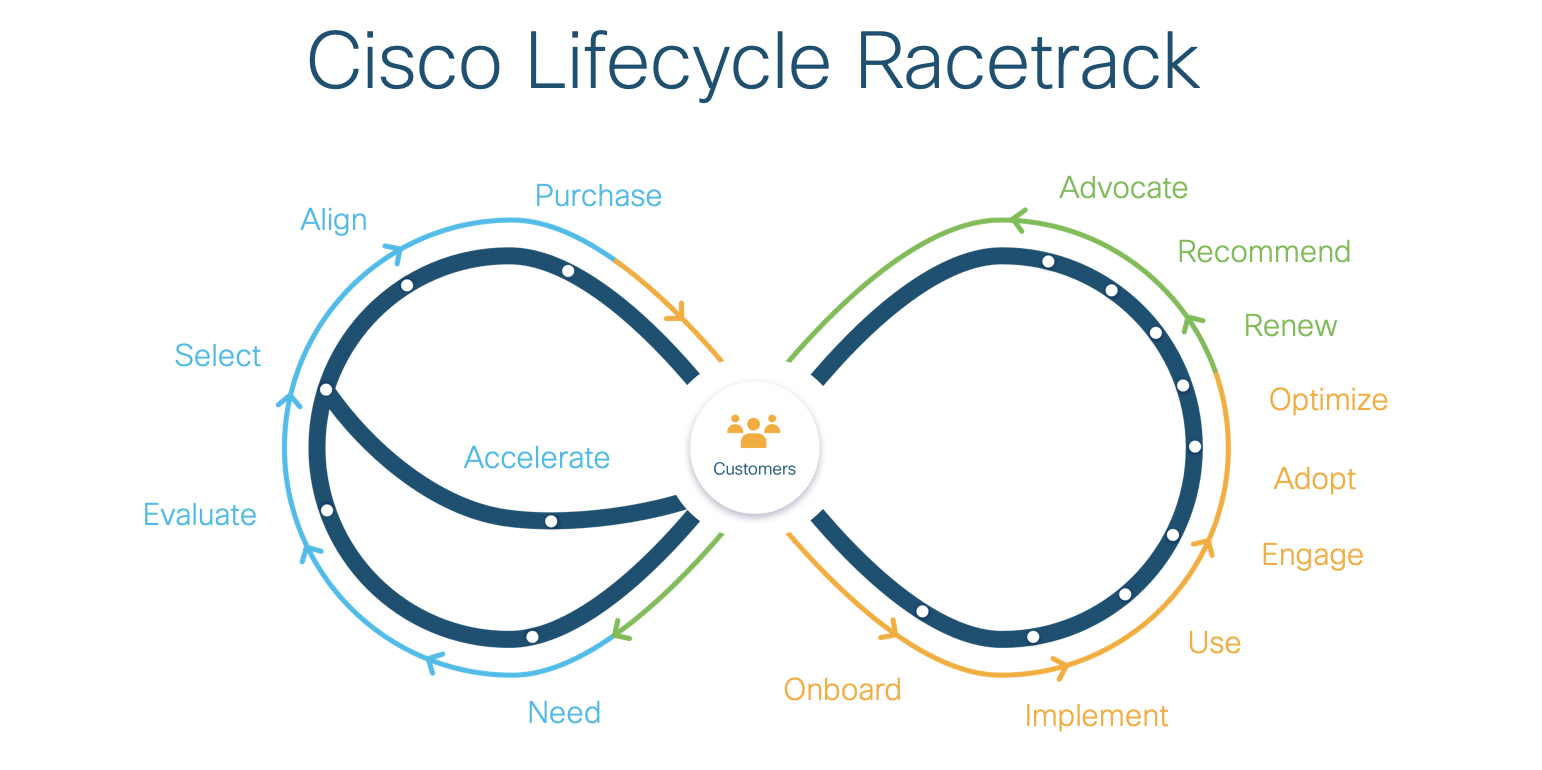 So what do these pit stops and colours mean?
Blue is for pre-sales. Orange is for post-sales. Green is for renewal.
What happens during pre-sales:
During pre-sales, the customer goes through several stages before deciding to purchase from a particular vendor. We know this also as the buyer's journey - they need to understand their problem, they need to start researching solutions and then narrow them down to be able to finally decide and select the right one.
There's also a pitstop here called Align which is quite important because ideally this is the first time where the Sales team needs to work with the Customer Success team and ensure that once the customer purchases, Customer Success has all the info they need to be able to start driving value immediately.
What happens during post-sales:
The post-sales phase is where the customer must start realising value from the product or service they purchased. They review their goals and expectations for the short, mid and long-term and define actions on how to hit them with the support of customer success.
They'll start implementing the solution and integrating it into their existing infrastructure or setting and once done with that they'll start using it. Your role is to educate them on how to best do that in alignment with their business goals and regularly check-in on how they're doing to help them solve possible barriers or challenges.
This stage is where customer success is crucial because you don't want someone to just use bits and pieces of your product, you want them to adopt as many features as possible so that your customers get hooked to your product and eventually don't want to part with it.
What happens during renewal:
When customers have been so happy with their product and their experience with you because they've truly been leveraging all of its capabilities and have been achieving their desired business outcomes, they'll want to renew it.
Not only that, they'll start sharing their positive experience with others and by becoming super users, they'll also become your advocates.
Their own journey will accelerate as they might now want to purchase additional products or will help you get new customers and that way the whole experience journey begins again with every new product or every new customer.
As you can see, by supporting customers to execute at each stop, they get business value, they become more loyal, they purchase more and they renew which in itself drives more business opportunities and ongoing sustainable value to your business.
Any company that strives to provide a great customer experience must also have a framework that enables them to truly execute against customer goals and expectations because successful execution is the hardest part from an operational and from a people perspective.
How do you do customer experience?