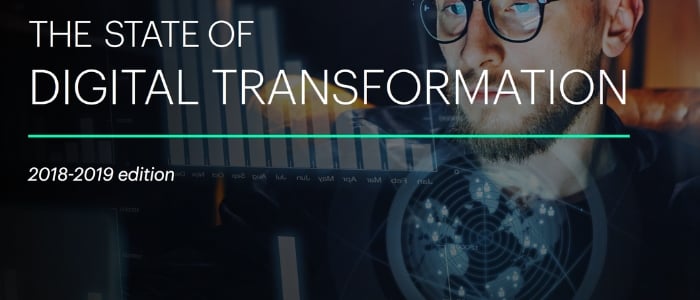 Digital is an enterprise-wide strategic priority that cannot be isolated to just the marketing or IT department. Everybody in the organisation has a role to play.
I've just finished reading the 2018-2019 State of Digital Transformation report which clearly illustrates how disruptive technologies continue to impact organisations and markets and how digital transformation as responsibility is moving beyond IT and is maturing into an enterprise-wide movement but there's still a lot of work to be done.
As the report describes, digital transformation means modernising how companies work and compete and helping them effectively adapt and grow in an evolving digital economy where customer experience (CX), employee experience (EX) and organisational culture are the clear drivers that empower and accelerate change, growth, and innovation.
Let's take a look at some of the key findings that stood out to me while reading the report.
The Top 4 Learnings about the State of Digital Transformation
#1. Pretty much every department is affected by and needs to address digital transformation with IT, marketing/advertising/digital and customer service leading the way.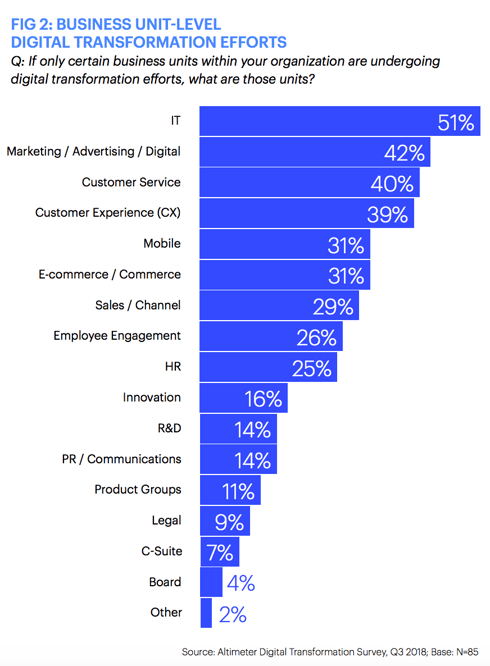 #2. Growth opportunities in new markets, evolving customer experience and behaviour preferences, and increased competitive pressure are the top 3 drivers of digital transformation.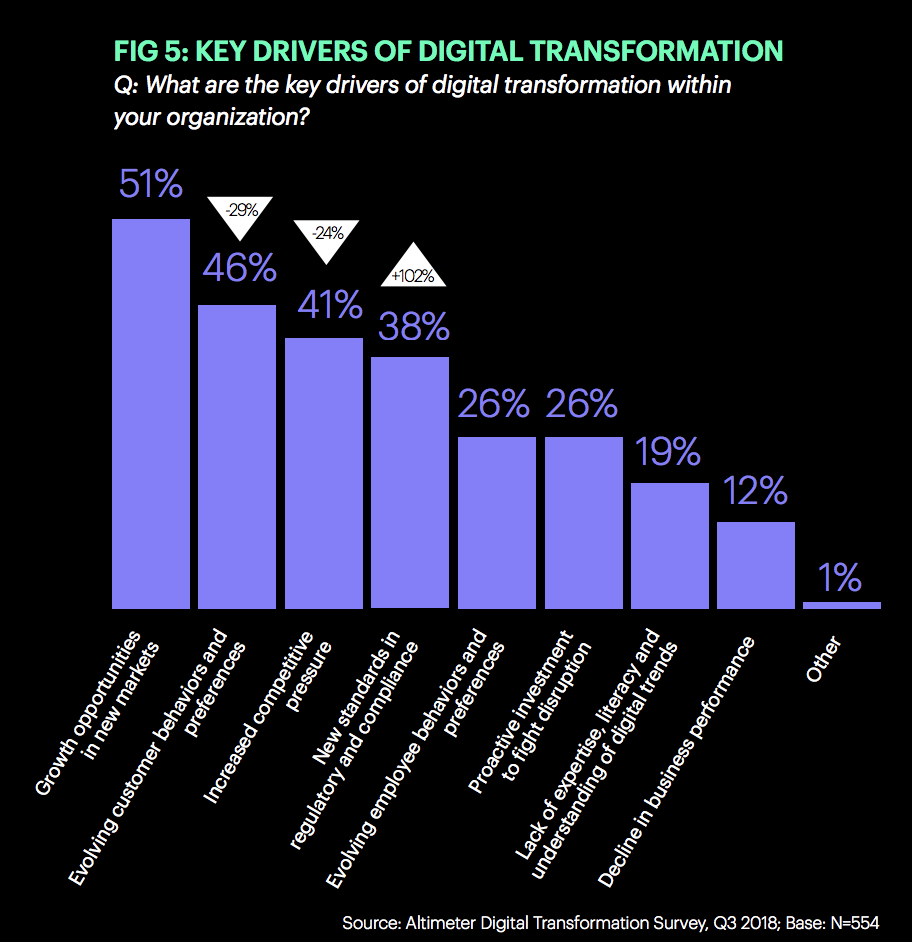 #3. Long-term and short-term priorities go pretty much hand in hand with social media, web, mobile, commerce and service efforts and investments leading the way to create and deliver an integrated, frictionless and omnichannel customer experience.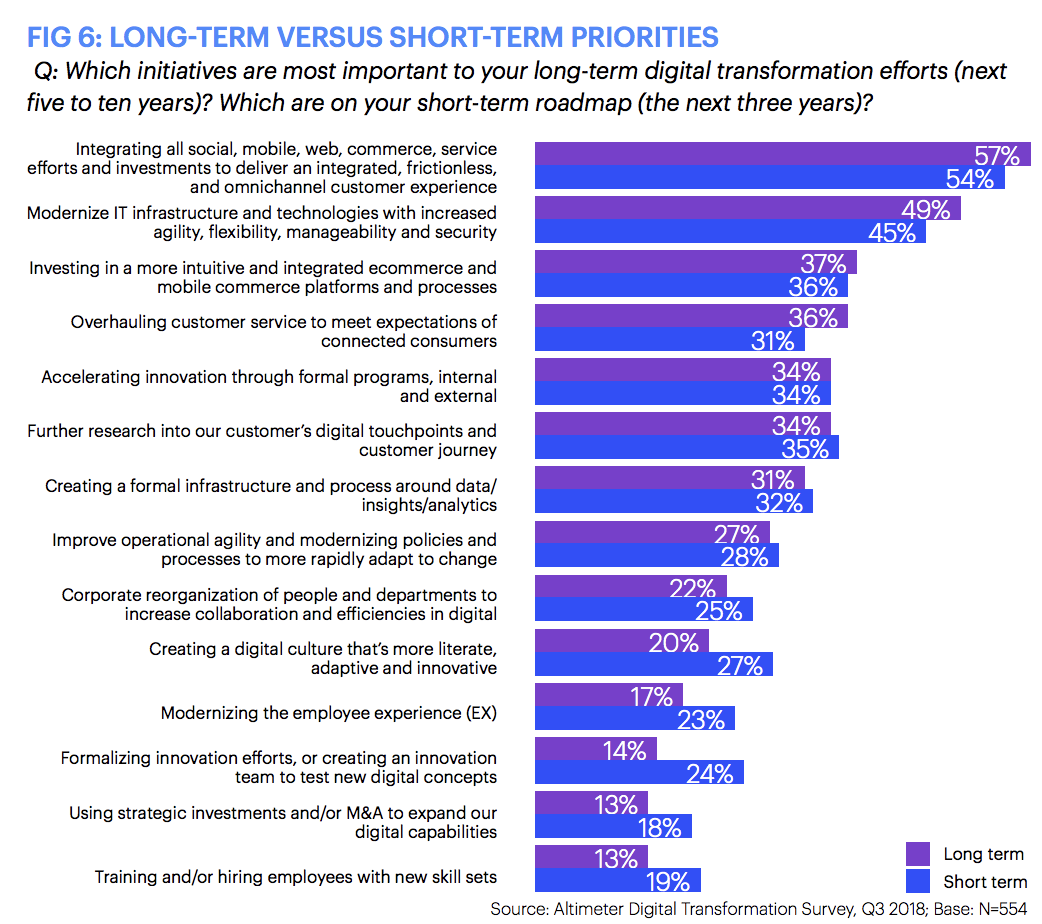 #4. Lack of data or ROI, budget and digital transformation viewed as a cost centre as well as resistance to change because of politics, ego or fear are the top challenges for companies to truly transform. Compliance regulations like GDPR are pretty high up as well.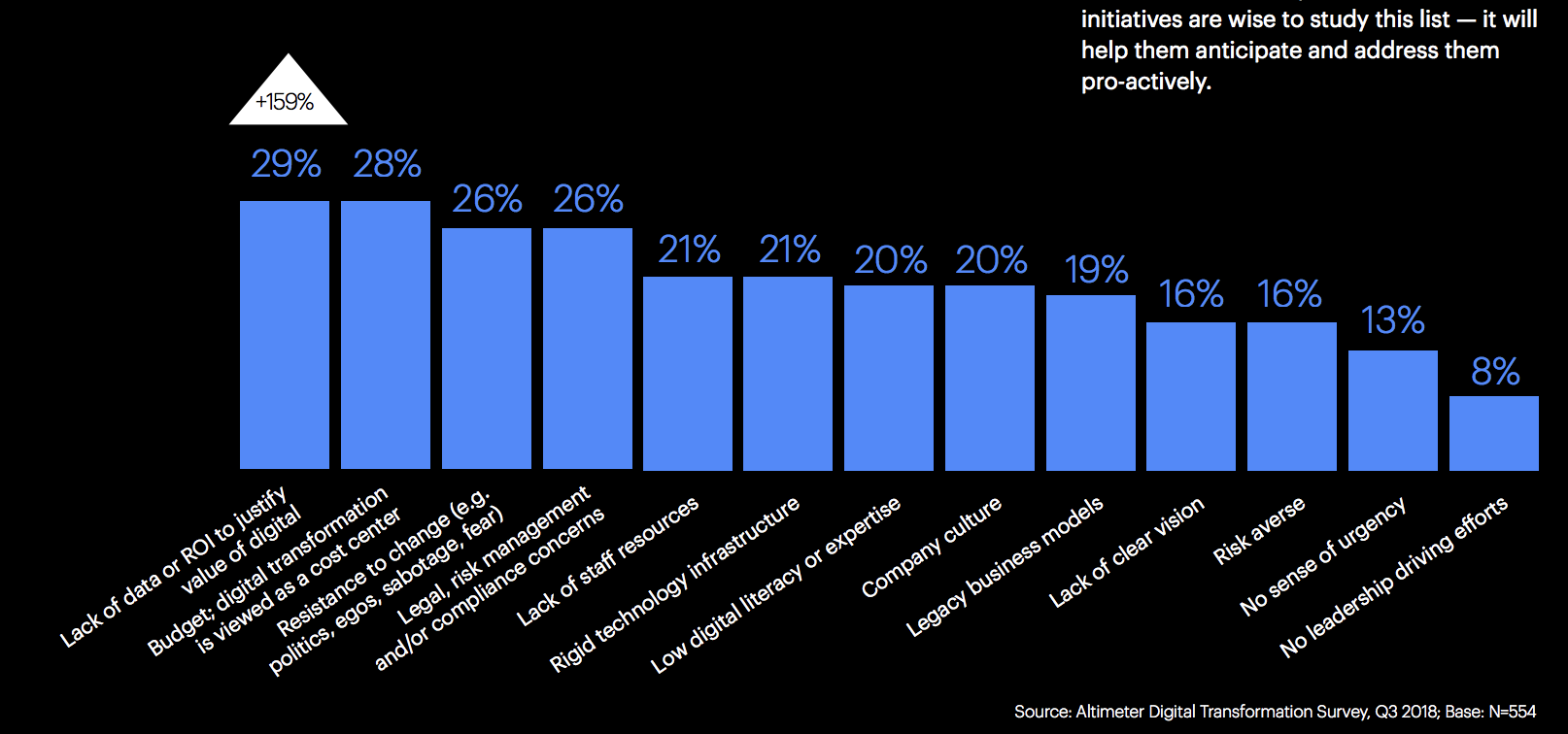 7 Steps to Take to Accelerate Your Digital Transformation
The report identifies 7 priorities for companies that want to accelerate digital transformation maturity and success:
Audit the state of digital transformation at your company
Study the digital customer journey and organise efforts around insights and opportunities
Study the employee journey to improve EX
Make data the centre of your decision-making
Align digital transformation investments with business objectives
Consider carefully how technology trends factor into your digital transformation roadmap
Prioritise a culture of transformation and innovation
It's interesting to see how digital transformation is becoming top of mind for many organisations but organisational buy-in still remains a key challenge.
People are afraid of change but fear only holds us back.
Companies and leaders need to act now because otherwise they will lose out on opportunities to grow or just become laggards in a world that's moving fast by nature.
Are you an early adoptor or a laggard?