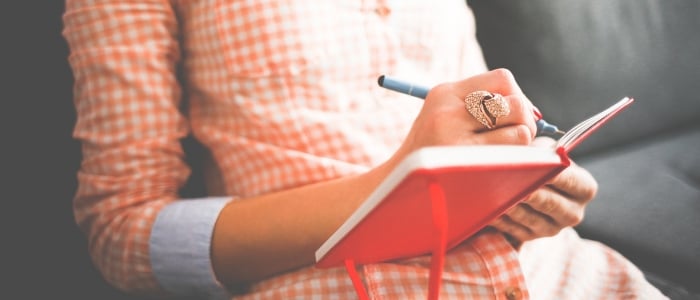 There's a new way of doing media relations - the inbound way.
It's a much more personalised and effective approach to working with the media and achieving results but to be successful at it, you need to really know your media counterparts.
As part of that, you need to understand what's important to them and what's going on in their industry.
That's why I want to run you through some key trends within journalism, media and tech for 2019 that I learned about in a study done by Reuters Institute.
There's a ton in the report so I'm going to share what I found particularly important or interesting.
7 Tech Trends in Journalism and Media to Watch Out for in 2019
#1 Subscription and membership is the key priority for the news industry going forward.
Over half (52%) expect this to be the MAIN revenue focus in 2019, compared with just 27% for display advertising, 8% for native advertising and 7% for donations. This is a huge change of focus for the industry.
#2 The news industry is losing patience with Facebook and publishers are re-focusing attention elsewhere.
Less than half of respondents (43%) say the platform is likely to be important or extremely important this year, a similar number to Apple News and YouTube – but far less than for Google (87%).
#3 AI and personalisation will be critical in the future so get ready now.
Over three-quarters (78%) think it is important to invest more in Artificial Intelligence (AI) to help secure the future of journalism – but not as an alternative to employing more editors. Most see increased personalisation as a critical pathway to the future (73%).
#4 Audio and voice-activated technologies are gaining ground quickly.
With many publishers launching new daily news podcasts, it is perhaps not surprising that the majority (75%) think that audio will become a more important part of their content and commercial strategies. A similar proportion (78%) think that emerging voice-activated technologies, like Amazon Alexa and Google Assistant will have a significant impact on how audiences access content over the next few years.
#5 Platforms step up their battle against misinformation and disinformation but the problem shifts this year to closed networks and community groups, where it is harder to track and control.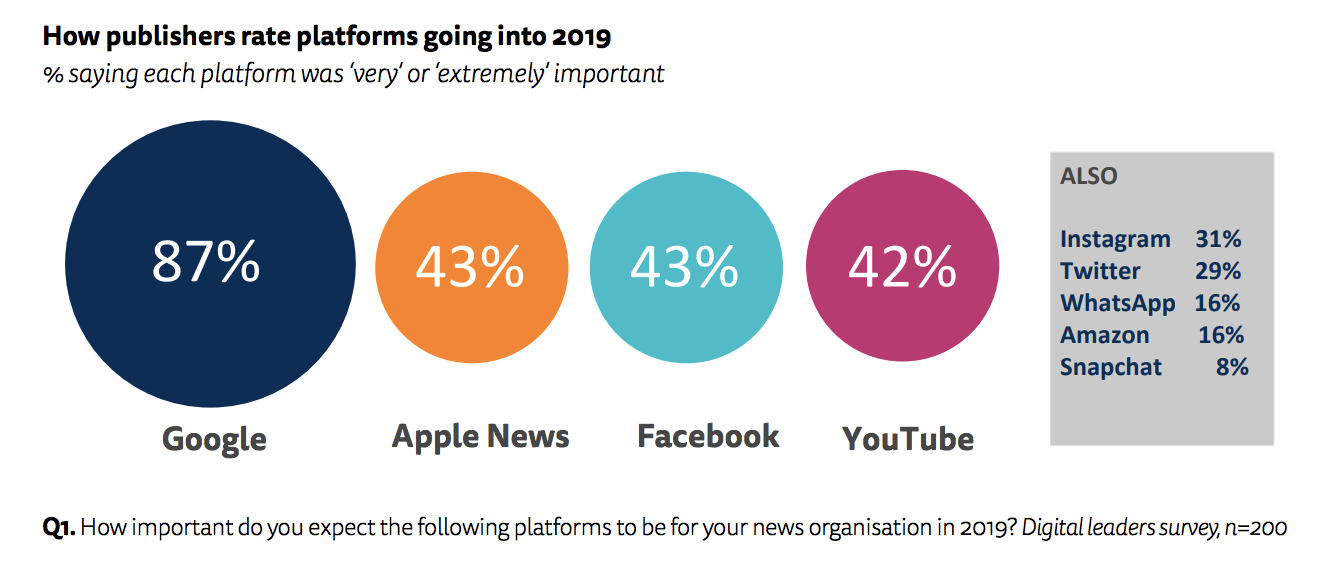 #6 From feeds to stories and groups.
The ephemeral story format has been around for a few years but Facebook says that stories will surpass feeds as the main way people share with friends within the next year. Stories are used daily by 150 million people on Facebook, 190 million on Snapchat, and 300 million on Instagram. WhatsApp status is also a story format, Netflix (movie previews) and YouTube have been experimenting with stories (originally called reels) and AMP stories debuted last year as an open web version that sits on top of some Google searches. These are now being surfaced in the Google News feed on Android devices – a distribution channel that will become more important this year.
#7 Platforms push further into video and TV.
Online video is set to be a key battleground as platforms try to grab a share of the rapidly rising OTT (over-the-top) market. Apple has been building new entertainment studios in California and has been stockpiling shows for release in the spring or early summer. Bundling these with Apple Music could help with its subscription battle with Amazon Prime, Spotify and Netflix. More relevant to news was the global launch of Facebook Watch in 2018, part of its strategy to move into longer form video. Along with IGTV (Instagram TV) these initiatives are part of a long-stated desire by Facebook to re-invent television in a more social and interactive way – and of course to take advertising dollars from incumbent players. These are also a direct assault on YouTube's position as the home of user-generated online video and original content. Snapchat is also expanding its Shows feature to around 17 premium content partners in the UK and will be creating a space for Shows and Snapchat Originals within the Discover portal.
What surprised you and why?