It only took a decade for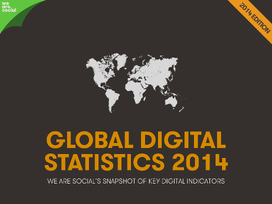 new technology to completely disrupt businesses, markets and entire industries. With the emergence of social media organisations had to adapt to a much faster rate of continuous change in how society interacts, communicates, receives and finds information. Furthermore, the rapid embracement of smartphones and tablets with internet access anytime, anywhere has brought another challenge for brands as they are now required to act 24/7. Social, digital and mobile have changed our personal and professional lives to a massive extent. It's an exciting era, isn't it? According to a new report by We Are Social the near future is going to be even more so.
Just last week, agency We Are Social published their Global Digital Statistics for 2014. It's an interesting read and I thought you'd find it useful too (whether out of curiosity or to help you plan your social media activities for the year), so I decided to share some of the report's highlights.
The 180+ pages report is especially valuable for global campaigns as it covers key statistics, data and behavioural indicators for every country on Earth and presents in-depth analysis for 24 of the world's largest economies, including for example Germany, the UK, the USA, Australia, Brazil and China.
This post focuses on Germany and the UK as those are the markets I am personally and professionally interested in. You can still find out more about your countries of interest in the Slideshare presentation below.
But before I get to the details for each country here are some overall global statistics that I found fascinating:
Of the 7 billion total world population, there are ca. 2.5 billion internet users today (or 35% of the world's population).

1.8 billion or 26% of the world's population are active social media users.

6.5 billion or 93% of the world's population are active mobile subscribers.

The top social networks have added more than 135 million new users in the course of 2013.

Connected mobile devices are people's most important devices, having outpaced traditional internet access devices such as PCs and laptops.
Key 2014 global social, digital and mobile stats and indicators for Germany:
Internet penetration: 84%

Average time users spend on the internet per day: 3.8h on laptop/desktop, 1.5h on mobile device

Social penetration: 74%

Average time users spend on social media per day: 1.5h

Mobile penetration: 133%

Smartphone penetration: 40%

Smartphone users researching products via their smartphone: 76%

Smartphone users making purchase via their smartphone: 32%

Facebook penetration: 35% or 28,000,000 active Facebook users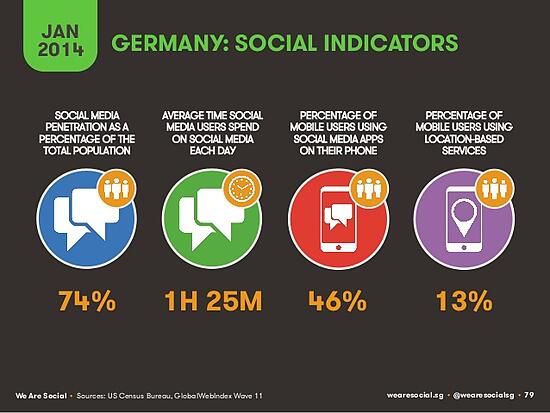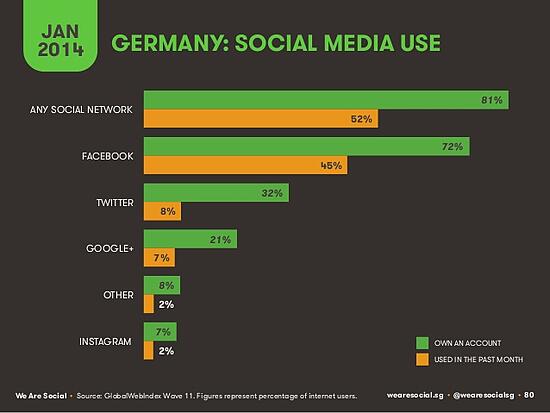 Key 2014 global social, digital and mobile stats and indicators for the UK:
Internet penetration: 87%

Average time users spend on the internet: 4.2h on laptop/desktop, 1.5h on mobile device

Social penetration: 76%

Average time users spend on social media per day: 1.9h

Mobile penetration: 130%

Smartphone penetration: 62%

Smartphone users researching products via their smartphone: 73%

Smartphone users making purchase via their smartphone: 39%

Facebook penetration: 57% or 36,000,000 active Facebook users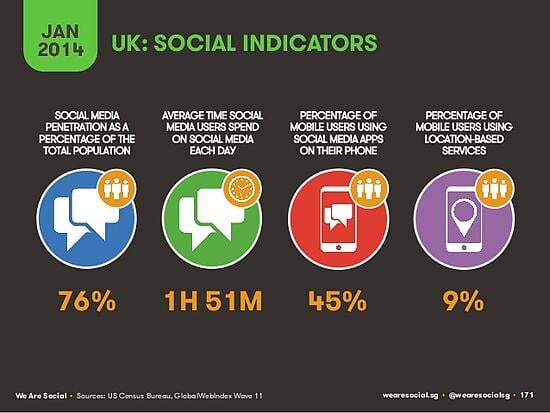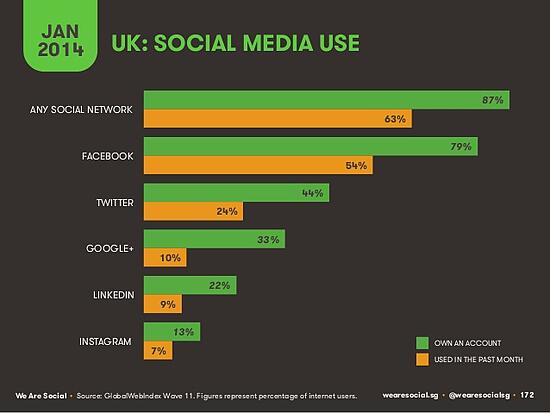 You can read the full report here:
Images from Slideshare presentation