As some of you know I served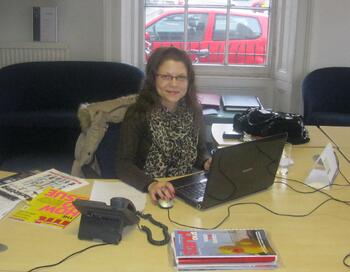 a five month internship at Montpellier Public Relations – a PR consultancy in the UK – between September last year and February this year. This was an invaluable professional experience. It not only taught me a lot, but it also proved that I have made the right career choice, which is why I decided to share with you what I've learned and what I would advise others who want to work in PR.
While serving this internship I gained firsthand insights into how exactly a PR agency functions and how relationships with clients are being established and maintained. I developed thorough understanding and appreciation of the management and business model of a full service PR and marketing communications consultancy operating across a range of clients from various sectors – from healthcare, facilities management, professional services to recruitment. This helped me realise that really comprehending client expectations is the first and probably even the most important step towards meeting client needs.
First of all, I am glad that I chose a smaller agency, because I was given a lot of work, which I very much enjoyed, and I had the chance to learn a lot both on my own and with the supervision of the team. Working in a smaller rather than a large consultancy has allowed me to take on more responsibilities, be in a direct contact with clients and the media and so progress faster and develop a set of essential PR and marketing skills.

Assisting the account handling teams, I was involved in many exciting projects, including developing client proposals as well as implementing PR and social media strategies for potential and existing clients from a number of industries. This varied actual client work allowed me to gain comprehensive real-world knowledge and practical skills in the field, which frankly I needed simply because PR was not much covered during my university course in International Business (my degree has a stronger focus on the broader discipline – marketing).
One of the best and most valuable learning experiences was that I managed to develop advanced writing skills across a range of techniques and disciplines and by that deeply enhance my knowledge about a number of market sectors and what the issues and emerging trends in these industries were. Having to research and come up with stories for such a variety of subjects has allowed me to work on my creativity as well as my forward planning skills because PR requires an ongoing monitoring and identification of media and coverage opportunities and the creation of editorial calendars.
At Montpellier, I discovered how much really I enjoyed writing, be it press releases, features, articles, case studies, blogs post or other social media content on various topics for clients from such different industries. To write good copy not only requires that you know the audience of the particular outlet, but you also need to very well understand your client's business and needs to accurately and interestingly present a story. This constant change of topic was absolutely thrilling and I managed to develop a specific voice for each client and subject, which I found totally exciting.
I also had the chance to develop my media relations skills – a capability that is a must for a PR professional, because the job itself involves regular contact with the media in order to secure coverage for clients. Building good relationships with journalists and editors requires interpersonal skills, empathy and an understanding of both the busy life of media professionals and the needs of the readers of the particular media title. At the beginning I was a little worried and unsecure when I had to pitch, but now this is one of my favourite activities – I love picking up the phone and selling in. It's an amazing feeling to secure coverage and with every pitch you gain more and more confidence in your own abilities.
As a large part of my responsibilities included social media strategy development and implementation, I was able to further broaden my working knowledge in the area. I am proud to say that I have become a 'little expert' in understanding different audiences and how to engage with them on a regular basis, which includes a lot of planning, research and copywriting to day-to-day maintain the Facebook, Twitter etc. accounts of clients.
Furthermore, I had the opportunity to work as part of a team on an ongoing basis to serve the agency's clients and effectively implement their PR strategies. Participating in regular brainstorm and strategic planning sessions allowed me to cultivate strong problem-solving, strategic-thinking and creativity skills. I was also proactive and on numerous occasions took the initiative to lead on projects and even supervise and proofread the work of other interns, helping me enhance my project management and leadership skills.
Most importantly, through this internship I acquired a strategic understanding of how different businesses operate in real life and how important it is for a PR professional to understand their core offerings, needs and objectives in order to effectively tie in the PR strategy with the overall business strategy.
This work experience gave me the confidence that I am well suited for the profession and combined with my constant efforts to learn more on my own I now feel well prepared for my first real PR role. It was a great learning experience, a confirmation that I have chosen the right career and thanks to it I am now a better communicator and a better storyteller.
So, if you are thinking of entering the PR profession I can only advise you to serve at least one internship. If you do so, here are the lessons that I have learned during mine and the advice I would like to give any future PR (and not only) interns:
PR Internship: 10 Pieces of Advice:
#1 Listen carefully and take notes
You need to know what is expected of you, which is why listening well is a craft that you have to master. As an intern you would know less than your supervisors, so listen carefully to what they are saying if you want to learn. Another important thing is to always have a pen and a notebook to take notes, including when talking to your managers, during briefings or meetings. You should observe every situation with eyes and ears, thoroughly follow the discussion and write down important points (if you think you'll remember the details, you're wrong). You will so gain a lot of information about clients, their industries, but also about the agency you are interning at so that you can improve your productivity and style of work to deliver better results.
#2 Ask questions
Always ask when you don't understand an assignment, when you need clarifications or when you just want to discuss something with your managers such as how to best approach a journalist. You can't do what is asked of you if you don't understand what exactly it is. Most importantly, by asking you will learn more.
#3 Ask for more work
If you want to get better and better, take as much responsibility and complete as many tasks as possible and always execute them with enthusiasm. Taking advantage of all learning opportunities will well prepare you for the real working world. Don't forget to take the initiative and be proactive to make a real contribution and develop a strong portfolio.
#4 Ask for feedback
If you want to develop good PR skills you need to know what you are doing well and what your areas of improvement are. Therefore regularly ask your supervisors how you are doing. Be open to criticism, take it as constructive feedback. It is a learning mechanism that will help you see and acknowledge your weaknesses and turn them into strengths so that you can get better and better at whatever you are doing.
#5 Work hard
I can't stress this one enough. If you want to learn and become a successful PR pro, you have to work hard. You have to spend enough time to finish your tasks and do it well. You always have to proofread! Never submit unfinished or unchecked work! Remember, PR has so much to do with writing, you can't have spelling and grammar mistakes in your copy. Attention to detail is therefore crucial in PR.
#6 Be flexible
Because agency work is so fast-paced and so every day is different, it is necessary to be able to multitask well and quickly switch from working for one client to another and therefore from one industry to a completely different one. So, be prepared to ditch whatever you are working on for new last minute tasks.
#7 Learn to cope with pressure
PR work is extremely diverse and always changing. At an agency you'll be juggling multiple clients at the same time, which is why it can get quite stressful. And this is not a joke; be prepared. If you can't cope with a lot of pressure at once, and often, then PR and consultancy work may not be right for you.
#8 Don't be afraid to pick up the phone
Media relations is a core skill in PR. The sooner you acquire it, the better. My advice: pitch with enthusiasm; use your lack of experience as your advantage. Have a positive attitude and smile, journalists notice that. They much more prefer to talk to someone in a good mood than someone grumpy. Do you like talking to unhappy people? I guess not.
#9 Always speak up your mind
You should be confident and share your ideas instead of keeping them for yourself. Remember that there are no wrongs, you are there to learn. If you don't speak up your mind, you won't find out if your ideas are good or right and useful. Your supervisors are there to guide you and give you feedback.
#10 Have fun!
This one is quite important. You need to enjoy your work in order to be good at it. If you are more frustrated and exhausted than satisfied and motivated by your job, then PR may not be the career for you.
Have you recently served an internship and can you share similar experiences? Or if you served a PR internship some years ago, what were your experiences then (it would be interesting to compare)?
Want to find out if PR is the right career for you? Try the PR Profile Fit Test! Download it for free by clicking on the image below!