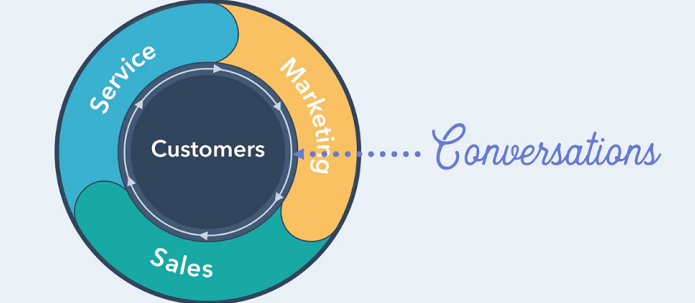 Bots, live chat, Facebook Messenger for business... All this conversational marketing stuff is overwhelming, isn't it?
What's conversational marketing you ask?
At HubSpot, we define conversational marketing as a new dimension of inbound marketing that allows you to use modern technology like live chat, messenger and bots to connect with your prospects and customers in a human, non-disruptive, speedy way that enables you to exceed their expectations.
And why do you need to jump on any of this?
Simple. How people communicate and want to get information about your business is evolving. Consumers are more demanding than ever before. They expect you to be always on, always there, always knowing who they are and how to help them.
Prospects and customers nowadays want to chat with you at their convenience and get immediate answers to their questions. And because you probably can't afford to hire a 24/7 workforce that's glued to a laptop all the time, you'll need to rely on technology such as bots.
If you have the right system in place, those bots can pull up the entire history of the people that contact you - their first touch point with you, their orders overview, their last support ticket etc. Talking 1:1 to customers is the best way to solve their problems.
Conversational marketing can make you more effective and it's really not that expensive but you must be very thoughtful around how you design it.
Conversational Marketing Is a Must in 2020
To be really good at marketing in 2020, you'll need to nail conversational marketing and ensure that you embed it throughout the entire customer journey and across your departments - marketing, sales, customers success - because it's not just a sales tactic to connect with a prospect or just a services tactic to respond to support enquiries. It's an all-round strategy that can skyrocket your customer and prospect experience and provide you with efficiencies of scale through meaningful conversations.
Let's take a look at the three key areas of conversational marketing: live chat, Facebook Messenger and bots.
Using Live Chat
Over the last decade or so, we've relied on adding forms to our website or landing pages where people can leave their email and other personal details in order to avail of a content offer such as an ebook or to request for someone to contact them.
Nowadays, forms on average have a conversation rate of about 2% because people find them impersonal and unclear of the expectations as to when would someone get back to them.
Forms are, however, useful when we need to gather a person's information because it's a low touch way to perform this action instead of spending time on the phone asking questions and waiting for answers through a human.
Combining forms with live chat is by far the most powerful way you can do this because it's more engaging, interactive and it's automated giving the control to people directly.
You can use live chat at each of the stages of the funnel:
Top of the funnel with live chat allows you to:

design a better and more efficient process to qualify leads
increase conversation rates (because of what we mentioned above)
decrease the time you need to move a lead down the funnel (i.e. scheduling a demo or a phone conversation)

improve the overall prospect experience

Middle of the funnel with live chat allows you to:

increase trust and social proof through relevant, more engaging content

better qualify leads and collect the right information to move them along or not to

educate and answer common questions or solve pain points to remove friction

Bottom of the funnel with live chat allows you to:

drive a better onboarding experience for your customers
answer common support questions quickly (purchase questions or invoices needed, software queries etc.)
increase repeat purchases
Using Facebook Messenger
Facebook Messenger is probably the easiest platform that you can get started with when it comes to designing and establishing conversations with prospects and customers.
But as with any other tactic, it's important to define the why behind it and your overarching business goals as otherwise you won't be able to justify the need for it at a later stage.
Facebook Messenger offers a bunch of tools to make sure you can create a messaging presence, message people at scale through a ton of partnerships that allow you to build bots (such as HubSpot) and drive discovery through ads.
Consumers nowadays have become very immune to the traditional communication channels and cycles such as email and phone. What they want is to interact with your business when they want, where they want and how they want.
With 1.3B users, Facebook Messenger is becoming that preferred communication channel - 8 million messages were exchanged between businesses and people last month.
People don't care about your business process and whether Facebook Messenger is something you like or have figured out. They just expect you to be there and you have little say in that because what any buyer or customer wants is to find the quickest way between their problem and the solution for it.
Using Bots
A bot allows you to automatically collect information over time (not just a one-off) in a casual way across multiple conversations to drive conversions and solve problems.
Bots are a very effective and efficient way to build 1:1 relationships at scale with personalised journeys and zero headcount.
There are three laws of bots:
A bot must be simple to both create and use.
A bot must serve a purpose, streamline a process and provide a tangible net benefit to both the user and the owner.
A bot must be aligned with the ideals and concepts of inbound, while staying true to both of the above laws.
But before you get to those laws, here too you need to define what you are trying to achieve because sometimes a bot might not be the right solution.
For example, if you are trying to gather a small amount of data as a single action then a good old form is probably the best solution for this particular situation.
A bot, on the other hand, allows you to create a whole narrative with multiple outcomes depending on where people want to take it.
Now that you know the basics of conversational marketing, I recommend doing this crash course for best practices on how to use live chat, Facebook Messenger and bots for your business.
What has your experience been with conversational marketing?