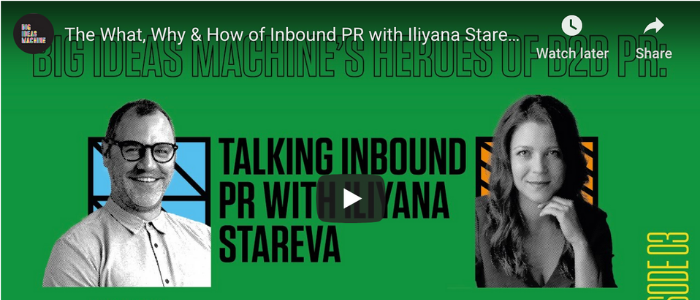 A few weeks ago, I had the pleasure of joining John from Big Ideas Machine for their podcast called Heroes of B2B PR.
It's been a while since I've done a podcast or a presentation on Inbound PR mainly because my career has somewhat moved into a different direction.
We discuss that during the podcast - my focus now lies on Project and Program Management and Customer Success.
This doesn't mean, though, that I am no longer interested in what's going on in PR. I still follow the industry and what's happening in it. We chat about this in the podcast too where I also frankly mention that even though the Inbound PR book came out over two years ago, PR professionals and PR agencies are still struggling to adapt to its principles or generally to the digital world.
The What, How and Why of Inbound PR [Podcast]
I'll stop revealing too much about what we discussed so you can listen or watch the podcast yourself but overall here's what we covered:
what Inbound PR is;
why agencies are not practising the approach and why bigger agencies are not leading the change;
how inbound marketing companies adopt Inbound PR principles faster;
whether PR practitioners and PR agencies are equipped to have the business and big goals conversation at the C-level;
measurement, targets and tactics;
the outlook on the PR industry and biggest barriers to moving to an inbound mindset;
how much has changed since the Inbound PR book came out;
where am I going next.
Enjoy the video!
How is the PR industry doing? Is it adopting inbound?