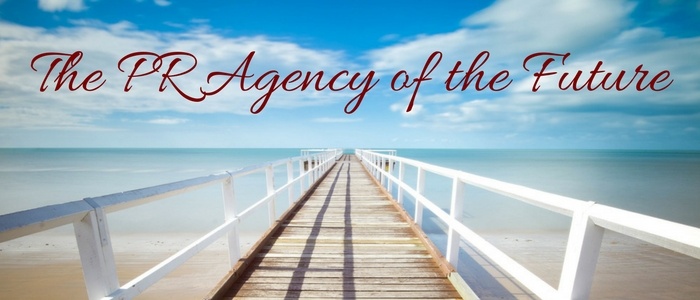 If your PR agency disappeared tomorrow, would your clients miss you?
How quickly would they replace you?
Not easy questions, I know, but they're important when you think about why you are in the PR business, the value that you're currently providing and the type of agency you envision in the near future.
Are you a nice to have, a should have or a must have? In other words, are you irreplaceable?
The irreplaceable agencies are the ones who not just deliver remarkable work but whose work's remarkability clearly drives bottom line results.
The agencies that clients fear to lose are the ones who can very easily measure and tie their activities to the impact they're making on the client's financial goals.
But in the ever-changing digital and technological landscape, what do PR agencies need to do to survive and most importantly to evolve to be fit for the future?
There are four characteristics that define the PR agencies that will thrive in business over the next years.
Let's take a look.
The Four Characteristics that Define the PR Agency of the Future
The PR agency of the future is
#1. Strategic
First and foremost, the PR agency of the future needs to be strategic. This means PR people must think with outcomes in mind, not inputs. It really doesn't matter if you send your press release to five or five hundred journalists. It's the end result and how this activity affects the client's bottom line that matter.
No business cares about how much has been done. They care about how much money has been made.
The PR agency of the future knows this and the first thing it does when starting a new client engagement is to dig into those deep client needs and goals so that it can act as a trusted advisor who can truly help the client get to where they need to be.
#2. Data-driven
To be a trusted advisor, the PR agency of the future must be confident in using data. Otherwise, it won't be able to make informed decisions.
Informed decisions are those that are based on real data, on numbers, on trends that tell you what's working and what's not.
PR people have traditionally failed at the numbers game but if you want to survive in the future as any communications professionals, you'll have to learn how to deal with numbers and data. Otherwise, you won't be able to advise and act strategically to where it most matters for the client or where you could make the biggest impact.
#3. Tech-driven
Being able to read data, doesn't mean being stuck looking at Excel sheets all day. It means being able to effectively and efficiently use all the technology and tools that we now have available (another area that PR people have not jumped on quickly enough).
Tech is the future. It not only allows you to get accurate data and helps you make informed decisions; it also allows you to deliver better, faster work; to be effective and remarkable in the delivery of your service; to measure the results of your activities. It streamlines your communications, your processes, everything around how you internally manage your PR agency and how you manage the work that you are doing for your client.
Technology does not replace strategy, though. It amplifies it.
Don't lose out on this advantage.
#4. Interactive
The PR agency of the future not only needs to think and act client-first but also customer-first.
Keeping up with data and technology will allow PR people to be closer to consumer and media needs, to devise plans and activities that truly hit expectations. And as we know, the way people make decisions today is through the content that they find on their own time, not through what we push out at them – they have the tools and abilities to ignore outbound activities whenever they want.
Here, technology becomes not just an amplifier but a driver because we're moving away from pure text and into interactive forms of content such as videos, Facebook lives, Snapchat etc.
The PR agency of the future is the one that's able to keep up with these developments. I don't call them technological developments per se because I think they depict the changing nature of consumer behaviour. This behaviour is interactive on multiple channels and in multiple formats – that's what the PR agency of the future needs to master and keep on top of before clients figure it out and start demanding it (the data will tell you and enable you to be proactive rather than reactive).
None of this is linear. Each characteristic is tied in with the other one and they are all co-dependent.
The PR agency of the future needs a leader who understands how strategic, data-driven, tech-driven and interactive thinking come together to deliver unified client results.
What do you think the PR agency of the future looks like?
Ready to transform?