I am in a desperate need of a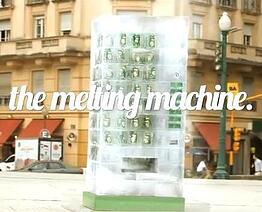 real summer – sun, high temperatures, sea and tan. Unfortunately, I currently live in Germany, where the winter this year has been endless! Just last week I was wearing my winter jacket... So, because the reality doesn't include summer any time soon, I have to dream of it and the campaign below I saw recently certainly facilitated some nice sunny thoughts.
7up came up with a brilliant idea to promote its products in a fun and engaging way. The company created the first ever melting vending machine. Yes, that's right – melting! For the ice to melt, you need of course hot weather, which is why the stunt took place in Argentina and obviously not Germany.
So, in the middle of a busy square in Buenos Aires 7up put a massive ice-block with cans of the drink inside. As the day passed by and it was getting warmer and warmer, the ice melt and people got to indulge on some refreshing ice-cold drinks.
Another cool part of the campaign was that 7up asked people to use the hashtag #MeltingMachine and guess on Twitter when the ice would fully melt. Those who were right got a free six-pack of 7up.
Enjoy the stunt!
Why do I love it?
It's clever.

It's simple, yet creative.

It's rewarding and refreshing.

It's relevant to everyday life.

It's just cool!
How would you feel about a 7up?