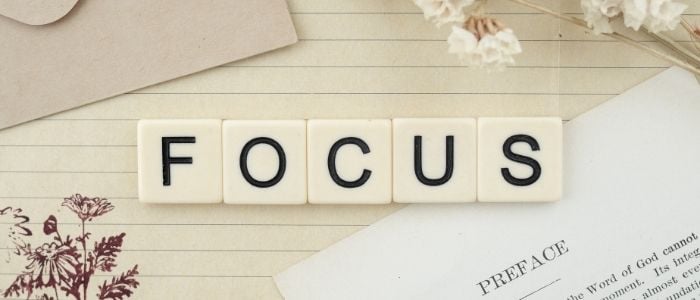 70% of all projects in organisations fail. Shocking isn't it? But it's the reality. And most often than not, projects fail because of competing priorities.
We move too fast and work on too many things at the same time. Many leaders want everything done now. Program and project get assigned to multiple projects at the same time alongside other stakeholders from the companies. And because there's so much to do and little prioritization to everything that needs to be done, project teams have to choose shortcuts and many times jump right into doing without planning. But by skipping planning, project teams are bound to see surprises later for their initiative.
That's why I see the job of the project or program manager to push back to leadership and ask for prioritisation, to really look at where do we get the most impact among all the projects and to work with leadership to identify what to 'kill'. Organisations have the habit of just adding things but we never look back at what's actually not working and just stop it so we reuse the resources and talent for the initiatives that will bring an impact.
In fact, the ROI from quitting the wrong thing is far greater than the ROI from doing the right thing.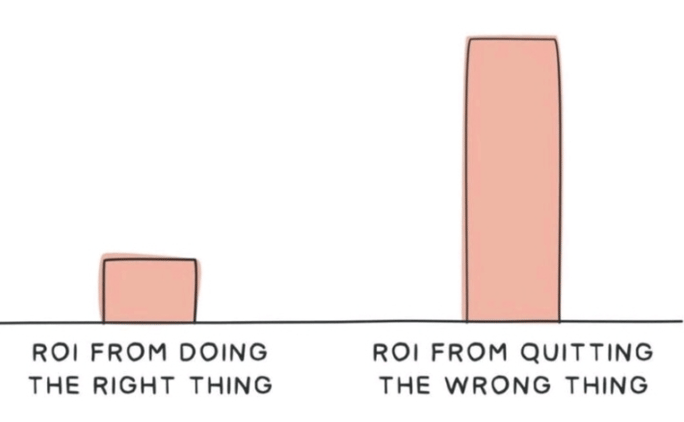 So if 70% of all projects fail, it's safe to say that the 30% of those that succeed are truly focusing on the right things and most importantly, have a PM who's not just skilled at getting things done with the project team but in leadership.
Because it's leadership skills that are required to push back and really get deep into why are we doing a certain project and if its impact is going to be big enough to focus the organisation's energy and resources on it.
At the PMXPO 2021, I attended a session called "From Chaos to Confident: The 6 Pillars Project Leadership Framework" which highlighted how a PM should really act as a leader and what abilities are key to avoid chaos and drive results.
Let's take a look at the so-called project leadership framework.
6 Pillars Project Leadership Framework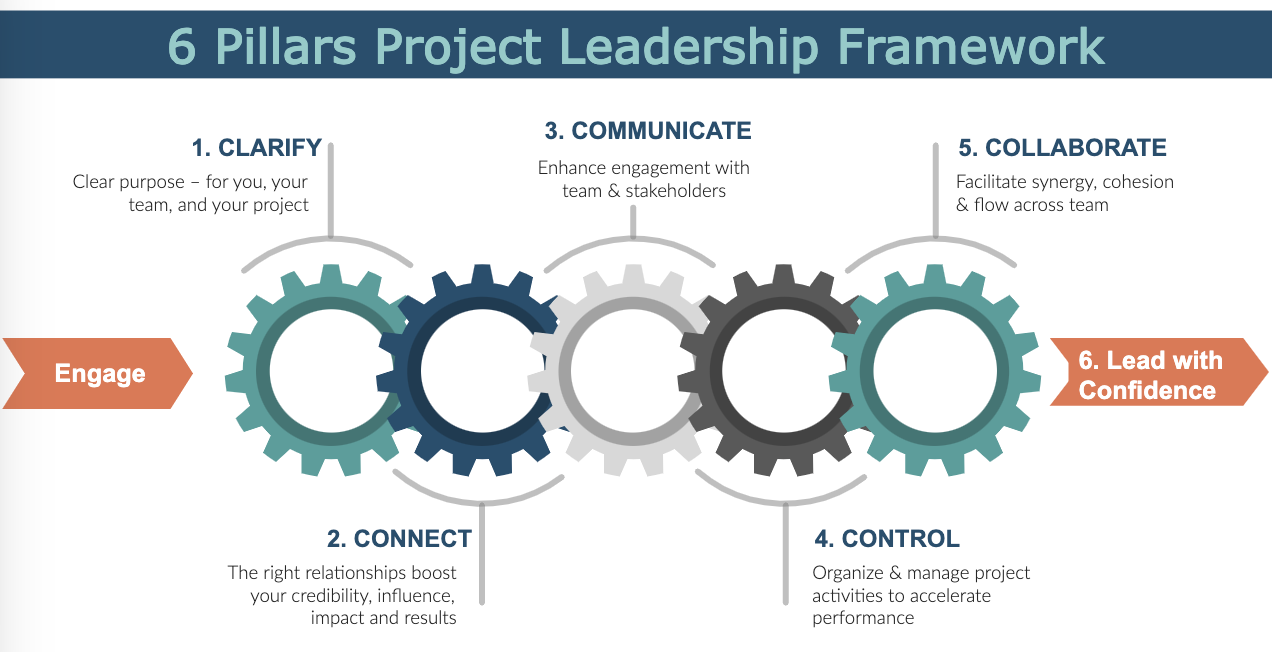 #1. Clarify
This first step is critical because it requires that you figure out what the project is trying to achieve and why. It allows you and the team to gain a new perspective of the environment and with that,. create a plan on how you and your team are going to be successful. You want to clarify:
Your own skills and behaviours and how these impact the team.

The team's skills, any gaps and behaviours that might need to be supported, improved or changed.

Behaviours that are result of environmental constraints or culture.

The outcomes you need to achieve - what's really required for the project and why and what happens if you don't achieve the goals.

Where are you making assumptions and might have gaps for this project?
Clarity drives accountability which drives momentum. Everybody will know what they're supposed to do and why.
#2. Connect
The next step is about establishing relationships that broaden your influence and strengthen your credibility as a project leader. Think about:
Who do you need to build relationships with to succeed with this project and within your organisation in general? Why?

How can you go about building these relationships?

How can you leverage these relationships to build credibility, trust, boost influence and drive the right outcomes?
Relationships drive credibility and influence which drive impact. So take the time to build the relationships because they are a key driver for success and they're worthy of the time investments. If you have the relationships and drive the engagement, then you will achieve your project's goals faster and better.
#3. Communicate
Comms skills are critical and you need to be able to leverage essential comms techniques to enhance engagement. What you need to think about IS:
Communication and behaviour skills development for you, your team and the project in general.

Planning the right communications to support the behaviours needed for success - creating a comms plan based on stakeholders, their comms and timelines to communicate needs as well as the outcomes you hope to achieve through those comms and your project.

Practice, practice, practice because project management is all about communication.
Model the behaviours you want to see from a comms perspective and encourage your team to do the same. Ineffective communication is one of the key reasons for project failure.
Think about what you need to communicate and why and frame the conversation around this before jumping it to avoid confusion or misunderstandings.
Communication drives engagement and that drives alignment. We need to make sure we're not making assumptions and vet those to ensure your team is aligned.
#4. Collaborate
To collaborate effectively, you need to clarify and organise the project and team to improve accountability and effectiveness. What you need to think about is:
Develop a clear vision for the project journey to success.

Establish team charter and guiding principles to help get there.

Define how to work effectively as a team to accomplish milestones and outcomes - how is the team going to do the work, create synergy, meet expectations, reflect on completed work etc.; how are you as a leader going to minimise barriers.

Ensure readiness of your team and stakeholders to transform how they work during and after the project.
Collaboration drives innovation which drives high-quality outcomes. To do this we need clear roles and responsibilities, clear expectations, which allows for the team to be aligned and to hold each other accountable.
#5.
Control
Next, you need to manage, guide and facilitate project activities to accelerate performance. Think about:
Develop a clear plan with roles and responsibilities as well as deadlines.

Manage all deliverables and their progress to establish and maintain momentum as well as monitor risks and open issues.

Hold the team accountable in the face of competing priorities and diluted focus.

Serve and facilitate the team and set them up for success with clarity on what needs to be done and by when.
This is all about organisation and if you are not organised, the team cannot function properly as everything will be chaos. And if this is how the project is managed, if something goes wrong, you want to have a mechanism of knowing what exactly created the problem.
Control leads to acceleration of work which leads to results.
#6. Lead with Confidence
Lastly, you need to be able to confidently motivate, inspire and lead the team to improve momentum and results. You need to think about:
Address anything that comes along the way - good or bad.

Handle and defuse stress and tension to enhance collaboration, accountability and performance and remove barriers for your team to be successful.

Stay calm, focused and in control while maintaining strong relationships with the team and stakeholders.
As a PM leader, you need to be able to ask the right questions, connect the dots, offer solutions and lead yourself before you lead others.
In addition to leading the team and the project, you need to engage the team and stakeholders all the way through.
The Power Skills of a Project Manager Leader:
I see most PMs focusing on pillar 5 Control and much less on the others which are so crucial. If you want to be a true project manager leader you need to really work on the following power skills:
effectiveness,

communication,

collaboration,

engagement,

leading self,

leading others.
All of this requires daily focus and daily practices and doesn't happen overnight.
I've done the PMI certification and I'm PMP certified but what I missed throughout the training and the huge education book is a lot more on the leadership skills that are so needed today of PMs. Today's PM frameworks focus far too much on technical skills which if I remember correctly from a recent webinar will completely be made obsolete thanks to AI. But the need to understand stakeholders and their needs, to connect the dots, to be strategic, cannot be overtaken by technology.
What's your take on what makes up true PM leadership?