Search Engine Optimisation (SEO) is still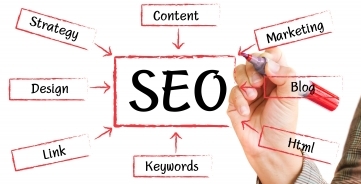 a new concept for me and I admit I am a beginner. This is why when I came across the infographic below, I decided to share it because I am certain there are many people out there with limited (or zero) knowledge of SEO who might find the following information useful.
But first, what is SEO?
According to Wikipedia it is:
"...the process of improving the visibility of a website or a web page in a search engine's "natural," or un-paid ("organic" or "algorithmic"), search results. In general, the earlier (or higher ranked on the search results page), and more frequently a site appears in the search results list, the more visitors it will receive from the search engine's users. "

"As an Internet marketing strategy, SEO considers how search engines work, what people search for, the actual search terms or keywords typed into search engines and which search engines are preferred by their targeted audience."
(Yes, it does sound confusing and complicated...)
What are the benefits of SEO?
A well implemented SEO strategy could help your website rank higher in search engine results (for example in Google) and so would make your business/services/products more visible and easier to find in the online space. This in turn could improve brand awareness, generate traffic, increase sales, improve reputation etc. by boosting the number of people who know about you.
The infographic below breaks down the key components of Search Engine Optimisation helping you gain a better understanding of the concept and giving you some ideas how to implement it.
(Click on the infographic for a larger view)

I've been trying to implement some of these concepts for my blog and admittedly it has proven worthwhile. How about your SEO efforts?
Source: Blogging Pro
Image courtesy of KROMKRATHOG / FreeDigitalPhotos.net