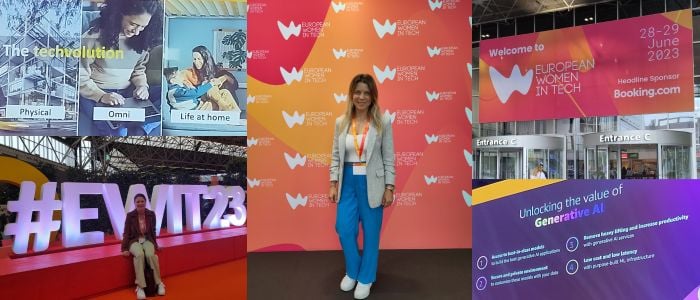 Last week, I attended the European Women in Tech conference in Amsterdam. It's been a while since I went to an event like this and it was great to be back learning and networking.
I attended dozens of sessions and wanted to spend some time reflecting on them.
The best way for me to reflect is by writing. Writing is my way of thinking and learning and I'm getting back to it more and more as well.
So, here are my top learnings from the European Women in Tech conference.
My 4 Learnings from European Women in Tech
#1 It's a war on talent out there
Talent and skills came up in almost every session. It's by far the biggest challenge in the workplace.
Where it stood out the most was in Karen de Lathouder's talk (CEO of bp Netherlands). Karen explained that it was easier to find talent a few years ago because people wanted to work for energy companies. They don't want to anymore because these companies have a bad image. Bp and the likes need to change their story especially because oil and gas companies need the right talent to help them make the environmental change they aim for from within. The issue lies in the fact that the role of energy companies in the circular economy is not understood by society - they are part of the problem in terms of pollution but they are also part of the solution.
Prospective employees have become empowered to own their careers and have stronger decision-making power than before. They have choice. Years ago, you got a job and you stuck with it for long because there were not that many opportunities and job security was the primary driver. Today, it's growth, meaningful work and freedom that drive workers. Employees are the ones who hold the power, not employers.
#2 Ecosystems, not platforms and tools
We need to stop talking about platforms and tools and start talking about ecosystems.
This stood out to me during a session about digital transformation from Heineken run by Maja Schreiner and Gabriela Cadenas (both leaders in digital and technology).
Maja and Gabriela explained that they need to go for more radical solutions to drive productivity internally because their dream as Heineken is to become the best-connected brewer - not an easy job, that's for sure.
Heineken aims to do this by digitally transforming the front end (via a digital route to consumer and data-driven insights and foresights) whilst modernizing and simplifying the back end (via simplification and automation, secure digital backbone and a digitally enabled organisation).
I hear this a lot from companies - they are all on the same journey of simplifaction through tools and platforms, but where they all struggle is the siloed system they end up building through multiple tools and platforms that don't speak to each other. This is when focusing on building an ecosystem rather than acquiring tools can be a game changer for businesses.
#3 Gen AI is what social media was 10 years ago
Gen AI is all the noise out there, but no one really knows what to do with it and how to use it yet. It was exactly the same when I started my career in PR and social media. Social media was all the buzz and no one really knew how to leverage it for business. There were discussions about the proper use, content creation, which channels, new jobs, data and privacy, ethics etc. - exactly the same conversation as with Gen AI now.
Ultimately, we ought to be curious and explore the possibilities of Gen AI that can be endless. No matter how powerful Gen AI can be, it can never replace the human brain. This article by Brian Solis is a great explanation of that.
#4 Approach your career as a product
There were a lot of valuable sessions about career and leadership for women - no surprise I guess given that the conference targets females, but I found a lot of good advice in them. It's often things we know but don't put into practice.
Here's what I took:
Define your MVP and trust it's good enough, don't wait for perfection

Think big and don't compromise

Know where you're going but saviour the journey and experiences along the way

Don't wait for change, make it happen

Your seat at the table is yours to take
Take your place but don't puff up (thank you Marieke Mulder, Head of Sustainability at ASML)
Find two mentors according to Fatima Fares (CIO, Chemicals & Products at Shell) - one to be vulnerable with and help you on an ongoing basis, one to be your strategic sponsor (2 levels above) to learn from and open doors for you but don't show your flaws to them.
There's only one person that has the right answer and that person is you (thank you Maite Zaubaurre CPO at bol.com)
I was amazed at how much we can learn from each other as long as we open up and listen.