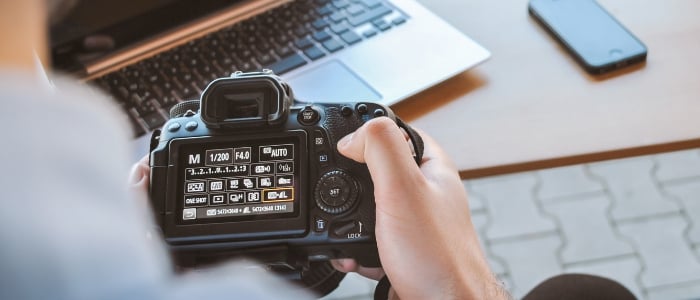 This is a guest post by Simon Cliffe from Branch Road.
Recently my wife tasked me with booking the family summer holiday. I have a 40-minute train journey into work, so a perfect window for doing research.
Typing 'family summer holiday' into Google, I was bombarded by zillions of search results recommending holidays from Costa Brava, to Malta, Crete, Mexico and so many more.
After five minutes of flicking through the various web pages, I felt overwhelmed and confused. Then for the rest of the day, I was followed around by an online advert trying to convince me to book a cruise.
Sound familiar?
For consumers, the colossal amount of content, PR and marketing messages out there can be quite a turn off. We're busy people and we don't have time to sift through it all. For brands, cutting through the data deluge and attracting our attention in a meaningful way, has become a real challenge. So, how do you do it?
The power of video storytelling
Coming from the broadcast industry, I'm probably a bit biased, but video is one medium that really helps brands stand out. It creates a strong emotional connection with an audience in a much quicker way than text-focused content could ever do.
However, for video storytelling to be successful you need to make sure your story isn't too self-serving, speaks to your audiences' needs, and reaches them at the right time, on the right device.
Sounds simple right?
Here are my three top tips on how to use video to boost your Inbound PR strategy.
Top three tips to get you started with video
#1 Think strategically and choose the right video style
When used as part of an Inbound PR strategy, video has huge potential to attract and engage your audience, rather than just interrupt them. But for it to be truly effective, you need to think strategically: What is the story? Why do you want to tell it? Who are you trying to reach? Most importantly: What is it that you're going to say that will actually make them care? Answer those questions, then you can work out which video style best fits your campaign.
Take a look at these examples to give you a few ideas:
Brand campaign videos

can generate significant exposure and are created in a variety of formats from drama, comedy to documentary style.

Customer case studies

. Using a customer voice to tell your story can create compelling content for your brand. Video case studies also bring out the authentic emotion in a way that no other medium can. This is particularly powerful for B2B brands.

How to guides

are popular and very searchable content. Many audiences turn to YouTube in search of video content to learn how to do something. Especially Generation Z, who prefer to

learn through video content

.

Event videos

can be a useful tool for lead generation particularly for B2B brands. Instead of creating mundane event wrap up videos that nobody is interested in, you could interview key people at the event and create some compelling content about important challenges and innovations facing your industry.
#2 Create your amplification plan
Once you've determined which video style is best to tell your story and reach your audience, before you brief a video crew and pick up a camera, you need to create your amplification plan. Who will you promote your video content to? Will you gate any aspects of the content? What is your user journey? And, perhaps most importantly, how will this video help support your Inbound PR objectives?
Video can play a strong part at every step of your Inbound PR strategy, working in partnership with your other campaign content, but only if you squeeze the most out of every video. That means finalising your amplification plan, user journey, and how you'll measure success, pre-production.
There are lots of ways to make sure you get bang for your buck when creating video content, but here are some tips to make sure your amplification plan helps boost your inbound PR strategy:
Don't just create one video: Yes, creating your 'hero' video is important but when it comes to amplification you need to think about how you can make the most of your video content to reach an audience across different channels. Why not create 15 second teasers for social to drive your target audience to the full-length video?
Think about where you want the user to go next: Your customer watches your video all the way through, great! But then what? Think about what you want them to read or engage with next and how you can direct them there.
Create versions that work for other parts of the business: In addition to creating a video for your inbound PR needs, why not work with the marketing, sales, customer success or HR teams to create a cut of the video that works for the wider business?
#3 Measure success
The good news is that video is very measurable, and can be measured in two ways:
Engagement: This includes play rate, click throughs, share / comments and watch time as well media coverage.
ROI: Measuring the amount of leads that your video generates. You could follow up with your sales team to understand how many of those video leads converted into opportunities and resulted in sales.
Video campaign examples picked up by the media
Here are a couple of great examples where video content has successfully worked as part of a wider Inbound PR campaign:
FLIR

created a video

to raise awareness of the environmental capabilities of FLIR technology by visualising air pollution in the UK with their thermal imaging cameras. The video shows how the transportation sector is the number one pollutant and by portraying this issue in a visual way creates a far greater impact than just words. The video generated significant media interest including

Evening Standard

,

Reuters

, BBC 10 o'clock news and more.
Small Talk Saves Lives:

Everyday Small Talk

is a campaign by Samaritans, Network Rail & British Transport Police and was a recent winner at the Brand Film Festival London 2019. It's the latest iteration of the Samaritans campaign that stresses the importance of talking to strangers to potentially interrupt someone's suicidal thoughts, and is based on statistics that for every life lost on the railways, six are saved by those around them. Overall the campaign generated good exposure and

media coverage including

The Big Issue,

BBC online

and well as various articles in

PR Week

covering the Film Festival win.
Wrap-up
We've discussed how video can bring your story to life in an engaging, shareable and measurable way, as well as the importance of the right amplification plan. My last piece of advice is to just go for it.
Video doesn't have to cost the earth, so don't be scared about that - in fact, it's much more important to focus on the strength of the story you're creating rather than the size of your camera or the crew you're hiring.
Test it out, observe your results and see what works best and I guarantee that you'll give your Inbound PR strategy a big boost.