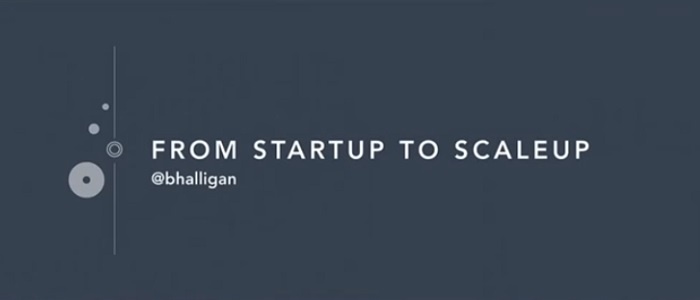 Did you know that only about 5% of startups become scaleups?
Last week, INBOUND17 took place and it was by far the best INBOUND I've attended, probably the best conference of all the ones that I've been to in my life so far.
It hosted about 21,500 marketing, sales and other professionals from around the world.
I'm proud of the event and I'm proud of our co-founders - Brian Halligan and Dharmesh Shah - who are not only leading our team at HubSpot but also leading where the industry is going, paving the way for marketing, sales and service companies to grow and scale.
During their keynote at INBOUND17, they shared their learnings from starting HubSpot 11 years ago to scaling up to a 1,800-people company and 34,000 customers in 90 countries.
This week, I want to share with you the key insights from Brian's part of the keynote. (Next week, we'll run through Dharmesh's).
How to Get From Startup to Scaleup
There are 3 phases that new companies go through from starting up to scaling (if they get there):

Phase 1: early-stage startup - 1-2 people working on the idea.

Phase 2: startup phase - 3-30 people working on product market fit, trying to get the thing going.
Phase 3: scaleup phase - 30+ people working on product market delight, many more customers and revenue coming up, trying to put money into the top of the funnel to get a nice return at the bottom of the funnel.
The reality today is that it's never been easier to start a company, but it's never been harder to grow a company - not just in the software industry but in any industry. In fact, only about 5% of companies starting out make it to Phase 3.
Brian explained that at HubSpot it took us a year to get to Phase 3. We got stuck during phase 3 for about 5-6 years as we couldn't get the math working (pouring money at TOFU, getting the return at BOFU) but eventually we got to Phase 3 and where we are today.
Brian then shared with us his 3 muscles groups that helped us get from Phase 2 to Phase 3 which we hope to help you breeze through these phases faster than we did:
The 3 Muscle Groups to Scaleup:
#1. Scaling your management
Stop being a yes-man all the time and learn to say no. The answer can't be yes to everything because it backfires in scaleup mode. Startups are much more likely to die of overeating than starvation.
Our solution to doing everything now is the MSPOT document that we put together every year so that we know what we are focusing on and what we are NOT focusing on:

Every scaleup must have this to keep everyone on the same page. The goal here is to do fewer things but do them well.
In addition, as we grew and became more remote with global offices, team managers started making decisions more for the team rather than the company (unintentionally) so we put together a HubSpot hierarchy of needs to guide decision-making: Solve for the customer first, then the Company, then the Department, then You.
#2. Hiring at scale
If you want to grow, you need to hire a lot of people and culture is the magic startup ingredient the more people you become. Understanding that and NPS-ing our team back then, we developed and wrote down the Culture Code - thinking about it as code that grows and changes over time as more people join the company. It's like a product that's unique to you and distinguishes you from the competition and pulls in and retains employees.
Second learning here was to hire a person to be the Voice of The Employee - just as you have people who play the role of Voice of the Customer - who would be passionate to make the company the best place to work.
Mission matters. Mission has never been as important as it is today. You need to appeal to prospective employees. Brian and Dharmesh both believe in our mission to appeal to the SMB market and that mission hasn't changed over the last 11 years. People who work on a mission they believe in, Simon Sinek calls passion; people who work on a mission they don't believe in, he calls this stress.
#3. Scaling the Customer Experience
Here's where we got stuck in Phase 2. Delighted customers not only pay you, they market for you. In 2017, your delighted customers are the better marketing channel than your own marketing department - that's the way you grow, that's the fuel in your scaleup rocketship. But it took us a long time to figure this out before we started investing heavily in R&D and NPS. This was the key play that got us from startup to scaleup.
Another key learning was moving from full service to self service. When it comes to companies who have disrupted industries like Netflix or uber, it's much more about how they sell, not what they sell. Great products today seem to be disrupted very quickly but great services and experiences are much more durable. Light touch and automation wins out over heavy touch and humans.
The words coming out of the customers' mouths are much more valuable than the words coming out of the vendor's mouths. The goal here is to create a delightful end-to-end experience for the customer.
Here's the video of you want to watch it (I've covered up to minute 45, next week comes the rest!):
What's your startup to scaleup secret?