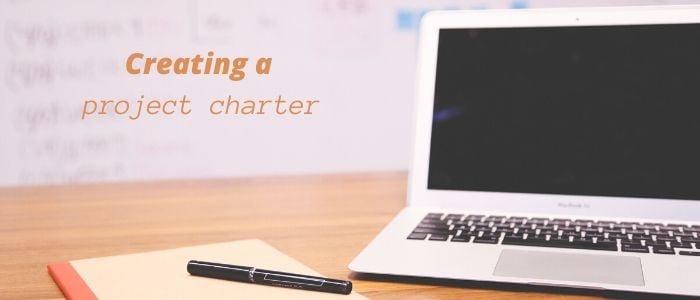 The most important document when you're at the very start of a new project is the project charter.
This is what we will look at today as part of my series on project management fundamentals - if you missed previous posts, we've so far covered the differences between projects and operations as well as those between projects, programmes and portfolios, the DARCI model for stakeholder engagement and how to run an effective project kick-off meeting.
Now, let's get into our topic for today.
What's a project charter?
The project charter is the formal, relatively short document that describes the most important thing about your project - its objectives, benefits to be achieved, the scope incl. key deliverables and timelines, the people to be involved, KPIs for the project and any known/expected risks.
According to PMBOK, the project charter officially authorises the project and as such, you can begin working on it as it gives you the authority to do so as the project manager.
It's basically the beginning of any project as without this key information, you can't really start working on anything (at least not effectively).
Why do you need a project charter?
There are a few reasons why a project charter is necessary:
It explains why this project is important and why the organisation should execute on it - this means it gives the business case and the business benefits that are expected to be achieved so people understand why it's necessary to focus on this project.
It authorises you as the project manager and gives you not just the responsibility to run this project but also authority which is key because the people involved in doing the work for the project will not be reporting into you so you have to have some power.
It defines what's in scope and what's out of scope - basically, what are you going to do as part of this project and what are you NOT going to do. This is important because projects tend to expand like a vacuum if the scope is not well defined - this is called scope creep and is one of the main reason why projects fail.
What does a project charter look like?
Often, the project charter is a one-page document that summarises the most important information that allows you to begin with the project.
I personally like to use a deck, especially if I come into the project a little bit later because it allows me to create the project charter in a workshop with the key stakeholders. I can then easily socialise this deck as well.
But typically it's a document so I looked online for some templates to give you an idea and the best I found comes from Expert Program Management.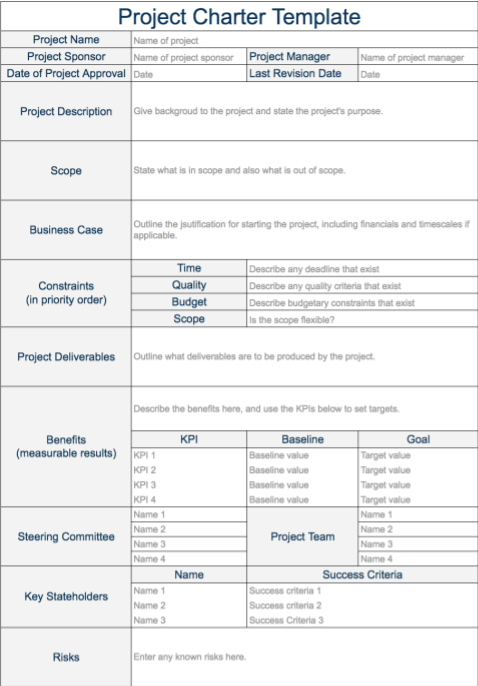 As I mentioned, I like using a deck instead of a document which basically has each of these key areas from the template above per slide and I usually tend to put project description, scope and business case on the same slide. For stakeholders, I like to use DARCI directly as it helps me know who to deal with for what when we start drilling into the details of the deliverables.
Have you ever created a project charter?
Here's how I use a deck instead of a document for my project charters: