Back in October last year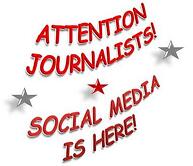 I reported the results of a research by Cision on how social media has affected the work life of journalists in the UK and why this matters to PR. As the researchers called it, this was a study on Social Journalism. Earlier this month Cision & Canterbury Christ Church University released the global findings of the same study, examining how journos around the world use social media and how it impacts their work.
Over 3,650 journalists from 11 different countries participated in the online survey.
The results have captured some interesting recent developments in how journalists and media professionals use social media for work. However, there were no major changes regarding contact between PR professionals and journalists with email, telephone and face-to-face remaining the three most common ways to communicate with each other.
As to be expected, the study found that the country was the most significant factor influencing patterns of social media use by journalists as well as their attitudes. This again, is no surprise, because cultural differences not only affect our beliefs and how we communicate with others, but also the way we do things, including our work activities.
Of course, media sector and exact occupation also play a role in the frequency of social media use and the purposes for it. For example, online journalists tend to be more positive towards using social media for work than print journalists.
The same applies to age differences – the researchers found a correlation between age and social media usage with younger professionals paying significantly more attention to it, using more tools and being more positive about social media's impact on the profession and their work.
Here are the key findings of the survey:
Journalists use a greater variety of social media tools and use social media for more varied purposes compared to a year ago.

Daily social media use for work is commonplace, although frequency of social media varies in the different regions.

The most popular social media types are social networking sites (80%) and content communities and crowdsourcing sites (78.7%).

The least popular social media types are social reader and bookmarking tools (20.9%).

Sourcing is the main reason for social media use (80% on average across the countries), followed by publishing and promoting own content (69.4% on average).

The least popular social media activity is verifying (59.8% on average).

The use of microblogs has increased from 45% to 66%.

The use of professional social networking sites has increased from 36% to 74%.
New for the research this year was the development of the so called Social Journalism Barometer that assessed four key factors around the use of social media among journalists and media professionals in the different countries: involvement, practice, knowledge and attitudes.
Social media involvement
Daily use of social media for work is commonplace globally, however it varies greatly from country to country. For example in Canada and the US journalists tend to use social media for more than four hours daily, whereas in Germany and Finland for less than three. In the UK, media professional tend to use social media on average for three and a half hours every day. Similarly, journalists in the US, UK and Canada tend to have more than 500 followers on their preferred platforms; Germany and Finland showed the highest number of professionals with no followers.
Social media practice
Here the researchers examined the patterns of professional social media activities, diversity of social media types used and purposes for professional social media usage in the different countries. Just as in the UK research, the global study identified five profile groups of professional social media users who differ in terms of patterns of use, attitude and knowledge.
Architects are the 'movers and shakers' of the journalistic social media world (tend to be younger) – the highest percentage of Architects are in Australia and Canada.
Promoters are heavy users utilising social media to mainly share and advocate their work (tend to be younger) – the US has the most Promoters.
Hunters are medium level social media users who are good at networking and use social media to source information and to find contacts – Finland has the most Hunters.
Observers are lighter users who aren't really contributors on social media, but use the tools to find information and monitor what's going on – Germany has the most Observers.
Sceptics are low users with generally negative attitudes towards the use and the impacts of social media (they tend to be older) – Sweden has the most Sceptics.
Journalists in North American countries were found to be the most active social media users, in Finland – the most passive.
In general, journalists use social media to:
to publish and promote own content,

to post original comment on a social networking or microblogging sites,

to network and meet new people in their field of work,

to maintain a work-related blog,

to reply to comments they receive in relation to work,

to source, monitor or verify information.
Blogging and meeting new people seem to be the least utilised activities in general.
The tools that journalists and media professionals use are blogs, content communities and crowdsourcing sites, microblogs, professional social networks, social networks, audio-visual sites and social readers and bookmarking sites.
Almost 50%of journalists in Canada and the US using more than six types of social media tools for work in a typical week, while in Finland and Germany the figures were 22% and 27% respectively.
Twitter seems most popular in Canada (79.9%) and least popular in Germany (46%).
LinkedIn and other professional social networks are most used by journalists in the US (85.8%) and least in Finland (43.3%).
A good example of how different cultures affect work life is the attitude towards the use of microblogs and blogs in the UK and France. According to the research, in the UK, which traditionally has a more competitive and information-orientated journalistic environment, 79.4% of professionals use microblogs and 68% make use of blogs. In France on the other hand, whose journalistic culture is considered to be more analysis- and opinion-orientated, journos tend to use blogs (77.2%) more extensively than microblogs (61.9%).
In Finland journalists tend to use social media extensively for monitoring 'what's going on', but not so much for sourcing information in contrast to Germany where this activity was one of the main tasks. Networking in Germany showed least popular.
Social media knowledge
The majority of the respondents believe they have at least adequate knowledge in social media; still 26.6% said their knowledge was poor or non-existent. Again, this differs across countries, with the US and Canada being the 'most knowledgeable' and Germany and Finland the least.
Social media attitudes
Here the research focused on three key areas: the impact of social media on the work of journalists, its impact on the journalistic profession and the barriers to increased use of social media.
Overall, journalists and media professional believe social media has more of a positive rather than negative impact on their work. For example, in Canada 47.9% of respondents say that social media has improved the productivity of their work, while for Germany this figure was 29.5%.
In general, journalists are now less negative about how social media is impacting their work. Swedish journalists seem to have the most positive views on social media's impact on their professional activities and Australians the least.
To measure the last indicator the survey touched on concerns over privacy, data security and regulation of social media use in the organisation. Not surprisingly, the first two are seen as the most important issues. For example, more than half of the respondents from Germany agreed (at least moderately) that concerns over privacy and data security prevent them from using social media more, compared to 23.8% in Sweden.
The research also found that journalists are much more active on social media than the general population, making them social media champions within society.
As seen by the results, social media use for work is strongly affected by the country and its adoption of social media. The English-speaking countries, including the US, Canada and the UK have been the early adopters of social media in any area since its very emergence. It is however a surprise to me that journalists in Germany – such an innovative country with a very strong economy – are still reluctant to make better use of the opportunities that social media provides.
What are your thoughts on these findings?