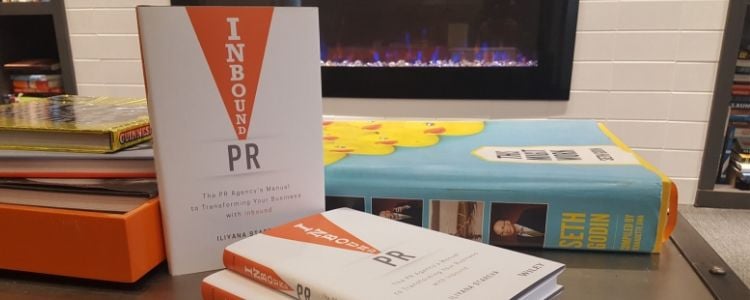 When I was in my first year at university, I fell in love with marketing and communications and specifically, PR.
This was unusual as I was doing a BA in International Business and most students with such a degree tend to choose finance or consulting as a career.
But authors like Brian Solis and David Meerman Scott helped me make my choice.
I decided to follow their footsteps and set myself a goal: One day, I will publish a book about PR with Wiley.
Little did I know that eight years later, I'd achieve my goal.
How did I do it? By starting a blog in that first year of university.
As I didn't study PR, a blog was the best way to develop writing skills that are so crucial for PR. Also, social media and SEO are another set of skills you need so that you can spread the word about your blog and have a readership.
But what was crucial was that I didn't give up. It was hard, it was time-consuming to do on top of all of your responsibilities but 7+ years later, I still keep publishing content once a week.
It's discipline and persistence that are required for remarkable content.
My blog has helped me get every job and internship I've so far had. Even before I graduated, I was offered a full-time position at a PR agency in Germany and I kept on blogging about everything that I was learning at work. A year later, I was headhunted by a major SaaS marketing company and brought over to Ireland to become an agency business consulting in inbound marketing.
I kept writing about those new skills and knowledge areas.
Through writing, you learn how to think and express yourself better. It's how ideas are born.
And that's how my idea for my book came to reality - Inbound PR.
It combined by PR experience and my inbound marketing knowledge. It found a gap in the market that my readers became quite interested in.
I began to get invitations for speaking gigs at conferences and events where people would ask me if there was a book to learn more. That was the trigger for me to get the book out as soon as possible.
6 Key Tips On How To Write a Book From Your Blog:
My key tips if you want to follow my footsteps are:
Find something that you're passionate about and start writing, even if it's not perfect - this is all about practice, discovery and idea generation.
Analyse what your audience reads and enjoys and where you add value - that's the gap in the market.
The topic for a book is the sweet spot between your passion and the gap in the market - that's going to be your title.
Create a table of content that includes blog posts you've written on the topic - you'll use those as chapters in your book and expand on them later.
Set goals and habits for writing and make them bite-sized rather than overwhelming - telling myself that I'd write a 40,000-word book was too big for me, so I focused on writing 1 hour every day for the next three months and that's how I finished the book in two months.
Edit at the end - just write until you get all of your thoughts down on paper and then worry about perfection.
Everything is possible. You just have to know what you want and purposefully go after it with dedication and determination.