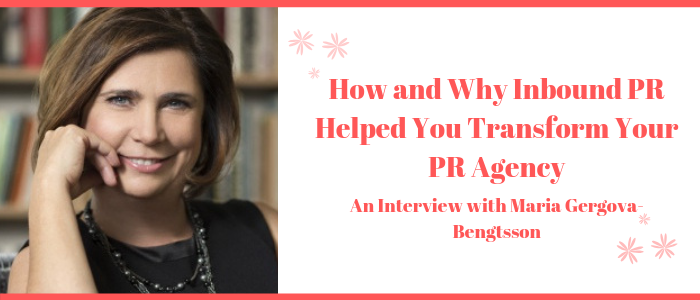 Since the Inbound PR book came out, there have been a number of agencies adopting the practice and creating new Inbound PR services to deliver better value to clients.
I'm always eager to learn how PR agencies have transformed their businesses with Inbound PR and I know a lot of you're are interested in it too so I'm starting an interview series with agencies owners and CEOs who've made the jump to Inbound PR.
First up is my now dear friend Maria Gergova-Bengtsson from United Partners - one of the first and most successful PR agencies in Bulgaria.
Let's see what Maria has to say about how they've transformed their PR agency with Inbound PR and the results they've achieved so far.
#1 When you first heard of Inbound PR, what did you think?
Actually, the first time we heard about Inbound PR was few years ago from you in social media. We, in our agency knew that the2 old form of doing PR is getting less and less relevant, but we didn't know what's next. Spotting the concept of Inbound PR was like those "A-HA" moments when you know it is what you have been looking for. We did know about the Inbound methodology in the context of marketing. So we were convinced that there is no reason why inbound philosophy cannot be adopted within the PR sphere as well. PR is one of the strongest areas of our agency offerings, thus, we quickly realized the necessity of directing our strategic efforts into the Inbound PR area.
#2 Why did you decide to adopt Inbound PR for your agency?
As a forward-thinking agency, we have always tried to experiment and be up-to-date with the current trends of the industry. Therefore, we immediately saw the value of Inbound PR and the added value it can bring to our client businesses. Our team already had the in-depth knowledge of traditional PR, thus, it was only a matter of building up on the existing knowledge among the team members.
#3 How long did the adoption process take? How dod you get your team bought in and then trained?
The general adoption process is still ongoing as we are constantly implementing the Inbound tools across our day-to-day operational processes. The initial onboarding among the relevant team members took around six months as they had to go through certain online certifications as well as attend in-house informational sessions organized by the agency management.
#4 What were the biggest blockers to adopting Inbound PR for your agency?
In general, there were not any major roadblocks, however, the tools used to implement and run the Inbound PR methodology (such as Hubspot) took time to be studied and practiced on.
#5 What were the biggest benefits of adopting Inbound PR for your agency?
By implementing the Inbound PR methodology across our daily operations, we were able to meet even better our clients specific needs by proving customized and tailored solutions for their businesses. In addition, our efforts led to gradual increase in our customers' lead generation processes as well as their establishment as thought leaders among the industries they operate in.
#6 what results have you achieved so far with Inbound PR?
In addition to implementing Inbound PR across our client portfolio, we have used the concept in order to push our own agency public image while establishing ourselves as thought leaders across several spheres. By implementing the inbound methodology, we have presented two extensive analytical reports in relation to the pharma industry as well the debate around the Istanbul Convention in the context of its possible Bulgarian implementation. The in-depth data-driven analyses were promoted and distributed via Hubspot-led campaigns which were awarded by BAPRA (Bulgarian Association of PR Agencies) with the "Campaign Thought Leadership in the PR Sphere" 1st award in April 2019.
Are you ready to jump on Inbound PR?