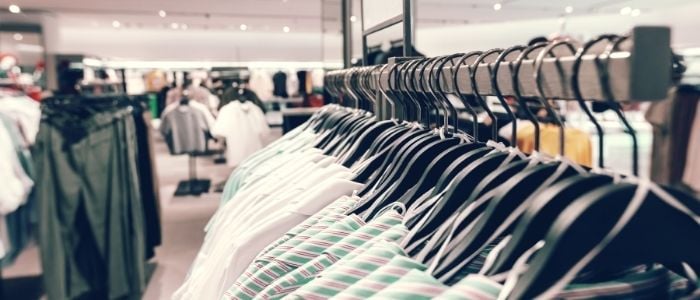 At the beginning of the year, I promised myself to go slower.
That promise relates to clothes, shoes and accessories as well - either through 'slow fashion' or simply making a lot more conscious decisions about the things that I buy to wear for myself or my family (if at all).
Why am I making this decision? Because 'make, waste, dispose' is the premise of fast fashion and it doesn't fit with my sustainability beliefs and zero-waste efforts.
Fast fashion has become so big and we're all guilty of it. We buy pretty clothes and fashion accessories or shoes that are the latest trends, we use them, then simply dispose of them and certainly, not everyone reuses them or recycles them.
Fast fashion is basically "an approach to the design, creation, and marketing of clothing fashions that emphasizes making fashion trends quickly and cheaply available to consumers." It's fueling your desire for "new" and FOMO.
Thanks to COVID-19, we've been shopping less for clothing in my family. I guess those two years of lockdown helped break the cycle. Not that we were going shopping every day or every week before COVID-19 but we would do a spree from time to time. When we were in lockdown, that was no longer possible and online shopping for clothes is not the same at least for us. When you're in the shop, you spot so much more than what you were originally planning to buy. Online, you can be a bit more selective, albeit the websites are rather clever serving you suggestions etc.
Giving Clothes a Second Life
Over the last few years, we've also started giving our clothes a second life by either giving to family/friends or selling on Vinted. Vinted is a great app I highly recommend. You can buy and sell pre-loved items (not just fashion), many of which are actually new but never used. In fact, for my daughter who's now just one and a half, I buy and sell most of her clothes there because she outgrows them so quickly. I see no point in buying everything new for just a month or two.
The benefit of all this is that someone else is going to enjoy what you no longer like or want and you make a bit on the side. That applies to not just clothes, by the way - toys, kitchen appliances and various other things around your house. We now sell such on Facebook Marketplace to give them a second life.
Many people also give their clothes to charity shops which in itself is altruistic too but what often happens then (and when selling to someone as you don't know what they'll end up doing) is that these clothes finish in landfills and we're back to root cause of the problem - pointless, short-lived consumerism.
Fast Fashion's Microplastic Problem
Selling, gifting or giving for recycling to fashion companies who do it doesn't fix another underlying problem - microplastic from production and washing.
35% of microplastics in oceans come from clothing - each time an item of clothing is washed, up to 700,000 microscopic fibres make their way into our oceans.
The throwaway clothes culture is not just threatening our oceans and wildlife but also us because these microscopic plastics are now in our food as it's already in the food chain from the ocean and other animals.
Take a look at this video:
The Case for Slow Fashion
So what's the alternative to fast fashion?
Slow fashion. It's the process of slower fashion cycles that focuses on timeless (or certainly longer-term) clothing items or seasonless collections. You buy fewer items but higher quality items that can be worn for years.
There are now multiple brands that have figured out how to sustainably produce clothes that are durable, functional and beautiful. And beautiful is important because often we buy because of what our eyes see.
What Can You Do Now?
Does all of this mean you should never buy clothes from popular brands? No. Unless you don't want to.
But there are things you could do right now:
Check your entire closet and gift or sell what you no longer like or plan to wear - bring for recycling the pieces that are now old and are not good enough for a second life.
By decluttering, check which are the items you're left with that you truly like and think about whether you really need anything else or anything new at all. Try not to buy things just for the sake of having them if you're not going to wear them. Now, I've been quilty at this for years, having accumulated lots of clothes that I don't wear all the time - like Louboutin shoes - but they're all durable and all high-fashion brands that won't be out of the trends next season.
If you need to buy clothing, then research the brands and pick items that will last - high quality, from brands that care about the environment.
Truly enjoy all of your wardrobe. Review it every few months and repeat above steps.
What's your take on high fashion? How do you make buying decisions about clothing?