The other day I came across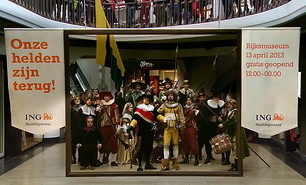 a fantastic surprise PR stunt about the reopening of the Rijksmuseum – Amsterdam's National Museum of Art and History – on 13 April this year. Especially those who are fans of art and creativity will appreciate the thoughtfulness and the efforts behind this really cool idea.
The surprise campaign took place at a busy shopping mall and amazingly recreated Rembrandt's Night Watch (considered one of the most famous paintings in the world) in the form of a flashmob! Brilliant, right?
Totally unexpected, over twenty members of the Shooting Company of Captain Frans Banninck Cocq – the common name for Rembrandt's famous painting – just started their performance with the mission to 'capture a 17th-century rogue.' This was indeed such an outstanding way of promoting the reopening of the museum, don't you think? (I envy those people who were at the shopping mall – I really want to witness such a stunt!)
The idea behind the stunt ties in with the official slogan 'Our Heroes are Back' announcing that after an absence of a decade all the major pieces in the Rijksmuseum's collection are back where they belong, including The Night Watch of course. This piece is actually the only one that can be found at the very same place as before the refurbishment – the rest of the paintings have been totally reorganised, says the Guardian.
The campaign has already gone viral on social media and the news about the reopening of the museum has spread through all major media outlets internationally. The flashmob stunt itself got coverage in the Drum, TIME and other as well as a in a number of blogs (just as mine now).
Enjoy!
Image: YouTube video