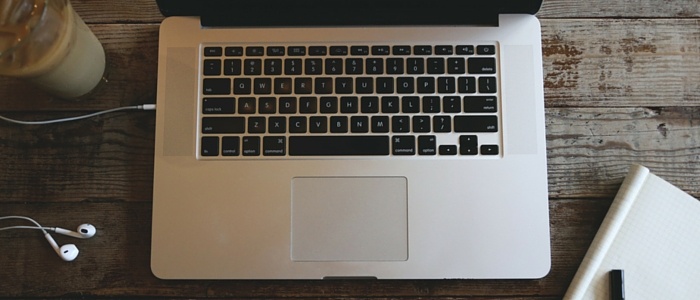 My clients always ask me "How do you go about finding keywords and creating an effective keywords strategy?"
With the constant changes of Google's algorithm and most importantly consumer behaviour, companies struggle to define the right keywords. That struggle, though, comes from the lack of process or a way to go about coming up with the keywords.
Today, I want to solve that challenge for you and offer you a very simple, but super effective guide to doing keywords research and defining your keywords strategy.
But before I go on into the actual steps I want to point one significant shift that we have been seeing recently – the growing importance of topics and catering for user needs.
Today, Google wants to solve for user intent. With the huge amount of data, it now understands natural language patterns and tries to identify meaning around the context of a search. It wants to offer solutions that are meaningful and relevant, not so much purely based on the exact words a user has put in the search box. This is called semantic search and it should drive your keywords strategy. So bear this in mind as we go ahead.
How to Do Keywords Research and Create Your Keywords Strategy:
#1 Define Your Buyer Personas
Well, yes, buyer personas again. Why? Because this is the most important piece of your content strategy (and probably even your business strategy). Who are you writing and optimising all that content for? Who's going to be interested in reading it and hopefully finding it useful?
To solve for the latter, you need to know your buyer persona's goals, pain points and challenges. Essentially, they are topics and keywords on their own. Put them in a list (Excel or Word).
We mentioned above that since Google understands user behaviour and intent so well, the search results it offers are heavily solution focused. So, are your keywords based on your buyer personas problems? They better be.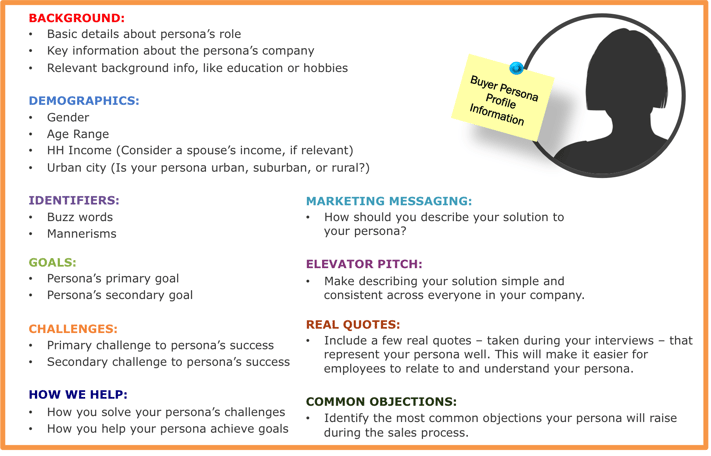 #2 Define the Buyer's Journey
I always say that the buyer's journey is as equally important as your buyer personas. Why? Because each of your buyer personas has his/her own way of defining what the problem really is, researching potential solutions and vendors and then coming to a decision to buy from you or work with you. This is the process a potential customer goes through to choosing you based on three stages – awareness (of a problem), consideration (of solutions), and decision (of the company to help, in this case hopefully you).
But before they even start thinking about a company to help them, they have different questions, challenges and pain points at the different stages of their buyer's journey that you need to be able to answer with content.
And again, these questions, challenges, pain points and goals at the different stages are topics and keywords on their own. Put them in your list too.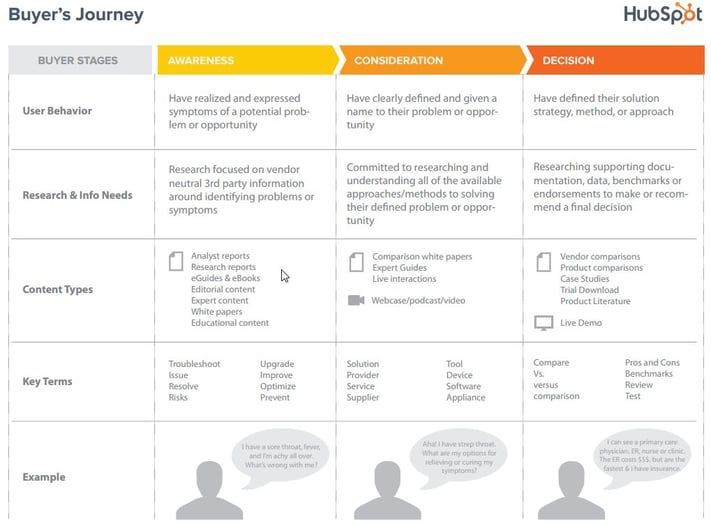 #3 Do A Keywords Brainstorm
Now that you have defined your buyer personas and their buyer's journeys, you are at a pretty good start with a list of relevant keywords based on their goals, challenges, pain points and the questions they're asking at each of the stages of the buyer's journey. This is your base list of topics and their main keywords that are important for your buyer personas and so for your business.
Next, get together with your team (or a friend) and allocate 30 minutes for a brainstorm dump. Put the buyer persona and the buyer's journey definition on a white board, and start throwing keywords out there. The more, the better.
Your goal should be to come up with at least 300 keywords. Believe me, it's not that hard.
Don't forget long-tail keywords, though. Why? Because think about how you search on Google. Do you just type "keywords research"? Or do you maybe type "How to do keywords research for a small business?"
You need to have a good mix of short-tail and long-tail because especially if you're starting out, the lack of content won't allow you to rank for those short-tail keywords. You need to build that authority first to compete with the big guys who have been blogging about these topics for years.
Eventually, your brain might get stuck a bit, so here's when you resort to the following five really good tools to give you more suggestions around your base list of keywords:
You can also use Google to see what suggestions it would give you. And if you want to spy on your competitors and their keywords, check out KeywordSpy.

To take this to the next level, make sure you check out these two articles from Moz: getting long-tail keywords to the next level and long-tail SEO.
#4 Identify the Best Opportunities
Now this one is tricky because you might need a tool. I obviously use HubSpot and I love our keywords tool because it shows me where my keyword ranks against competitors based on: position in Google results (which page), difficulty (how hard it is to rank for it based on the content that I already have and the content of everyone else), and search volume (I don't focus on this one that much because for me it's more important to get the right people to read my content rather than just anyone).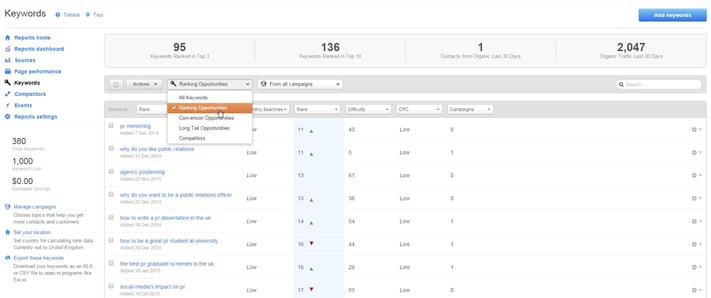 You can use Google Keyword Planner, SEMrush or Term Explorer to identify the keywords worth pursuing.
So, my advice to you here is to score your keywords and focus on your most important topic first, choose the subtopics and keywords that surround it (you can do a mind map), and start writing heavily about it. Get Goolge to crawl your site as often as you can to start recognising you as an expert in this topic. Then your website will start to jump ahead in search results. And then, you can move onto your next topic and surrounding keywords. (If you have a big enough team and can create enough content to do two topics simultaneously, awesome, go ahead!)
Speaking of topics and keywords, please do check out MOZ's Whiteboard Friday on how to best group topics with keywords (it's really good and advises a similar thing ti my suggestion).
#5 Still, Don't Forget On-Page SEO
Yes, we did agree that it's more important to optimise for user intent rather than the technical side of things, but still make sure that you have a process in place to optimise your blog posts, landing pages and site pages for your keywords.
Don't overdo it, of course, but still have your keywords in the headline, in the text, in your header tags and URL. You want it to be professional. Do your due diligence.
Here's a good guide you can follow for on-page SEO.
And there you have it! A super simple guide to coming up with relevant topics and keyowrds and creating a keywords strategy around your buyer personas and their questions at each stage of their buyer's journey - a strategy that is relevant for your business and for your customers.
What do you think?