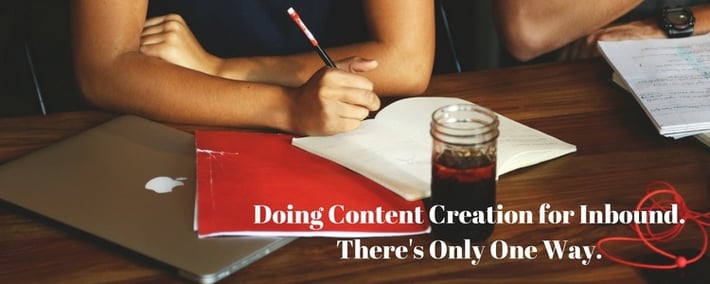 Many of my partners and customers at HubSpot struggle with content creation.
They'd come to me and usually say at least one of those three things:
"Oh, we are not getting enough traffic as we've wanted to."

"Our landing pages are not converting."

"My leads are not good."
The main reason for all of these issues always revolves around one thing: your thought process behind your content creation. So how did you approach this in the first place step by step? Basically, what was your strategy for content creation.
Now, the way to go about creating content for inbound is pretty straightforward, but believe me, done the other way around by so many PR and marketing professionals.
This is why today I want to walk you through how exactly you should go about creating content for inbound so that you generate proper traffic and good quality leads because you can't just blast out 10 blog posts on some cool topics and hope for wonders.
The 4 Key Steps to Doing Content Creation for Inbound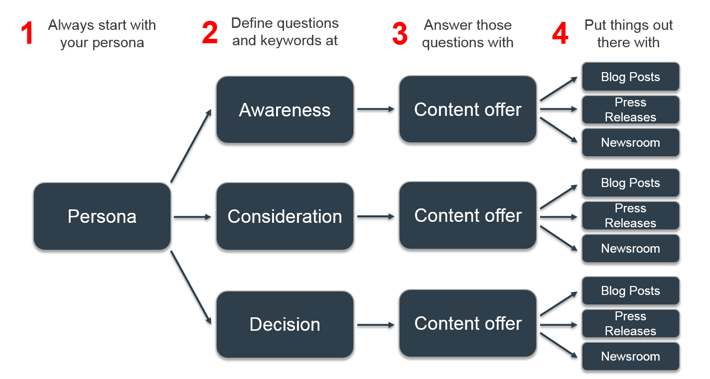 Step 1: Define your Buyer Persona
The most important step in content creation is defining your buyer personas.
As a little reminder, a buyer persona is a representation of our ideal customer.
Now, the first thing I teach my HubSpot partners is to learn how to do research. I can't even tell how many people don't dig into or gather data but just rely on assumptions. And then they are not sure if whatever they are planning to do is going to work and get any resonance. In these cases, I tend to ask them, "Well, have you interviewed or surveyed your personas?" This is usually a lightbulb moment for them: "Nope, we haven't." If you don't do your research, you are not going to be able to make informed decisions. Decisions that are strategic and relevant. Decisions that will ensure that you are getting the results you want.
When you define your buyer personas, here are the 10 key questions that you are seeking detailed answers to:
Who is going to be interested in our content?

Are those people really the people we want to be doing business with?

Who are they and what are they like (demographic information, job role, hobbies)?

What does their day look like?

What questions are they asking?

What are their goals?

What are their pain points?

What are their challenges?

What are they looking for when making buying decisions?

Where do they go for information?
You need to be able to answer these questions for two main reasons:
To understand what topics you should be creating content for so that it's relevant and useful to your potential customers.
To know where your potential customers go for information so that you can promote that content in the relevant places and reach these people.
Step 2: Define the Buyer's Journey
Once we have our buyer personas defined, we want to figure out their buyer's journey which really is the process they go through to making the decision to buy from us or work with us.
The buyer's journey includes three key stages:
Awareness – where our buyer personas realise they have a problem.
Consideration – where our buyer personas are researching potential solutions to their problem.
Decision – where our buyer personas are choosing the brands that suit that solution best.
We need to research these three stages of the buyer's journey and ideally the way we do this is by speaking to:
potential customers about their needs;
existing customers about how they came about finding and choosing us;
sales people so that we know what questions they get the most from potential customers.
Doing this research ensures that you cover all stakeholders and get very solid insights into the questions our potential buyers are asking at different stages of their lifecycle.
Defining your buyer personas and their decision-making journeys is hugely important because without it you are not going to be able to create the content that's needed to support this process.
Without the first two steps, your content is not going to be relevant. When it's not relevant, it's not going to be consumed. When it's not consumed, you are not going to get traffic nor leads.
Step 3: Define Three Content Offers
Once we have defined the pain points and challenges of our buyer personas and the questions that they ask at the different stages of the buyer's journey, we can start creating content.
What often happens here is that marketing or communications pros would come up with a topic or get a topic from their client, write a few blog posts on that and hope for traffic. Then, they'd start thinking about leads and then add some ebooks to fit those topics. The result of this is that the traffic is not qualitative nor are the leads good.
So my recommendation here is to pick one key question for each of the stages of the buyer's journey (which you've already defined after developing the buyer personas) and just start small. Be very focused. When you do this once, then you can easily replicate it again and again with more content offers.
Based on those three key questions, now it's time to figure out what content offers are going to answer them best so that you put them on landing pages and gate them with forms to generate leads.
Now is the time to think about the topic and the content type. Take a look at the content flow matrix to give you some ideas for content types: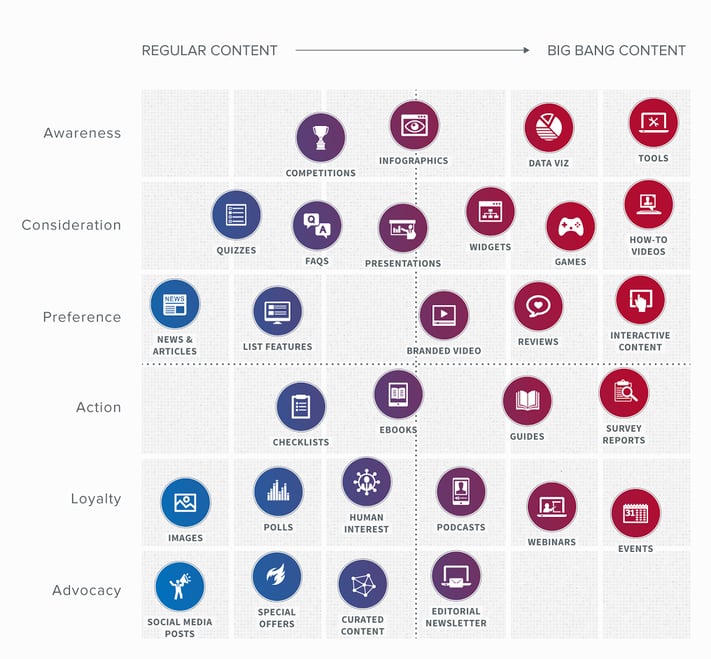 Step 4: Develop the Assets to Promote the Content Offers
Now that we have our content offers, it's time to brainstorm the blog post, press releases, social or anything else that we are going to use to promote those content offers.
Remember, your blog posts serve the purpose to help you convert. They bring you the good traffic because they are targeted and strategically planned backward and so that when potential leads read them, at the end they receive a super relevant content offer to continue with their journey and use your content to solve their problem.
That's the way you should be doing this – with the content offer in mind, not the blog post ideas.
Of course, there will be some blog posts which are only going to focus on heavy traffic generation and that's fine but if you want to be doing inbound and get results from inbound, you'll need leads. Without a proper content creation strategy, you won't get leads or your leads won't be good.
It really is that simple. Change your approach and you'll see a difference right away.
What is your biggest content creation challenge?