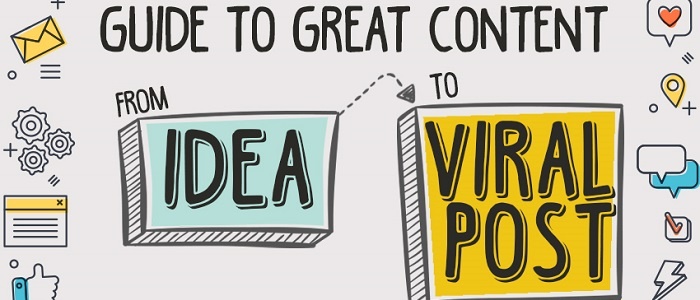 This is a guest post by Anita Sambol from Point Visible.
These days, social media and other online mediums are main sources of information for quite a lot of people, if not all. There are plenty of blogs and websites that talk about the most random stuff you could imagine.
Despite that or maybe precisely because of that, content creation is not an easy job. Creating useful and interesting content takes a lot of time and effort, along with some creativity and imagination.
It's true that you can talk about almost anything but that doesn't mean every topic will reward you with the same level of engagement. The best way to ensure you're on the right track from the start is to base all of your content-related decisions on a quality target audience analysis. That way you won't have a mismatch between what you want to talk about and what your audience needs and wants to read, watch and consume.
All of your communication should be consumer-centered and revolve around their needs, not yours.
It's really important that you listen to your audience so that you can know what they are interested in. Q&A sites like Quora and Reddit can be quite useful to discover what the problems and pain points of your target audience are.
Also, reading what other people publish can be a great source of inspiration. Tools like Pocket or Tweetdeck can be just what you need if you're looking to take this approach.
Content Types
Once you decide on the topic you want to cover, you're faced with yet another decision – which type of content should you use? A post or an infographic? Something more interactive like a quiz or a calculator? An audio podcast or an instructional video maybe?
There are a plethora of content types to choose from and this is something you should decide on a case by case basis. While making this decision, take into account your history of posts and their engagement, as well as resources you have at your disposal (money, time and manpower).
Did you know that the ideal post length nowadays is 1,600 words? On the other hand, in case you are interested in getting more social shares, then up to 1,200 is what you should aim for.
If you want to ensure the highest level of quality, every piece of content should be reviewed and edited several times until you have a final, polished up version.
Content Promotion
No matter how amazing your piece of content that you created is, it won't bring you any value if nobody knows it exists. That's why the publishing phase should always be followed up with a promotion phase.
Depending on the time you are willing to invest in promotion, you can do several things. Besides promoting it on your social media channels, you can promote it on Quora and Reddit, reach out to influencers and publications in your niche, submit it to sites like Medium and StumbleUpon, and so much more…
There is a lot of different information to process here so we created this neat infographic that covers everything from how to find topic ideas and what should you pay close attention to when developing your content, to some promotion tips and options you may find useful.
And, not to forget, it also lists a bunch of different tools you can use to have a more streamlined process for each phase.
An Ultimate Guide to Great Guide [Infographic]

How do you create remarkable content?