Last week I saw a campaign by fashion chain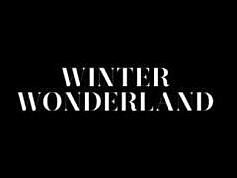 Topshop that I thought was not only creative, but also absolutely brilliant because it managed to successfully integrate advertising, PR and social media. The campaign comes right on time for Christmas, and I just had to share it with you; I'm sure you'll be impressed.
This year Topshop decided to run a Christmas advert for the first time ever and called the production 'Winter Wonderland'. The fashion chain announced that the ad would feature a Hollywood celebrity, but said that they would not reveal who the 'mystery lady' was until the 4th of December.
Topshop encouraged people to use the hashtag #whosthatgirl? and tweet @Topshop to guess who the star of the advertisement was with the chance to win a £500 shopping spree.
The fashion retailer shared six short videos on their YouTube channel, each one of which revealed more about the celebrity than the previous video giving clues to fans (check them out here: teaser 1, teaser 2, teaser 3, teaser 4, teaser 5, final clue).
To increase awareness about the Topshop 'Christmas mystery' the fashion giant also made sure they had contacted the relevant media, for example the fashion magazine Grazia received an image of the advert lady reading the magazine and hiding her face behind it, which apparently let people "assume that she was a very stylish and recently engaged starlet."
A number of other media outlets have covered the campaign and also shared it on Twitter, Facebook and other networks.
If you search for the #whosthatgirl? hashtag, you'll find numerous of tweets by various publications such as for example Glamour Magazine and the Telegraph Fashion asking their followers if they know who the 'mystery lady' was or even guessing themselves as did ELLE UK.
Topshop didn't forget the other popular social networks either. On Instagram, Pinterest, Tumblr and Google+ the fashion chain shared images accompanied by little clues such as "#whosthatgirl? loves peonies! What are your favourite flowers?" or "Our starlet went to the country to record the track for our film. She's quite the English rose! #whosthatgirl?"
Thousands of people tried guessing who the Hollywood star was on all social media platforms.
@topshop #whosthatgirl this is worse than waiting for Santa to come! Dying to know who it is!

— Katie Dunne (@KatieAnne_D) December 3, 2012
Tortured by @topshop's #whosthatgirl campaign. Talk about brilliant social media marketing. Can't wait to find out who she is tomorrow!

— Kathryn Oliva (@KathrynOliva) December 3, 2012
I'm obsessed with @topshop's #whosthatgirl game, I've seen every clue but I can't seem to be sure who it is!

— Victoire Cointy (@Victoire_Cointy) December 1, 2012
@topshop's #whosthatgirl competition is so addictive, keep trying to guess who it is, I really haven't got a clue!

— Andrea Lacey (@andreaaaahhh) December 2, 2012
Even I gave it a go – three times! And the last time I was right – it was indeed Kate Bosworth!
Happy holidays! @katebosworth is the star of our first ever Christmas film directed by @michael_polish! #whosthatgirl? bit.ly/WFefpx

— Topshop (@Topshop) December 4, 2012
After the mystery was revealed, the Topshop Christmas campaign was covered by a number of fashion media outlets, including Vogue UK, Glamour, TeenVogue, and ELLE US, as well as by the marketing publications, e.g. BrandRepublic, and many, many more, which got Topshop massive global exposure.
Topshop's 'Winter Wonderland' went truly viral!
The campaign was truly successful because it got everyone excited and curious to find out who the star of the advert was. It also got everyone, including the media, talking not only about the campaign, but also about the brand itself allowing Topshop to engage with fans right on time to encourage Christmas shopping.
Enjoy Topshop's 'Winter Wonderland' starring Kate Bosworth!
Image from YouTube video